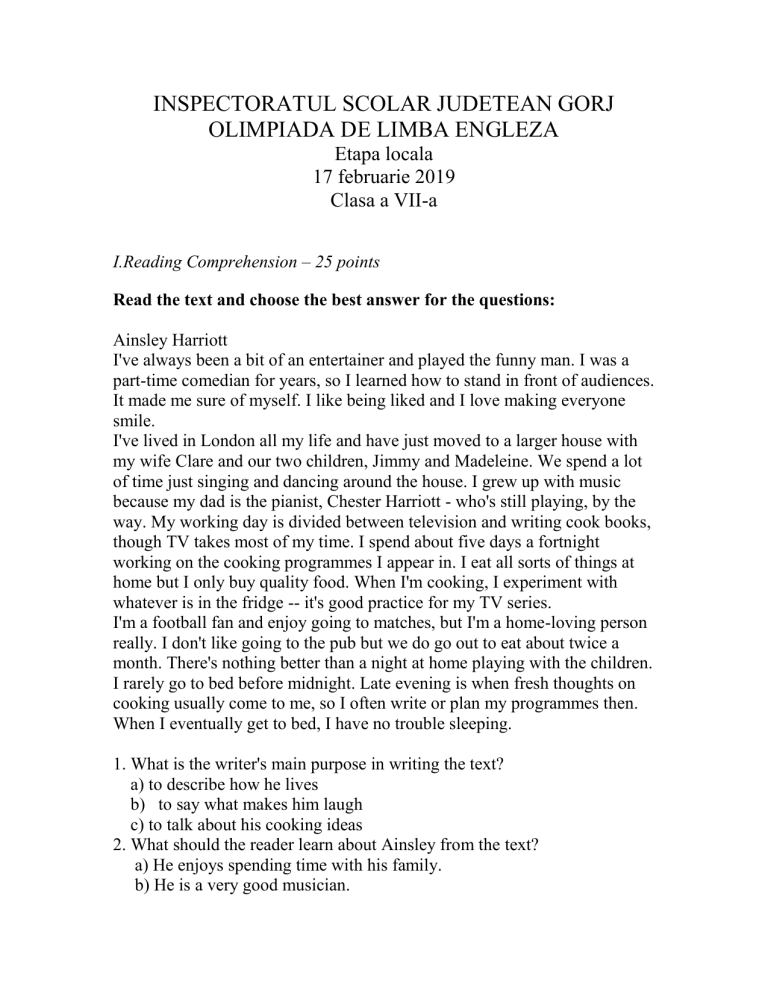 INSPECTORATUL SCOLAR JUDETEAN GORJ
OLIMPIADA DE LIMBA ENGLEZA
Etapa locala
17 februarie 2019
Clasa a VII-a
I.Reading Comprehension – 25 points
Read the text and choose the best answer for the questions:
Ainsley Harriott
I've always been a bit of an entertainer and played the funny man. I was a
part-time comedian for years, so I learned how to stand in front of audiences.
It made me sure of myself. I like being liked and I love making everyone
smile.
I've lived in London all my life and have just moved to a larger house with
my wife Clare and our two children, Jimmy and Madeleine. We spend a lot
of time just singing and dancing around the house. I grew up with music
because my dad is the pianist, Chester Harriott - who's still playing, by the
way. My working day is divided between television and writing cook books,
though TV takes most of my time. I spend about five days a fortnight
working on the cooking programmes I appear in. I eat all sorts of things at
home but I only buy quality food. When I'm cooking, I experiment with
whatever is in the fridge -- it's good practice for my TV series.
I'm a football fan and enjoy going to matches, but I'm a home-loving person
really. I don't like going to the pub but we do go out to eat about twice a
month. There's nothing better than a night at home playing with the children.
I rarely go to bed before midnight. Late evening is when fresh thoughts on
cooking usually come to me, so I often write or plan my programmes then.
When I eventually get to bed, I have no trouble sleeping.
1. What is the writer's main purpose in writing the text?
a) to describe how he lives
b) to say what makes him laugh
c) to talk about his cooking ideas
2. What should the reader learn about Ainsley from the text?
a) He enjoys spending time with his family.
b) He is a very good musician.
c) He likes to plan the family meals.
3. What does the writer say about himself?
a) He loves going out and meeting people.
b) He enjoys being popular.
c) He should go to bed earlier.
4. What does he say about his working life?
a) He gets his best ideas at certain times.
b) He should practise cooking more.
c) He would like to appear less on TV.
5. Which of the following is the best description of the writer?
a) The cook and comedian who takes great care about the way he cooks
his food and enjoys listening to
b) The singing TV cook who likes making jokes, playing with his
children, and having an early night.
c) The TV cook who loves making people laugh, watching football and,
above all, having a happy family
II.Use of English – 50 points
A.Choose the correct item – 15 points (10x1,5 each):
1.I spoke to two people , neither of ……………….. were Spanish.
a)whom
b)which
c)who
2.Try not to worry …………. it any more.Everything will be fine.
a)of
b)about
c)for
3.Could you stop …………… lies?I don't believe a word you say.
a)saying
b)speaking c)telling
4.Angie would never wear that!You know she hates ………. prints.
a)floral
b)flower
c)florist
5.Three armed men ……….. the National Bank yesterday morning.
a)robbed
b)burgled c)broke
6. "Did you put salt in this sauce?" "Yes,but only ……………"
a)a little
b)little
c)a few
7.We look forward ………….. business with you.
a)to doing b)to do
c)doing
8.This artist is ……………… famous of all three that you mentioned.
a)the less b)least
c)the least
9.They didn't go to the seminar …………….. of the bus strike.
a)due
b)because c)since
10.Give me a call when you ……………. to the office.
a)go
b)will go c)are going
B.Put the verbs in brackets into the correct tense – 20 points(10x2 each):
1.After Julie …………..(feed) the dog , she went to bed.
2.How long ago ……………. (you/meet) John?
3.The remains of a Viking ship ……………… (find) by divers last week.
4.Who ……………… (use) my toothbrush?
5.We ………………… (play) in a concert next weekend.
6.I didn't recognize Tom.He ……………………(look) so different in a suit.
7.He ………………….. (sit) on the train at this time yesterday morning.
8.What time ………………..(the show/start) ?
9.If the temperature………………..(fall) below 0° C , water turns into ice.
10.It ……………. (rain) all day and the roads were very yet.
C.Cross out the unnecessary word – 15 points(10x1,5 each):
1.She entered into the room and turned on the lights.
2.Many preparations are been involved in a Chinese wedding.
3.Think carefully before you will say anything.
4.Is he the man who he has got a famous wife?
5.The film has finished two hours ago.
6.Tom usually goes to school by the bus.
7.You mustn't to talk during the exam.
8.It was such a boring play so that we left.
9.He is much more taller than his father.
10.There is not nobody in the garden.
III.Story Writing – 25 points
Write a narrative composition of about 120-150 words , beginning as
shown:
"I had never been more scared than the day I lost my little sister in a
crowded mall."
TOATE SUBIECTELE SUNT OBLIGATORII.TIMP DE LUCRU 120
DE MINUTE.NU SE ACORDA PUNCTE DIN OFICIU
BAREM DE CORECTARE
Olimpiada de limba engleza
Clasa a VII-a
Etapa locala 17 februarie 2019
I.Reading Comprehension – 25 points(5x5 each):
1.a
2.a
3.b
4.a
5.c
II.Use of English – 50 points
A.Multiple choice – 15 points(10x1,5 each):
1.a
2.b
3.c
4.a
5.a
6.a
7.a
8.c
9.b
10.a
B.The correct verb form – 20 points(10x2 each):
1.had fed 2.did you meet
3.were found
4.has been using
5.are playing
6.looks
7.was sitting
8.does the show start
9.falls
10.had been raining
C.Cross out the unnecessary word – 15 points(10x1,5 each):
1.into
2.been
3.will
4.he
5.has
6.the
7.to
8.so
9.more
10.not
III.Writing – 25 points
Marking Scheme Narrative Essay.