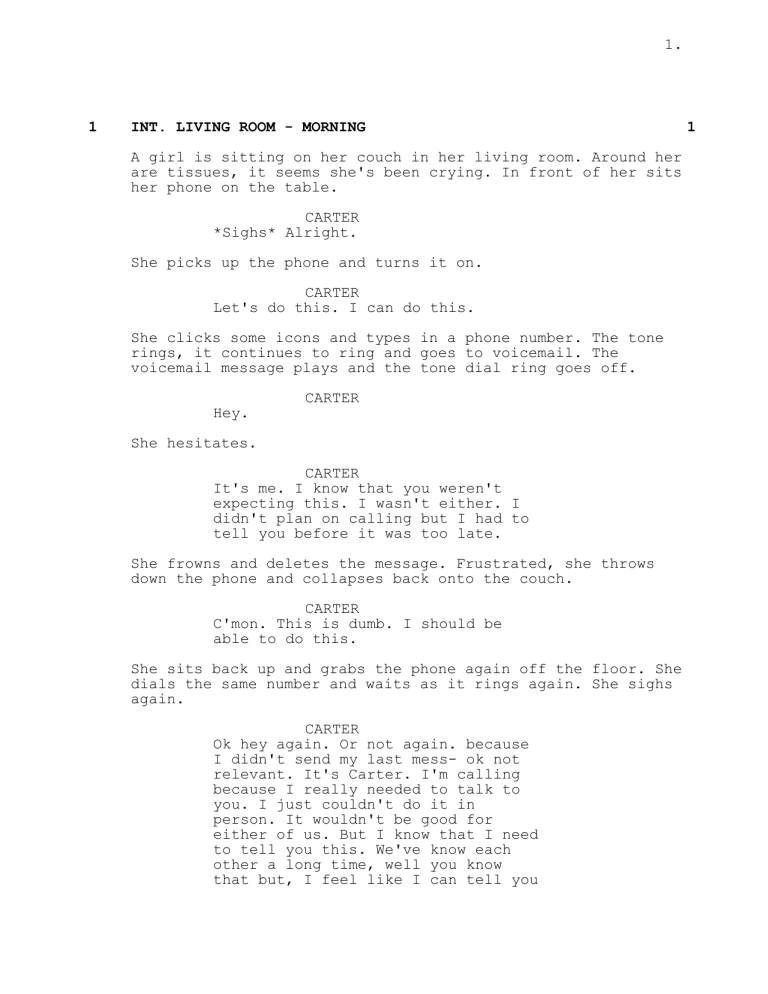 1.
1
INT. LIVING ROOM - MORNING
A girl is sitting on her couch in her living room. Around her
are tissues, it seems she's been crying. In front of her sits
her phone on the table.
CARTER
*Sighs* Alright.
She picks up the phone and turns it on.
CARTER
Let's do this. I can do this.
She clicks some icons and types in a phone number. The tone
rings, it continues to ring and goes to voicemail. The
voicemail message plays and the tone dial ring goes off.
Hey.
CARTER
She hesitates.
CARTER
It's me. I know that you weren't
expecting this. I wasn't either. I
didn't plan on calling but I had to
tell you before it was too late.
She frowns and deletes the message. Frustrated, she throws
down the phone and collapses back onto the couch.
CARTER
C'mon. This is dumb. I should be
able to do this.
She sits back up and grabs the phone again off the floor. She
dials the same number and waits as it rings again. She sighs
again.
CARTER
Ok hey again. Or not again. because
I didn't send my last mess- ok not
relevant. It's Carter. I'm calling
because I really needed to talk to
you. I just couldn't do it in
person. It wouldn't be good for
either of us. But I know that I need
to tell you this. We've know each
other a long time, well you know
that but, I feel like I can tell you
1
2.
this. You're really important to me
and I didn't wantThe message cuts off.
Crap.
CARTER
She puts down the phone back onto the table. She stares at
the phone for a moment before getting up.
CARTER
I can't do this right now.
She walks over to her kitchen and opens the refrigerator. She
pushes aside some cartons and tupperware and pulls out a
leftover soup tub. She takes off the cap and pours it into a
bowl. She opens the microwave and slides the bowl in. She
pushes in one minute and presses the start button. She leans
back on the counter as she waits for the soup to cook. She
pushes the open button and takes the soup out. She brings it
over to the table and puts it down. She walks back and
rummages through the drawers for a spoon. She finds one and
goes back and sits down in front of the soup. She begins to
eat slowly.
CUT TO:
2
INT. KITCHEN - LATER THAT DAY
She gets up with a now empty bowl and walks over to the sink.
She puts it in and turns on the faucet. She doesn't wash the
bowl.
She walks back to the living room and takes a seat back on
the couch. She stares at the phone. She groans and throws
back and stomps her feet.
CARTER
How am I supposed to do this.
She sits up abruptly. She grabs the phone off the table and
makes another call. It rings twice before someone answers.
It's a woman's voice.
Hello?
MOM
CARTER
Hey! It's me. I need help.
MOM
2
3.
Carter? What's wrong? Did something
happen?
CARTER
No. No, nothing happened mom, I just
wanted to ask for advice.
MOM
Oh thank god, well what did you want
to talk about?
CARTER
Well. Here's the thing.
CUT TO:
3
INT. LIVING ROOM - NOON
Carter hangs up the phone call with her mom.
CARTER
Well that didn't help at all.
She's still holding the phone and she hesitate for a moment
before dialing and waiting for the ringing. It goes to
voicemail again and she closes her eyes in relief.
Hey!
CARTER
She cringes at her over enthusiasm.
CARTER
How are you? I know I don't call as
often as I should.
She has a 'wtf' moment and hangs up the phone again.
CARTER
Ok, ok, ok? I can do this? That's
what you said earlier. Shut up.
She picks up the phone yet again. It rings, and goes to
voicemail.
CARTER
Justin? Hey you must not be by your
phone right now, but you never are
what did I expect.
She uncomfortably chuckles.
CARTER
3
4.
I know I don't really ever call you,
but this one's important. I figured
you deserved more than a text.
She leans back and puts her feet up on the table. She knocks
over a cup of water.
Shit!
CARTER
She pulls back her leg, throws off her blanket and scrambles
to pick up the cup. She looks at the puddle of water on the
floor and stands up. She walks over to her kitchen and puts
down the cup on the counter, grabbing the roll of paper
towels and walking back. She leans down and rips a paper
towel to wipe up the water. As she finishes she stands back
up, and walks back to the kitchen, throwing away the used
paper towel and putting the roll back in it's place.
She walks back into the living room and lays down on the
couch. She pulls the blanket over her body and grabs the tv
remote. She turns it on and goes to Netflix. She begins to
watch television.
Every once in a while she glances at her phone, guiltily.
She falls asleep.
FADE OUT.
FADE IN:
4
INT. LIVING ROOM - LATE AFTERNOON
Carter is lying on her couch in a sleep. She stirs around.
She stills before rolling over and haphazardly reaching for
her phone on the table. It turns on and she looks at the
time. She's startled.
She sits up abruptly.
CARTER
Oh crap. Crap. Crap. Not good. How
did you fall asleep you idiot.
She smacks her head and groans.
CARTER
That was a mistake.
She opens her laptop and makes a FaceTime call. It rings and
someone answers on the other end.
4
5.
CARTER
Hey Oliver.
OLIVER
Hey Carter, what's up?
CARTER
Ok I'm in a bit of a pickle and I
need some directional help.
OLIVER
My area of expertise. Shoot.
CARTER
I'm trying to figure out what I'm
supposed to say in my voicemail for
Justin.
Oh.
Yeah. Oh.
OLIVER
CARTER
OLIVER
Well that shouldn't be too hard.
CARTER
Exactly what my mom said and
completely untrue.
OLIVER
Well what do you have so far?
CARTER
Well listen to some of my previous
voicemails.
She plays her previous messages. Oliver makes confused faces
on the screen.
OLIVER
What the hell? What is wrong with
you?
CARTER
I know! I mean they're not awful but
I don't know I get nervous and then
stop. I don't know what to do!
OLIVER
Not awful? Why would you consider
sending any of those? And to Justin
of all people? Are you a monster?
6.
CARTER
Well...I didn't think they were that
bad...
OLIVER
Ok scrap every thought you have in
your head right now.
Ok.
CARTER
OLIVER
I will write you a message and all
you have to do is read it.
CARTER
Perfect. I knew I could count on
you.
OLIVER
How are you even managing to live
right now?
CUT TO:
5
INT. LIVING ROOM - LATER THAT EVENING
CARTER
Are you sure this will work? It
seems, impersonal.
OLIVER
Don't make this any worse. Just
listen to me. Have I ever lead you
astray?
CARTER
I mean I guess not...I just don't
want to hurt his feelings.
OLIVER
Hurt his feelings? Carter he does
not give a shit about what you do.
CARTER
That hurts.
She looks down sadly.
OLIVER
It's the truth though. Just read the
script I sent you.
5
7.
CARTER
Ok. You're sure this gets the
message across?
OLIVER
Completely.
She sighs.
FADE OUT.
Black screen. Audio comes in. She says this solemnly.
CARTER
Hey Justin. It's me. Carter...
She pauses. Her tone of voice changes, it's more upbeat.
CARTER
I just wanted to call and let you
know that I won't be coming into
work tomorrow. I have a cold. I'll
see you Friday!