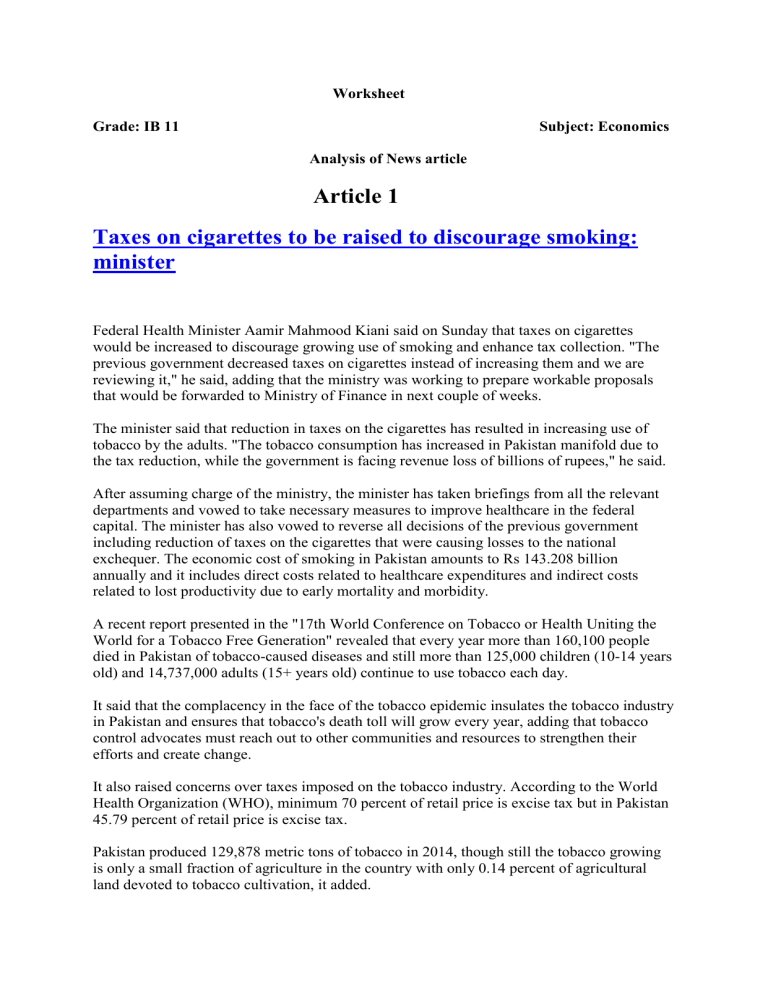 Worksheet
Grade: IB 11
Subject: Economics
Analysis of News article
Article 1
Taxes on cigarettes to be raised to discourage smoking:
minister
Federal Health Minister Aamir Mahmood Kiani said on Sunday that taxes on cigarettes
would be increased to discourage growing use of smoking and enhance tax collection. "The
previous government decreased taxes on cigarettes instead of increasing them and we are
reviewing it," he said, adding that the ministry was working to prepare workable proposals
that would be forwarded to Ministry of Finance in next couple of weeks.
The minister said that reduction in taxes on the cigarettes has resulted in increasing use of
tobacco by the adults. "The tobacco consumption has increased in Pakistan manifold due to
the tax reduction, while the government is facing revenue loss of billions of rupees," he said.
After assuming charge of the ministry, the minister has taken briefings from all the relevant
departments and vowed to take necessary measures to improve healthcare in the federal
capital. The minister has also vowed to reverse all decisions of the previous government
including reduction of taxes on the cigarettes that were causing losses to the national
exchequer. The economic cost of smoking in Pakistan amounts to Rs 143.208 billion
annually and it includes direct costs related to healthcare expenditures and indirect costs
related to lost productivity due to early mortality and morbidity.
A recent report presented in the "17th World Conference on Tobacco or Health Uniting the
World for a Tobacco Free Generation" revealed that every year more than 160,100 people
died in Pakistan of tobacco-caused diseases and still more than 125,000 children (10-14 years
old) and 14,737,000 adults (15+ years old) continue to use tobacco each day.
It said that the complacency in the face of the tobacco epidemic insulates the tobacco industry
in Pakistan and ensures that tobacco's death toll will grow every year, adding that tobacco
control advocates must reach out to other communities and resources to strengthen their
efforts and create change.
It also raised concerns over taxes imposed on the tobacco industry. According to the World
Health Organization (WHO), minimum 70 percent of retail price is excise tax but in Pakistan
45.79 percent of retail price is excise tax.
Pakistan produced 129,878 metric tons of tobacco in 2014, though still the tobacco growing
is only a small fraction of agriculture in the country with only 0.14 percent of agricultural
land devoted to tobacco cultivation, it added.
Ministry of National Health Services suggested the government to increase tax on the
cigarettes to Rs 44 for a pack of 20 cigarettes in 2017-18 budget, but the proposal was not
accepted. Contrary to the proposal, the government introduced the third tier of taxation for
the tobacco industry in the budget due to which the tax reduced to as low as Rs 16 for a pack
of 20 cigarettes.
The estimated government's revenue loss from illicit trade had reached Rs 62 billion in 2016
from Rs 27 billion in 2012 and this high figure of illicit trade was used by tobacco industry to
strengthen its case for the introduction of 3rd tier FED structure. With introduction of 3rd
tier, the prices of cigarettes dropped and consumption increased manifold.