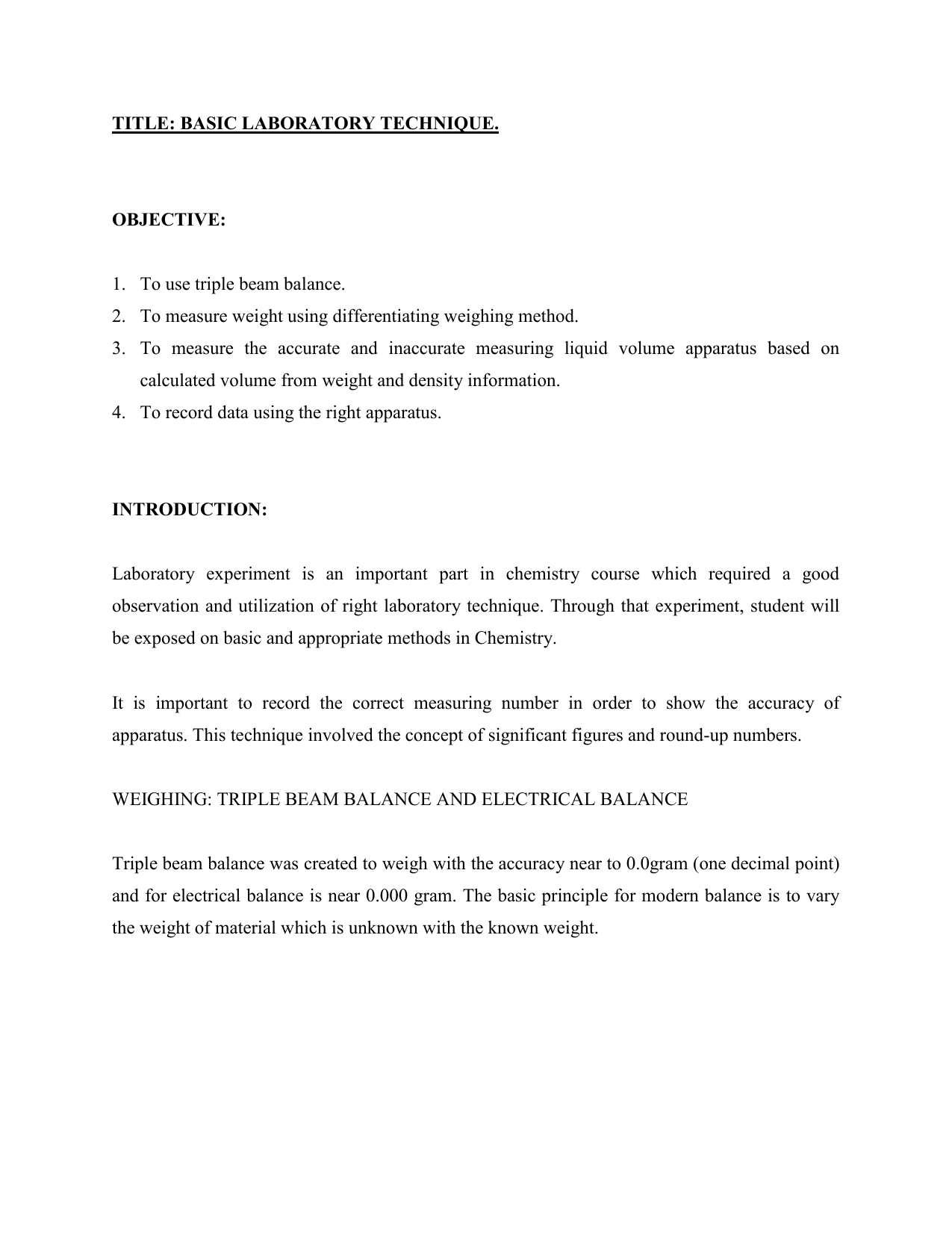 TITLE: BASIC LABORATORY TECHNIQUE.
OBJECTIVE:
1. To use triple beam balance.
2. To measure weight using differentiating weighing method.
3. To measure the accurate and inaccurate measuring liquid volume apparatus based on
calculated volume from weight and density information.
4. To record data using the right apparatus.
INTRODUCTION:
Laboratory experiment is an important part in chemistry course which required a good
observation and utilization of right laboratory technique. Through that experiment, student will
be exposed on basic and appropriate methods in Chemistry.
It is important to record the correct measuring number in order to show the accuracy of
apparatus. This technique involved the concept of significant figures and round-up numbers.
WEIGHING: TRIPLE BEAM BALANCE AND ELECTRICAL BALANCE
Triple beam balance was created to weigh with the accuracy near to 0.0gram (one decimal point)
and for electrical balance is near 0.000 gram. The basic principle for modern balance is to vary
the weight of material which is unknown with the known weight.
WEIGHING VOLUME
The volume measurement can be carried out using measuring cylinder, pipette, burette,
volumetric flask etc. Volumes measurement made using pipette and burette are more accurate
than measuring cylinder.
APPARATUS:
Triple beam balance
Weighing bottle
Erlenmeyer flask
Burette
Pipette
Beaker
Measuring cylinder
MATERIAL:
Water
Coin : 10 cent, 20 cent, 50 cent.
PROCEDURE:
A. WEIGHING
The weights of coins are measured using triple beam balance and recorded the data.
B. VOLUME MEASUREMENT AND COMPARE ACCURACY
1. The apparatus is ensured clean before used. Washed if necessary.
2. Erlenmeyer flask is labeled as A and B. The weight of each flask is weigh and recorded.
3. 25mL of water is putted into flask A by using burette. The burette reading to the nearest
0.05mL is recorded.
4. 25mL water is transferred into flask B by using pipette.
5. The weight of each flask with water is weigh and recorded.
6. 25mL water is transferred into flask A by using beaker and weigh again.
7. 25mL water is measured and transferred by using measuring cylinder and weigh again.
8. The accuracy of each apparatus (burette, pipette, measurement cylinder and beaker), is
identified from the volume and weight obtained. Water density is calculated by using the data
obtained.
RESULT AND DISCUSSION:
A. Weighing
Coin
1st Reading (g)
2nd Reading (g)
3rd Reading (g)
Average Reading (g)
10 cent
2.75
2.75
2.75
2.75
20 cent
5.65
5.60
5.65
5.63
50 cent
9.25
9.25
9.30
9.27
B. Volume Measurement and Compare Accuracy
1st
Reading 2nd
Reading 3rd
(g)
(g)
(g)
Reading (g)
(g/mL)
Burette
25.40
25.40
25.00
25.27
1.0108
Pipette
24.90
25.50
25.00
25.03
1.0012
Beaker
25.25
25.15
23.75
24.72
0.9888
24.30
24.10
24.30
24.23
0.9692
Apparatus
Measuring
Cylinder
Reading Average
Density
Compare Accuracy:
From the experiment, pipette showed the nearest reading to the density of water (1.0g/mL)
followed by burette, beaker and measuring cylinder.
Discussion:
From the experiment we know that the most accuracy apparatus to calculate the density
of water by using pipette. It is because pipette showed the nearest reading to density of water
which is 1.0 g/L. The scale of pipette is the smallest compare to burette, beaker and measuring
cylinder. We also repeated three times of reading to make sure the precision is obtained. This is
important because if we only do for one trial it will affect our result and maybe its do not show
the real reading of this experiment. So, we need to repeat and read it carefully to get a good
result.
Burette is less accuracy than pipette because from this experiment showed that burette's
reading is near to water density but not nearest as pipette's reading. The scale of burette is bigger
than pipette and smaller than beaker and measuring cylinder. To get a better result, we should
repeat this experiment three times and make sure no small mistake is repeated such as the
position of eye when we want to get the reading of this experiment. We should position our eyes
correctly to avoid small mistake that will affect our final result.
In this experiment, there are some error that show the beaker is more accurate than
measuring cylinder. From the reading, showed that beaker's reading near to the value of water
density than measuring cylinder. During this experiment, we find that the reason of this mistake
and we need to discuss and find the alternative method to correct it. First mistake is placed the
beaker not on the flat place. Actually we need to place it on the flat place because we need to
read it properly and at the same time the position of eyes should be in the right position.
For the final result, showed that the pipette is most accurate compare to burette,
measuring cylinder and beaker. This is because pipette showed the nearest value to density of
water (1.0 g/L).
CONCLUSION
From the experiment, it is shown that burette and pipette is more accurate laboratory
apparatus in measuring volume compare to measuring cylinder or beaker and each of these
apparatus have their own accuracy and precision.
REFERENCES:
1. Chemistry, The Central Science. 11 edition. Brown, Lemay, Bursten, Murphy. Pearson
Education.
2. TKU 1033 Basic Chemistry I, Laboratory Manual.