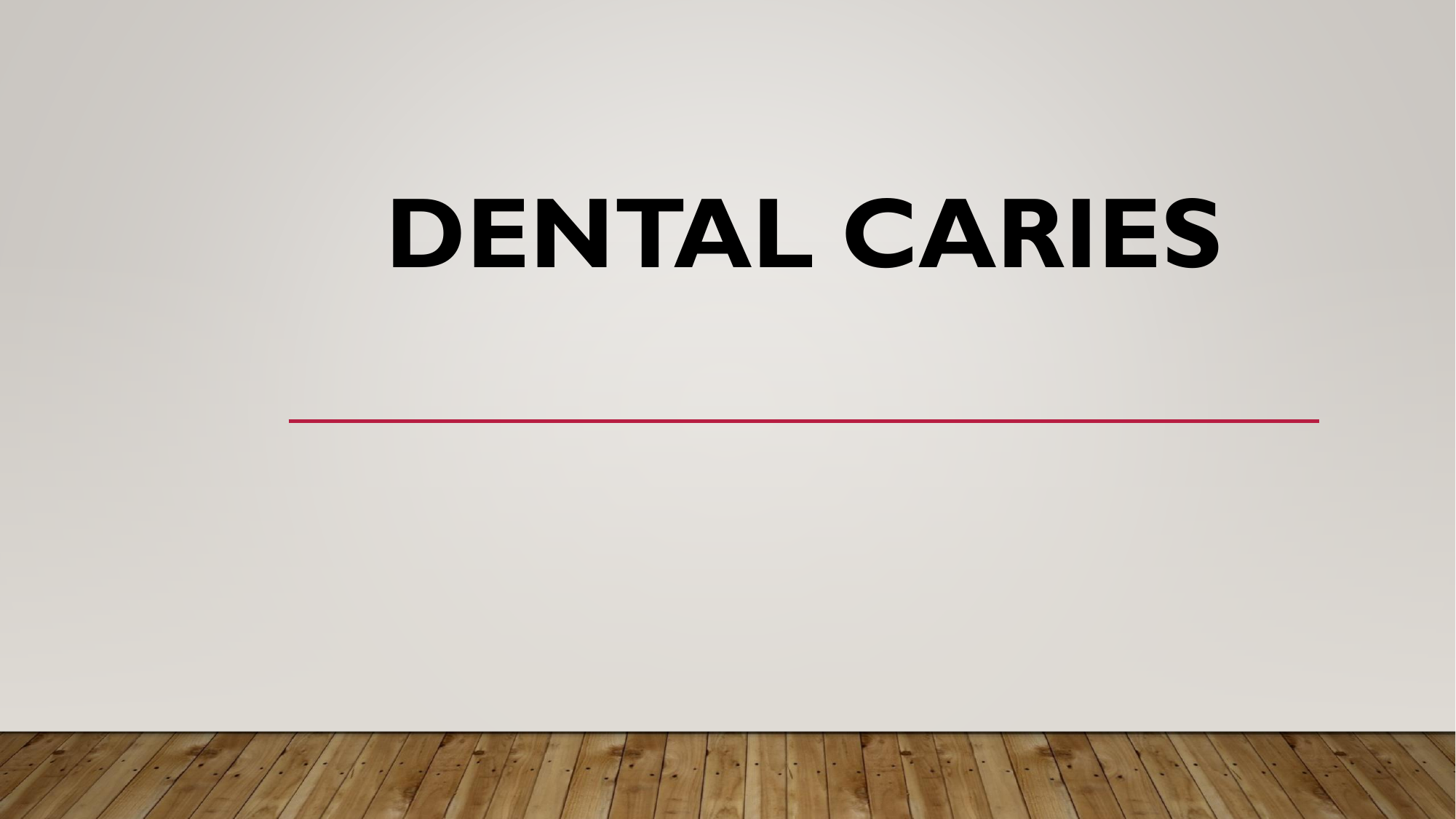 DENTAL CARIES
• Dental caries is defined as a microbiological disease of the hard structure of teeth, which
results in localized demineralization of the inorganic portion and destruction of the organic
substances of the tooth.
• Cariology is a science which deals with the study of etiology, histopathology, epidemiology,
diagnosis, prevention and treatment of dental caries.
PATHOGENIC PROPERTIES OF CARIOGENIC
BACTERIA
• Cariogenic bacterias have some characteristics which make them special:
• • Acidogenic nature: This means bacterias should be able to transport sugars and convert them
to acid.
• • Aciduric nature: Bacterias should be able to thrive at low pH. – Bacterias should be able to
produce extracellular and intracellular polysaccharides which contribute to the plaque matrix.
These intracellular polysaccharides can be used for energy production and converted to acid
when sugars are not available .
• Pathogenesis of Dental Caries
CARIES BALANCE CONCEPT
LOCAL FACTORS AFFECTING THE INCIDENCE OF CARIES
DIAGNOSIS OF DENTAL CARIES
• Sensitivity and specificity refer to the capability of a test to diagnose disease correctly when
disease is actually present and to rule out the disease when it is absent.
CONVENTIONAL METHODS TACTILE EXAMINATION
• In this method, explorer is used to detect softened tooth structure. When an explorer sticks, it's
usually a good indication that there is decay beneath; however, when it does not stick, it does not
necessarily mean that decay is not present.
Disadvantages
• • Cavitation at the base of a pit or fissure can be detected tactilely as softness, but mechanical
binding of an explorer in the pits or fissures may be due to noncarious causes, like shape of the
fissure, sharpness of the explorer, or the force of application
• Sharp edge of explorer may fracture the demineralized enamel, if left alone, such lesion could
have remineralized and reverted back to normal.
• Use of a sharp explorer tip within a pit and fissure can cavitate the enamel and actually create an
opening through which cariogenic bacteria can penetrate.
• Use of an explorer has a low sensitivity and low specificity. This means an explorer used for
diagnosis of caries may give false positives.
VISUAL EXAMINATION
• It is based on the criteria such as cavitation, surface roughness, opacification and discoloration of clean
and dried teeth under adequate light source.
Advantage
• Preferred over probing because of harmful effects of probing
Disadvantages
• Very small lesion is difficult to detect.
• Discoloration of the pits and fissures which is found in normal healthy teeth, can be mistaken for the
presence of caries.
ADVANCES IN VISUAL METHOD
• 1.Ultraviolet illumination
The natural fluorescence of enamel as seen under UV light is decreased in areas of less mineral
content such as carious lesion, artificial demineralization and developmental defects. The carious
lesion appears as a dark spot against a fluorescent background
• Advantages:
• • More sensitive method as compared to the visual tactile methods
• • More reliable results.
• Disadvantages:
• • Difficult to differentiate developmental defects and caries.
• • It is not a quantitative method.
• 2.Ultrasonic imaging: The demineralization of enamel is assessed by ultrasound
technique.
• Advantage: More sensitive than visual tactile method.
• Disadvantage: It is not a quantitative method.
pulse echo-
• 3.Fiberoptic transillumination (FOTI): Transillumination takes advantage of the opacity of a
demineralized tooth structure over more translucent healthy structures. The decalcified area will
not let light pass through as much as it does in a healthy area, generating a shadow corresponding
to decay.
• Advantages:
• • Noninvasive method
• • Useful in patients with posterior crowding
•
• No radiation hazards
• • Comfortable to patients
•
•
Disadvantages:
• • Not possible in all anatomic locations
• • Considerable intra- and inter-observer variation
III-RADIOGRAPHIC METHOD OF DIAGNOSIS
• Radiographs play an important role in diagnosis of the dental diseases. The interpretation of
radiographs should be done in a systematic manner. The clinician should be familiar with normal
radiographic landmarks
NORMAL RADIOGRAPHIC LANDMARKS
• • Enamel: It is the most radiopaque structure.
• • Dentin: Slightly darker than enamel.
• • Cementum: Similar to dentin in appearance.
• • Periodontal ligament: Appears as a narrow radiolucent line around the root surface.
• • Lamina dura: It is a radiopaque line representing the tooth socket.
• • Pulp cavity: Pulp chamber and canals are seen as radiolucent lines within the tooth.
CARIES OF VARIOUS SURFACES
Caries of occlusal surfaces:
• Radiographic interpretation of occlusal caries is possible only when the decay is more advanced
in the dentin and where it has created a greater damage to the tooth integrity .
Caries of proximal surfaces
• Lesions confined to enamel may not be evident radiographically until approximately 30-40%
demineralization has occurred . The shape of early radiolucent lesion in the enamel is a triangle
with its broad base at the tooth surface. Once the lesion crosses the DEJ and invades into the
dentin, it appears as another triangle with base at DEJ and apex towards the pulp chamber.
Collectively, these may appear as two triangles with their bases facing towards the external
surface.
• Bitewing radiographs are preferably utilized to detect interproximal caries. Recurrent caries at
cervical margins is best observed in bitewing films, since the central ray is directed along the
plane of the cervical areas.
Caries of buccal and lingual surfaces
• More than one radiographs are needed to diagnose because the buccal or lingual lesion may be
superim-posed on the DEJ and suggest occlusal caries. Root surface caries: Should be detected
clinically as radiographs are not needed for diagnosis.
•
PREVENTION OF DENTAL CARIES
• Methods to increase protective factors:
• Methods to Reduce Demineralizing Factors
METHODS TO REDUCE DEMINERALIZING FACTORS
Dietary Measures
1.Sugar substitutes: (a) Xylitol (b) Sorbitol Xylitol is non-fermen-table, noncariogenic sugar and has anticaries effects.
• Anticariogenic effects of xylitol:
• • Xylitol reduces plaque formation
• • It reduces bacterial adherence
• • It inhibits enamel demineralization
• • It has a direct inhibitory effect on S. mutans
• • Increases salivary flow
• • It is nonfermentable
• 2. Fibrous food: It has been seen that intake of raw vegetables, fruits and grains increases caries
protective mechanism as they contain natural phosphates, phytates and non- digestable fibers,
moreover they do not stick to teeth.
• 3. Low caloric sweeteners: In this, several sweetener such as aspartame, saccharin and cyclamate
considered to have some role.
• 4. Fats: Fats used to form a protective barrier on enamel or on carbohydrate surface so that it is
less available for bacteria.
METHODS TO INCREASE PROTECTIVE FACTORS
• 1. Methods to Improve Flow, Quantity and Quality of Saliva
In patients with hyposalivation, the mouth rinse prepared by mixing two teaspoons of baking soda
in eight oz of water is used.
• Fluorides: inorganic component, is important part of natural diet for humans. Fluoride ions
increase the resistance of the hydroxyapatite in enamel and dentin to dissolution by plaque acids.
The dentin requires higher levels of fluorides for remineralization (100 ppm) than enamel (5
ppm).
• Pit and Fissure Sealant "A pit and fissure sealant is a material that is placed in the pits and fissures
of teeth in order to prevent or arrest the development of dental caries." For better effects,
sealants should be placed as soon as possible because of more susceptibility of caries during the
posteruption period.
CURRENT METHODS OF CARIES PREVENTION
• I-Genetically Modified Foods The research have been carried out so to produce genetically
modified foods in an attempt to prevent tooth decay. They can be given to patients with "high
caries risk"
• II-Caries Vaccine
• Rationale of Caries Vaccine
• 1. Rationale for caries vaccine is that immunization with S. mutans should induce an immune
response so as to prevent organisms from colonizing the tooth surface and thus prevent carious
decay.
• 2. General public should be well exposed to vaccine.
• 3.Vaccine should be given before eruption of deciduous teeth so as to achieve maximum
benefits.