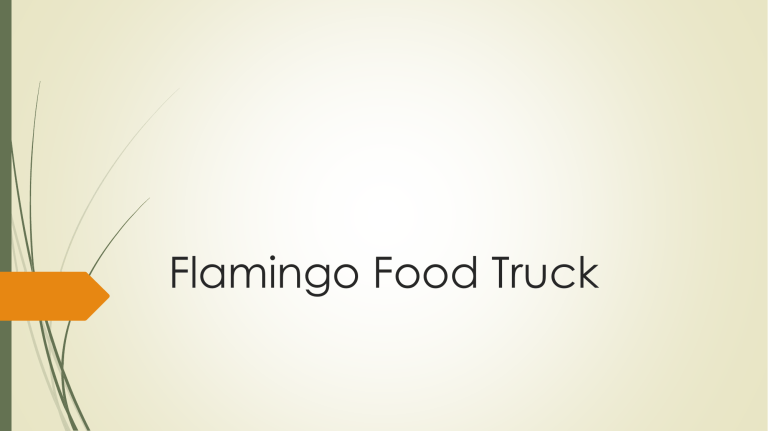 Flamingo Food Truck
Introduction
Flamingo is a moveable restaurant . Our food
truck specialized in providing healthy, fresh,
innovative and ethically sourced meals. The
importance of this business is to ensure that the
truck works in efficient and effective way, and
also the attraction of the food truck towards the
customers. Our business plan contains some
sections are taken in consideration
 Food trucks are one of the major trends these days in the food
industry is food trucks which is regular truck that is being changed to
be kitchen on wheels. You've likely seen them at sporting events,
performances, university , campuses, or even close to your job if you
live in a large area. Also, food truck contributed toward the vitality
of urban life of street.
 There are 982 licensed restaurants in Amman. We are the first entries
to food truck business in Jordan. Flamingo will be a moveable
restaurant. Flamingo will be a food truck operating in Jabal Amman
city, that sells fast food meals such as: (sandwiches, salads, juices,
hot and soft drinks)
Our Mission
 To provide the satisfaction to the customers by providing
a clean, delicious food at reasonable price, as well as to
keep the quality of our products and continually
improve our services, exceed prospects and needs of
our customers. And also to offer entrepreneurs the
opportunity and training needed to successfully lunch
their own mobile food truck business.
Our Vision
 To be identified and recognized for the quality of our
products (goods and services).
 To become the most popular leading name in food
truck in Amman and the whole Jordan.
Restaurant Design
Food Menu
Menu Prices
Product
Price (JD)
Sandwiches
1.70
Salad
1.25
Juices
.75
Soft drink
.40
Hot drink
.50
Our Plan
Our food truck aims to maintain a wide
marketing campaign that will ensure extreme
visibility for the business in its targeted market.
Marketing Objectives
 Advertise our food truck.
 Focus on customer satisfaction.
 Increase market share.
 Set a powerful existence in the company's areas.
 Set a powerful existence in the universities areas.
 Establishing long term relation with suppliers.
Marketing Strategies
 The primary technique of marketing will be used by our business will
be the very visible signage to the customers on the mobile food
truck.
 the second technique of marketing will be used by our business is to
develop the relationships with the managers that allow us to place
the truck from their locations to insure that the sales can be made.
These places will include sports stadiums, schools, companies,
concerts, and other huge entertainment events scale.
Our Product
 Flamingo will specialize in creating power juices and the sauces for
its sandwiches. The menu will include the classic sandwiches with
artistic twist, salads, hot drinks, soft drinks. We will provide lactosefree options for client's significant nutritional requirement.
 All our breads would be produced locally and bought fresh from
regional bakeries a several times a week. Our gluten-free options
are cooked every day in the truck cooker.
Market Differentiation
Food Vehicles
Classical Restaurants
Low cost of investment
High investment cost
Different places
One location
Low price of procedure
High operation cost
Avoid ownerships and other fees
Property tax and other
Easy to use
Difficult to operate
Easy to preserve
Hard to maintain
SWOT Analysis
Strength
 - First human buyer advantage.
 - Capable of moving to where the demand is.
 - Simple promoting by relocating the truck from one place to another.
 - Logical prices.
 - Special food.
Weaknesses
 - Food Truck parking areas.
 - Regulation of the country.
 - Not very clean looking.
Threats
 - Uncontrolled traffic in Amman.
 - Weather.
 - New competitor nearby.