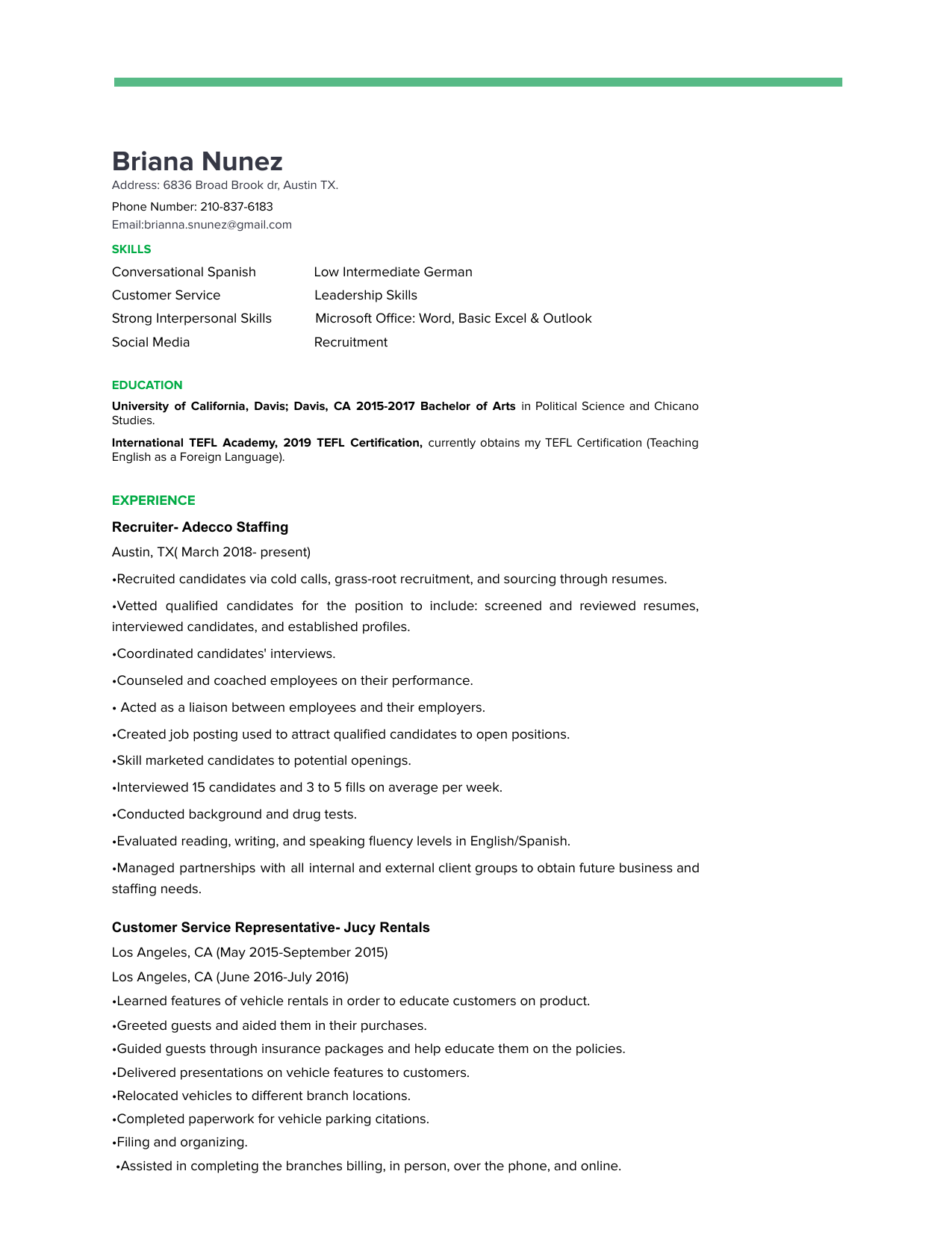 Briana Nunez
Address: 6836 Broad Brook dr, Austin TX.
Phone Number: 210-837-6183
Email:[email protected]
SKILLS
Conversational Spanish
Low Intermediate German
Customer Service
Leadership Skills
Strong Interpersonal Skills
Microsoft Office: Word, Basic Excel & Outlook
Social Media
Recruitment
EDUCATION
University of California, Davis; Davis, CA 2015-2017 Bachelor of Arts in Political Science and Chicano
Studies.
International TEFL Academy, 2019 TEFL Certification, currently obtains my TEFL Certification (Teaching
English as a Foreign Language).
EXPERIENCE
Recruiter- Adecco Staffing
Austin, TX( March 2018- present)
•Recruited candidates via cold calls, grass-root recruitment, and sourcing through resumes.
•Vetted qualified candidates for the position to include: screened and reviewed resumes,
interviewed candidates, and established profiles.
•Coordinated candidates' interviews.
•Counseled and coached employees on their performance.
• Acted as a liaison between employees and their employers.
•Created job posting used to attract qualified candidates to open positions.
•Skill marketed candidates to potential openings.
•Interviewed 15 candidates and 3 to 5 fills on average per week.
•Conducted background and drug tests.
•Evaluated reading, writing, and speaking fluency levels in English/Spanish.
•Managed partnerships with all internal and external client groups to obtain future business and
staffing needs.
Customer Service Representative- Jucy Rentals
Los Angeles, CA (May 2015-September 2015)
Los Angeles, CA (June 2016-July 2016)
•Learned features of vehicle rentals in order to educate customers on product.
•Greeted guests and aided them in their purchases.
•Guided guests through insurance packages and help educate them on the policies.
•Delivered presentations on vehicle features to customers.
•Relocated vehicles to different branch locations.
•Completed paperwork for vehicle parking citations.
•Filing and organizing.
•Assisted in completing the branches billing, in person, over the phone, and online.
File Clerk- MAYABEQUE Inc
Los Angeles, CA (September 2011- January 2013)
•Restructured and implemented a new filing system for the office.
•Handled incoming and outgoing calls.
• Scheduled coordinated meetings and appointments.
•In charge of purchasing supplies for office inventory.
•Opened and sorted incoming messages and postage.
•Assisted in billing, such as credit card chargebacks and assistant in merchant depots.
VOLUNTEER & ORGANIZATIONS
Manos de Cristos- Teachers Assistant
Austin, Texas (currently)
•Assisted the teacher during their lesson.
•Aided the students with any questions they may have about the material.
•Explained concepts one on one with students.
•Research material for the teacher.
Professional Community Service Organization (LOXI)- Historian
Davis, CA (2016- 2017)
•Photographed events and meetings.
•Updated social media including the organization's Facebook and Instagram.
•Generated content for the organization's official Facebook and Instagram.
•Developed content for the organization's official website using Weebly.
•Coordinated and executed photoshoots for upwards of 30 girls, to generate content for social
media and promotion materials.
M.E.Ch.A de UC Davis- Historian/Secretary
Davis, CA (2016- 2017)
•Photographed events and meetings.
•Planned and executed fundraisers for upwards of 40 people to help finance the clubs
.participation in the national MEChA conference.
•Updated social media including the organization's Facebook and Instagram.
•Documented meeting minutes.
•Held workshops to familiarize upwards of 20 people with the organization and its resources.