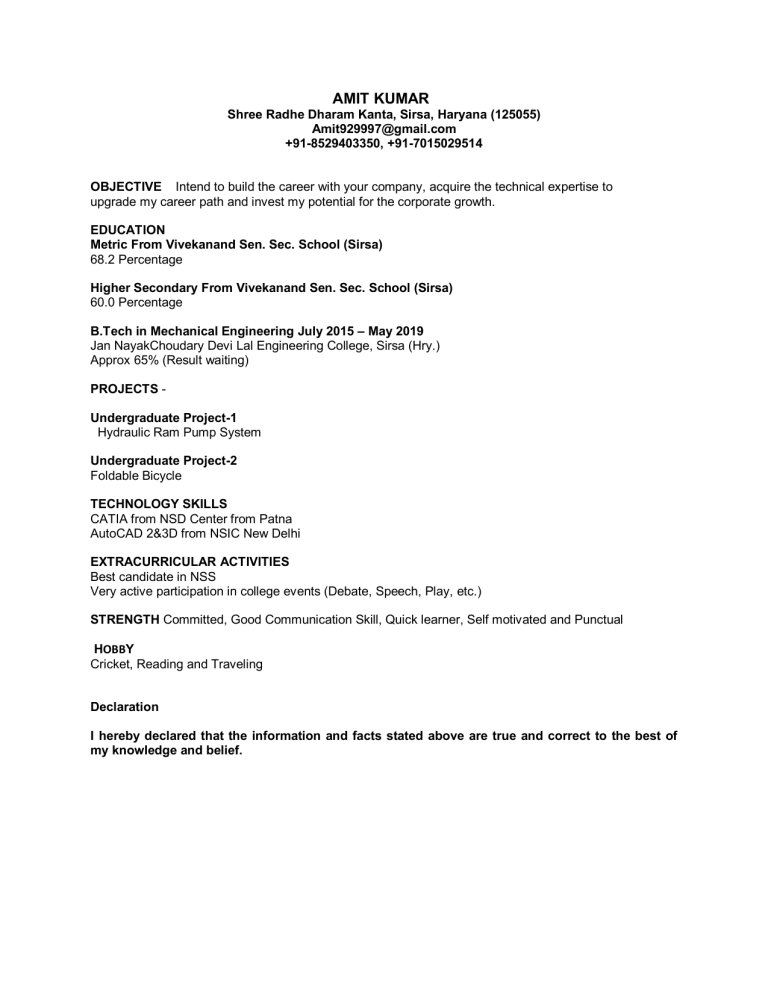 AMIT KUMAR
Shree Radhe Dharam Kanta, Sirsa, Haryana (125055)
Amit929997@gmail.com
+91-8529403350, +91-7015029514
OBJECTIVE Intend to build the career with your company, acquire the technical expertise to
upgrade my career path and invest my potential for the corporate growth.
EDUCATION
Metric From Vivekanand Sen. Sec. School (Sirsa)
68.2 Percentage
Higher Secondary From Vivekanand Sen. Sec. School (Sirsa)
60.0 Percentage
B.Tech in Mechanical Engineering July 2015 – May 2019
Jan NayakChoudary Devi Lal Engineering College, Sirsa (Hry.)
Approx 65% (Result waiting)
PROJECTS Undergraduate Project-1
Hydraulic Ram Pump System
Undergraduate Project-2
Foldable Bicycle
TECHNOLOGY SKILLS
CATIA from NSD Center from Patna
AutoCAD 2&3D from NSIC New Delhi
EXTRACURRICULAR ACTIVITIES
Best candidate in NSS
Very active participation in college events (Debate, Speech, Play, etc.)
STRENGTH Committed, Good Communication Skill, Quick learner, Self motivated and Punctual
HOBBY
Cricket, Reading and Traveling
Declaration
I hereby declared that the information and facts stated above are true and correct to the best of
my knowledge and belief.