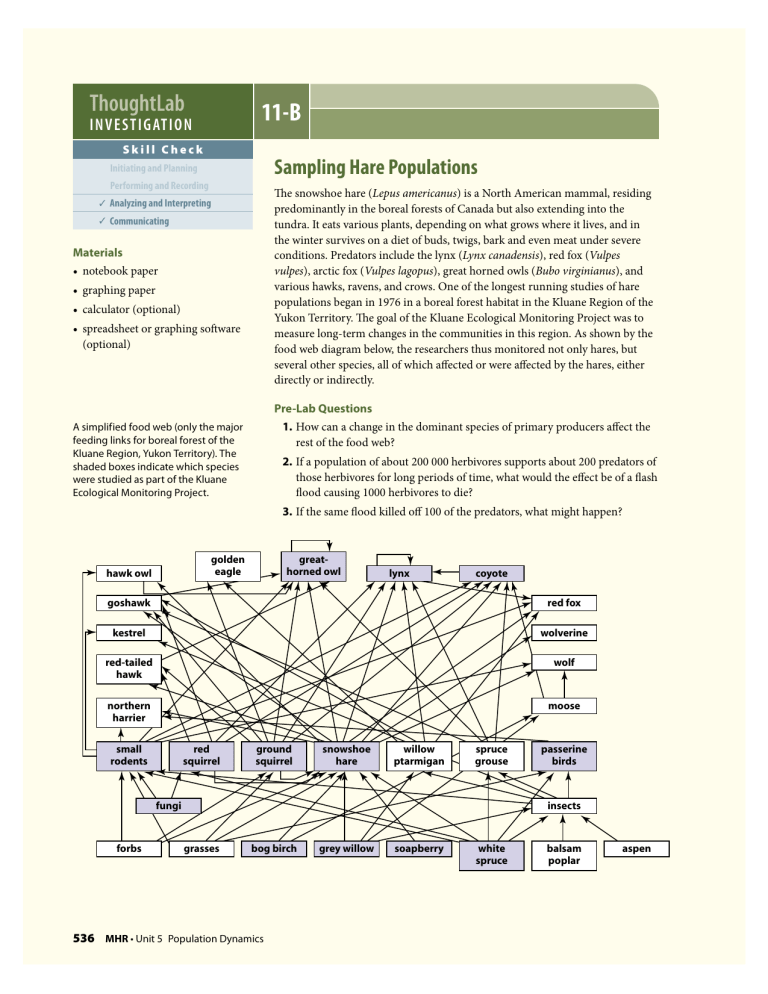 ThoughtLab
11-B
INVESTIGATION
Skill Check
Sampling Hare Populations
Initiating and Planning
Performing and Recording
✓
Analyzing and Interpreting
✓
Communicating
The snowshoe hare (Lepus americanus) is a North American mammal, residing
predominantly in the boreal forests of Canada but also extending into the
tundra. It eats various plants, depending on what grows where it lives, and in
the winter survives on a diet of buds, twigs, bark and even meat under severe
conditions. Predators include the lynx (Lynx canadensis), red fox (Vulpes
vulpes), arctic fox (Vulpes lagopus), great horned owls (Bubo virginianus), and
various hawks, ravens, and crows. One of the longest running studies of hare
populations began in 1976 in a boreal forest habitat in the Kluane Region of the
Yukon Territory. The goal of the Kluane Ecological Monitoring Project was to
measure long-term changes in the communities in this region. As shown by the
food web diagram below, the researchers thus monitored not only hares, but
several other species, all of which affected or were affected by the hares, either
directly or indirectly.
Materials
• notebook paper
• graphing paper
• calculator (optional)
• spreadsheet or graphing software
(optional)
Pre-Lab Questions
1. How can a change in the dominant species of primary producers affect the
rest of the food web?
A simplified food web (only the major
feeding links for boreal forest of the
Kluane Region, Yukon Territory). The
shaded boxes indicate which species
were studied as part of the Kluane
Ecological Monitoring Project.
2. If a population of about 200 000 herbivores supports about 200 predators of
those herbivores for long periods of time, what would the effect be of a flash
flood causing 1000 herbivores to die?
3. If the same flood killed off 100 of the predators, what might happen?
golden
eagle
hawk owl
greathorned owl
lynx
coyote
goshawk
red fox
kestrel
wolverine
red-tailed
hawk
wolf
northern
harrier
moose
small
rodents
red
squirrel
ground
squirrel
snowshoe
hare
willow
ptarmigan
spruce
grouse
fungi
forbs
passerine
birds
insects
grasses
bog birch
536 MHR • Unit 5 Population Dynamics
grey willow
soapberry
white
spruce
balsam
poplar
aspen
number of days in both spring and fall, and the same
number of traps was used in each area. Traps were
opened in the evening, and were checked again in the
early morning. When a hare was caught for the first
time it was tagged and various variables were recorded
(such as sex, weight, grid location where caught) before
it was released. If a hare was recaptured its tag number
was recorded and the same measurements were taken
again. On the basis of these captures and recaptures an
estimate of the number of animals in each study area
was calculated. These estimates from the fall of 1976 to
the spring of 2001 are shown in the table.
Question
How can data be found and used to estimate population
numbers and densities in a given year, and how can the
fluctuation pattern of the population be determined?
Organize the Data
1. Study the data in the table. Although these data
have been simulated, they are representative of the
densities observed in each year of the Kluane study. In
this hypothetical study, traps were laid out at regular
intervals in a grid pattern in four study areas each 60
hectares in size, as shown in the figure on the next
page. In each area, trapping was done for the same
Data Table
Estimated Number of Hares in Each
Study Area in Fall
Year of
Study (fall/
spring)
Area A
Area B
Area C
Estimated Number of Hares in Each
Study Area the Next Spring
Area D
Area A
Area B
Area C
Area D
1976/77
1.2
3.4
2
3
3
2
5
4
1977/78
11
16.6
15.2
19.5
18
17
19
18
1978/79
68
59.75
65
78
50
42
39
44
1979/80
191.33
202.5
226.25
245.55
117
112
125
117
1980/81
202
190
214
204
172
182
162
172
1981/82
252
242
288
280
40
50
45
45
1982/83
22
20.33
9
20
8
9
8
9
1983/84
15.33
21.25
11.5
18.66
11
10
9
9
1984/85
11
16.6
15.2
19.5
9
9
10
11
1985/86
14
17.2
17.66
19.5
7
8
6
7
1986/87
1.2
3.33
4.66
3
7
8
9
10
1987/88
52
52
62
70
60
50
70
50
1988/89
130
137.5
122.66
157.33
45
55
35
45
1989/90
142
121
152
144
88
98
68
88
1990/91
87
110
86
103
50
40
60
50
1991/92
58
59.75
75.5
68
17
12
20
19
1992/93
10
5.5
7.25
8.75
5
4
6
5
1993/94
11
14
15.2
9
4.5
5.5
3
5
1994/95
32
36
35
28
11
6
17
10
1995/96
70
52
64
67
30
40
20
30
1996/97
100
99
86
111
45
65
35
45
1997/98
122
132
116
132
120
130
110
120
1998/99
149
166
184
157.33
80
90
70
80
1999/2000
66
63
72
76
14
16
6
9
2000/01
3.75
5.5
8.75
3
Chapter 11 Describing Populations and Their Growth • MHR 537
20
19
18
17
16
15
14
13
12
11
10
9
8
7
6
5
4
3
2
1
7. In the Kluane Region, the snowshoe hare is what many
ecologists refer to as a keystone species: one whose
disappearance would have catastrophic effects on
many other species in the community in which it lives.
Consider the food web shown on the previous page.
How do you think removal of all hares from this area
would affect the structure of the community?
Conclude and Communicate
8. What might cause the difference between the spring
and fall cycles?
9. What might cause the multiyear cycle?
A B C D E F G H I J K L M N O P Q R S T
Each dot on this grid represents a trap. There are approximately
30 m between each point on the grid. The study area
considered to be "covered" by these traps is larger than the
grid itself, being about 60 ha in size.
2. Calculate the average number of hares captured per
60-hectare area in the spring of each year, then do the
same calculation for fall. You might decide to work
in groups, with some members of a group doing the
spring data and others doing calculations for fall. Using
this average figure, determine the density of hares per
hectare in each season.
3. Make a graph of your data—for spring or fall densities
or both—showing how the population density changes
over time. Year (this is the manipulated or independent
variable) should be plotted on the x-axis and hare
density (this is the responding or dependent variable)
on the y-axis.
Analyze and Interpret
4. For step 1, what is the advantage of sampling the
number of hares in relatively small areas rather than
trapping over the entire area? Why was the trapping
done the same way in each area, or why was each area
the same size?
5. For step 2, why were four areas studied instead of
just one? Why is the density you calculated really
an estimate of the density in this area, rather than a
measure of the actual density?
6. Examine your graph from step 3. Describe the period
of the hare population cycle in the Kluane Region.
That is, how many years are there between successive
density peaks or lows? Was there a difference between
the periods of the spring and fall cycles? Suggest a
reason why or why not.
538 MHR • Unit 5 Population Dynamics
10. How would you expect the population of predators
to vary over the same time frames? Explain a possible
means for the predator population to undergo a cyclic
change similar to the hares. Which predators might do
this?
11. Explain a possible means for the predator population
to remain constant throughout the year. Which
predators might do this?
12. Would the predator population show the same
population curve on the multi-year cycle as the hares
do? Explain your answer.
13. In this lab, the method used for gathering data was
"mark and release". If you were to modify this study to
gather data about lynx in the same region, what would
the best method be to estimate their population, and
why?
Propose a Course of Action
Research the rationale for introducing rabbits to Australia,
their effects on the marsupial population, and the effects
of introducing other species to try to control rabbit
populations there. What suggestions do you have to deal
with this situation?
Extend Further
14. INQUIRY This is a "textbook" example of population
curves, meaning that it seems simple and the real
world data match what the model would predict.
Research a "chaotic population bifurcation" and write a
paragraph to explain what you found.
15. RESEARCH The snowshoe hare was introduced
to Newfoundland in the mid 19th century. What
effects did that introduction have on Newfoundland's
indigenous arctic hare population? Why were the
effects so much less than the introduction of rabbits to
Australia?