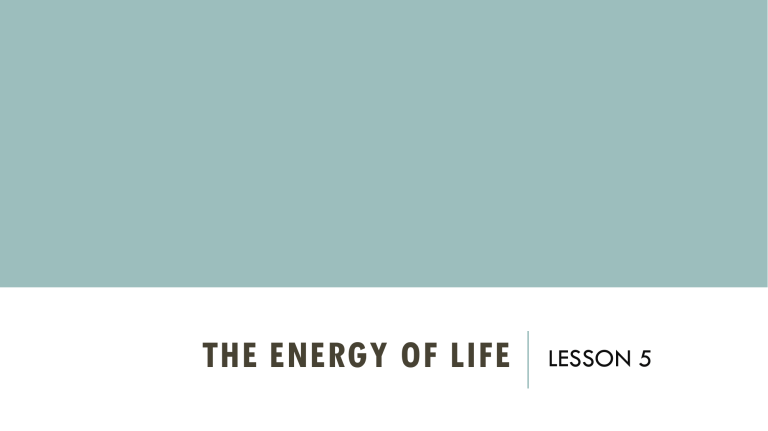 THE ENERGY OF LIFE
LESSON 5
Note:
Recycle
Aerobic (oxygen-requiring)
CELLULAR RESPIRATION
oxidizes fuel molecules and generates ATP for
cellular work. (Aerobic Harvesting of Energy)
Sugar is broken down to carbon dioxide
(CO2) and water (H2O).
The cell captures some of the released
energy to make ATP.
Chapter 6
Chapter 6
BREATHING vs. RESPIRATION
Breathing supplies O2 for use
in cellular respiration and
removes CO2.
Note:
‫تنفس‬
In breathing, CO2 and O2 are
exchanged between your lungs
and the air. In cellular
respiration, cells use the
O2 obtained through breathing
to break down fuel, releasing
CO2 as a waste product.
Chapter 6
CELLULAR RESPIRATION BANKS ENERGY IN ATP
MOLECULES
Cellular respiration is an exergonic process that transfers energy from glucose to
form ATP.
 can produce up to 32 ATP molecules for each glucose molecule.
 uses about 34% of the energy stored in glucose with the rest of the energy lost as heat.
Cellular respiration provides energy for body maintenance and voluntary activities.
Note:
How do cells extract energy from fuel molecules?
CELLS CAPTURE ENERGY FROM ELECTRONS
"FALLING" FROM ORGANIC FUELS TO OXYGEN
During cellular respiration, electrons are transferred from glucose (or other
organic fuels) to oxygen, releasing energy.
Redox (reduction-oxidation) reaction
 The hydrogen movements represent electron transfers because each
hydrogen atom consists of an electron and a proton.
Chapter 6
Chapter 6
Electrons removed from fuel molecules (oxidation) are transferred to NAD+ (reduction).
The hydrogen atoms are not transferred directly to oxygen, but instead are usually
passed first to an electron carrier, a coenzyme, NAD+ (nicotinamide adenine dinucleotide).
Note:
Stepping down an
energy staircase
NADH passes electrons to an
electron transport chain.
Energy is released as electrons
"fall" from carrier to carrier and
finally to O2.
• Hydrogens, electrons, and oxygen
combine to form water
Chapter 6
STAGES OF CELLULAR RESPIRATION
Chapter 6
Note:
Glycolysis harvests chemical energy by oxidizing
glucose to pyruvate.
Anaerobic production of ATP
GLYCOLYSIS
"SUGAR SPLITTING"
Glucose (6C sugar) is split into two Pyruvates (3C
sugars) which are oxidized and rearranged in the cytosol.
The net energy produced by glycolysis is 2ATP and 2NADH.
 ATP is formed by
substrate-level
phosphorylation, in which
a phosphate group is
transferred from an
organic molecule to ADP.
Chapter 6
GLYCOLYSIS
Chapter 6
Chapter 6
PYRUVATE OXIDATION
Note:
Chapter 6
TCA (e.g. citric acid)
In eukaryotic cells, the citric acid cycle occurs in the matrix of the mitochondrion.
PYRUVATE OXIDATION
When O2 is present, the pyruvate enters a mitochondrion
via active transport, and converts to Acetyl CoA and
yields CO2 and NADH.
CITRIC ACID CYCLE
= Krebs Cycle = tricarboxylic acid (TCA) cycle
completes the oxidation of organic molecules, generating
many NADH and FADH2 (flavin adenine dinucleotide).
• Acetyl CoA is broken down to 2CO2 molecules.
• The cycle generates 1ATP per turn, but most chemical energy is
transferred to NAD+ and FAD producing 3NADH and FADH2.
CITRIC ACID CYCLE
Chapter 6
The reduced coenzymes, NADH and
FADH2, shuttle their cargo of high energy
electrons into the electron transport chain.
Note:
Almost 90% of the ATP generated in cellular
respiration is made by oxidative phosphorylation
OXIDATIVE PHOSPHORYLATION
Most ATP production occurs by
oxidative phosphorylation.
Electrons from NADH and FADH2
are passed down the electron
transport chain to O2, which picks
up H+ to form water.
• During electron transport along the
chain, electron carriers which alternate
between reduced & oxidized states by
accepting & donating electrons.
Energy released by these redox
reactions is used to pump H+ into
the intermembrane space.
In chemiosmosis, the H+ gradient
drives H+ back through ATP
synthase complex in the inner
membrane, synthesizing ATP.
FERMENTATION:
ANAEROBIC HARVESTING OF ENERGY
Fermentation enables cells to produce ATP without oxygen.
• harvests chemical energy without using electron transport chain.
NAD+ is recycled from NADH as pyruvate is reduced to
lactate (lactic acid fermentation) or alcohol and CO2 (alcohol fermentation).
Note:
An electron transport chain is used in anaerobic
respiration but not in fermentation.
Anaerobic respiration: has electron transport chain,
but the final electron acceptor is other than oxygen.
Chapter 6
CELLS USE MANY KINDS
OF ORGANIC MOLECULES
AS FUEL FOR CELLULAR
RESPIRATION
 Carbohydrates, fats, and
proteins from food can all
be used as fuel for cellular
respiration.
 Monomers of these molecules
enter glycolysis or the citric
acid cycle at various points.
Note:
Fats contain many hydrogen atoms and
thus many energy-rich electrons.
Chapter 6
ORGANIC MOLECULES
FROM FOOD PROVIDE
RAW MATERIALS FOR
BIOSYNTHESIS
 Cells use intermediates from
cellular respiration and ATP for
biosynthesis of other organic
molecules.
 Metabolic pathways are often
regulated by feedback inhibition.
e.g. If ATP accumulates in a cell, it inhibits
an early enzyme in glycolysis, slowing
down respiration.
Chapter 6
YOU SHOULD NOW BE ABLE TO
1.
Compare the processes and locations of cellular respiration and photosynthesis.
2.
Provide the overall chemical equation for cellular respiration.
3.
Explain how the energy in a glucose molecule is released during cellular respiration.
4.
Explain how redox reactions are used in cellular respiration.
5.
Compare the reactants, products, and energy yield of the three stages of cellular
respiration.
6.
Compare the reactants, products, and energy yield of alcohol and lactic acid
fermentation.
7.
Explain how carbohydrates, fats, and proteins are used as fuel for cellular respiration.
PHOTOSYNTHESIS:
Using light to make food
Note:
Photoautotroph
Tropical forest plants
Kelp, a large alga
Cyanobacteria
(photosynthetic bacteria)
Note:
Does the oxygen come from carbon dioxide or water?
PHOTOSYNTHESIS
Conversion of sunlight energy to the chemical energy stored in sugar
provides food and O2 for almost all living organisms.
Photoautotrophs use the energy of sunlight to convert CO2 and H2O to sugar O2.
• Autotrophs: "Self-feeders". Organisms that produce their own organic molecules for energy
and carbon skeletons. Producers.
• Heterotrophs: Organisms that live on compounds produced by other organisms. Consumers.
Chapter 7
PHOTOSYNTHESIS OCCURS
IN CHLOROPLASTS
 Chloroplasts are surrounded by a double
membrane and contain stacks of thylakoids and
a thick fluid called stroma.
• The thylakoid membrane house much of the
machinery that converts light energy to chemical
energy, which is used in the stroma to make sugar.
 Chlorophyll is a light-absorbing pigment built
into the thylakoid membrane that plays a
central role in converting solar energy to
chemical energy.
Chapter 7
PHOTOSYSTEMS CAPTURE
SOLAR ENERGY
In the thylakoid membrane, chlorophyll
molecules are organized along with other
pigments and proteins into photosystems.
Chapter 7
TWO PHOTOSYSTEMS
COOPERATE IN THE LIGHT
REACTIONS
Electrons are
 removed from water,
 passed from photosystem II
to photosystem I, and
 accepted by NADP+,
reducing it to NADPH.
Two photosystems connected by an electron
transport chain generate ATP and NADPH.
Chapter 7
Note:
• Light energy absorbed by
the two photosystems
drives the flow of
electrons from water to
NADPH.
• The electron transport
chain helps to produce
the concentration gradient
of H+ across the thylakoid
membrane, which drives
H+ through ATP synthase,
producing ATP.
• Because the initial energy
input is light ("photo"), this
chemiosmotic production
of ATP is called
photophosphorylation.
Chapter 7
PHOTOSYNTHESIS OCCURS IN TWO STAGES, WHICH
ARE LINKED BY ATP AND NADPH
The light reactions in thylakoids
convert light energy to chemical energy,
producing ATP and NADPH
split water, releasing O2.
The Calvin cycle in the stroma
forms sugar from CO2 (Carbon
fixation), using ATP for energy and
NADPH for reducing power
produced from the light reaction.
Light-independent reactions
 The cycle returns ADP, and Pi, and
NADP+ to the light reactions.
Note:
• Solar energy
• Using carbon from CO2, electrons from NADPH, and
energy from ATP, the cycle constructs G3P
(glyceraldehyde-3-phosphate), which is used to build
glucose and other organic molecules.
Cellular respiration
Other organic compounds
Chapter 7
YOU SHOULD NOW BE ABLE TO
1. Explain how plants produce oxygen.
2. Explain how photosystems capture solar energy.
3. Explain how the electron transport chain and chemiosmosis generate ATP,
NADPH, and oxygen in the light reactions.
4. Review the overall process of the light reactions and the Calvin cycle,
noting the products, reactants, and locations.