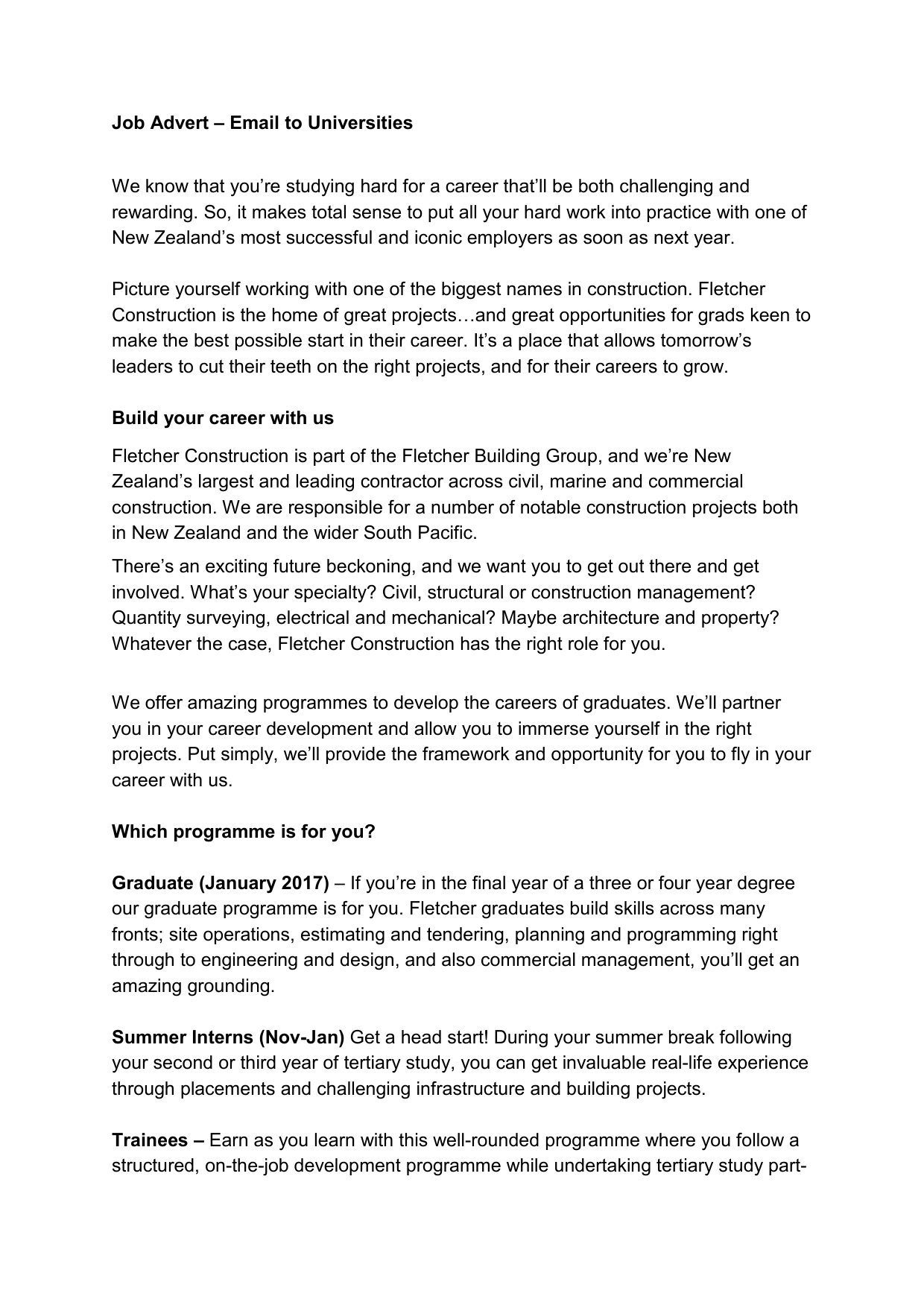 Job Advert – Email to Universities
We know that you're studying hard for a career that'll be both challenging and
rewarding. So, it makes total sense to put all your hard work into practice with one of
New Zealand's most successful and iconic employers as soon as next year.
Picture yourself working with one of the biggest names in construction. Fletcher
Construction is the home of great projects…and great opportunities for grads keen to
make the best possible start in their career. It's a place that allows tomorrow's
leaders to cut their teeth on the right projects, and for their careers to grow.
Build your career with us
Fletcher Construction is part of the Fletcher Building Group, and we're New
Zealand's largest and leading contractor across civil, marine and commercial
construction. We are responsible for a number of notable construction projects both
in New Zealand and the wider South Pacific.
There's an exciting future beckoning, and we want you to get out there and get
involved. What's your specialty? Civil, structural or construction management?
Quantity surveying, electrical and mechanical? Maybe architecture and property?
Whatever the case, Fletcher Construction has the right role for you.
We offer amazing programmes to develop the careers of graduates. We'll partner
you in your career development and allow you to immerse yourself in the right
projects. Put simply, we'll provide the framework and opportunity for you to fly in your
career with us.
Which programme is for you?
Graduate (January 2017) – If you're in the final year of a three or four year degree
our graduate programme is for you. Fletcher graduates build skills across many
fronts; site operations, estimating and tendering, planning and programming right
through to engineering and design, and also commercial management, you'll get an
amazing grounding.
Summer Interns (Nov-Jan) Get a head start! During your summer break following
your second or third year of tertiary study, you can get invaluable real-life experience
through placements and challenging infrastructure and building projects.
Trainees – Earn as you learn with this well-rounded programme where you follow a
structured, on-the-job development programme while undertaking tertiary study part-
time. You'll gain first-hand experience on large scale projects, while learning from
industry experts.
If you have already completed two years of full-time tertiary study towards a
Construction Management degree (or Diploma), you may be eligible to enter the
trainee programme directly following the summer intern programme.
Apply now for our 2017 Graduate Programme and together let's start building your
construction career. Apply now at: fletcherconstructiongrads.co.nz
.