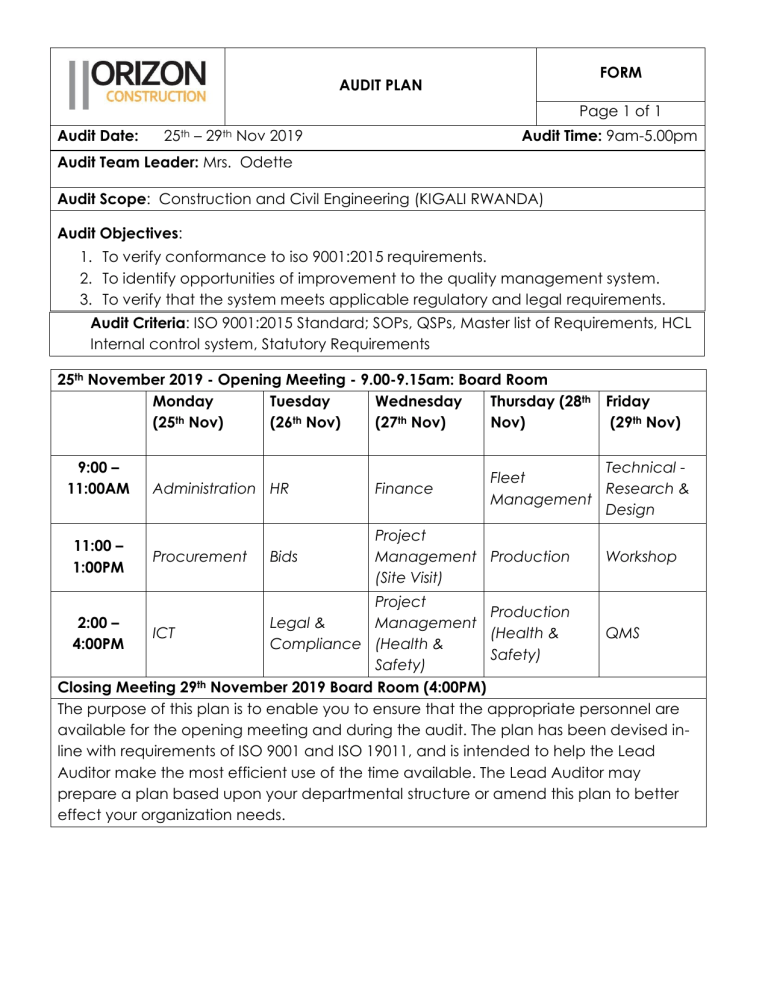 FORM
AUDIT PLAN
Page 1 of 1
Audit Date:
25th – 29th Nov 2019
Audit Time: 9am-5.00pm
Audit Team Leader: Mrs. Odette
Audit Scope: Construction and Civil Engineering (KIGALI RWANDA)
Audit Objectives:
1. To verify conformance to iso 9001:2015 requirements.
2. To identify opportunities of improvement to the quality management system.
3. To verify that the system meets applicable regulatory and legal requirements.
Audit Criteria: ISO 9001:2015 Standard; SOPs, QSPs, Master list of Requirements, HCL
Internal control system, Statutory Requirements
25th November 2019 - Opening Meeting - 9.00-9.15am: Board Room
Monday
Tuesday
Wednesday
Thursday (28th
(25th Nov)
(26th Nov)
(27th Nov)
Nov)
9:00 –
11:00AM
11:00 –
1:00PM
Technical Fleet
Research &
Management
Design
Administration HR
Finance
Procurement
Project
Management Production
(Site Visit)
Bids
Friday
(29th Nov)
Workshop
Project
Production
2:00 –
Legal &
Management
ICT
(Health &
QMS
4:00PM
Compliance (Health &
Safety)
Safety)
Closing Meeting 29th November 2019 Board Room (4:00PM)
The purpose of this plan is to enable you to ensure that the appropriate personnel are
available for the opening meeting and during the audit. The plan has been devised inline with requirements of ISO 9001 and ISO 19011, and is intended to help the Lead
Auditor make the most efficient use of the time available. The Lead Auditor may
prepare a plan based upon your departmental structure or amend this plan to better
effect your organization needs.