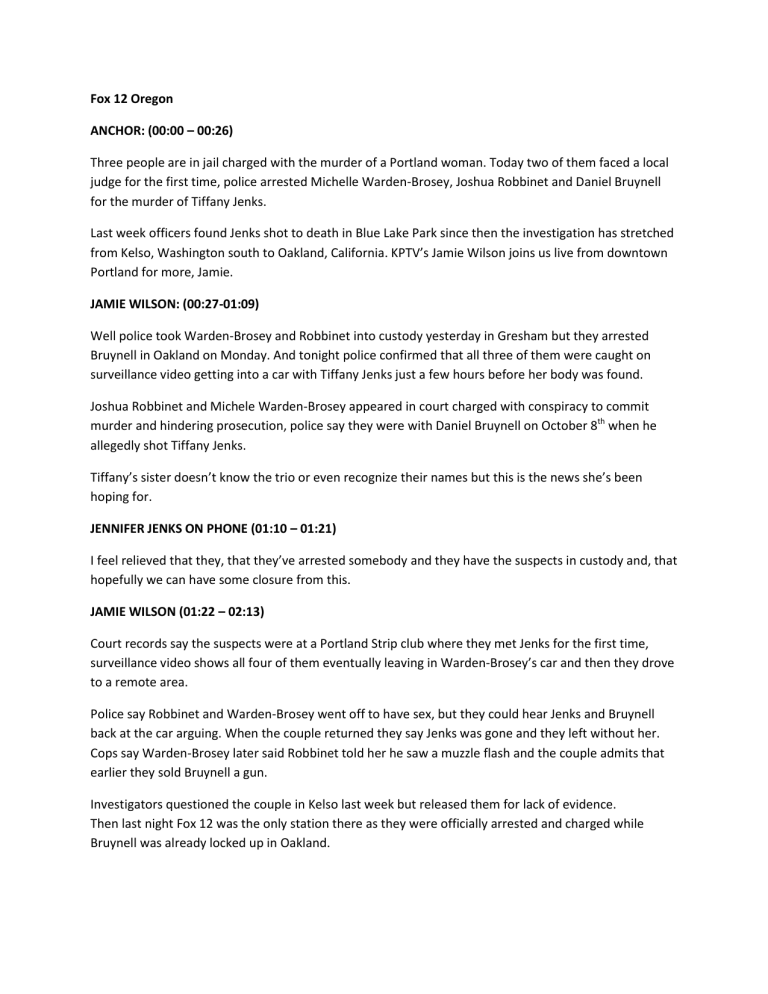 Fox 12 Oregon
ANCHOR: (00:00 – 00:26)
Three people are in jail charged with the murder of a Portland woman. Today two of them faced a local
judge for the first time, police arrested Michelle Warden-Brosey, Joshua Robbinet and Daniel Bruynell
for the murder of Tiffany Jenks.
Last week officers found Jenks shot to death in Blue Lake Park since then the investigation has stretched
from Kelso, Washington south to Oakland, California. KPTV's Jamie Wilson joins us live from downtown
Portland for more, Jamie.
JAMIE WILSON: (00:27-01:09)
Well police took Warden-Brosey and Robbinet into custody yesterday in Gresham but they arrested
Bruynell in Oakland on Monday. And tonight police confirmed that all three of them were caught on
surveillance video getting into a car with Tiffany Jenks just a few hours before her body was found.
Joshua Robbinet and Michele Warden-Brosey appeared in court charged with conspiracy to commit
murder and hindering prosecution, police say they were with Daniel Bruynell on October 8th when he
allegedly shot Tiffany Jenks.
Tiffany's sister doesn't know the trio or even recognize their names but this is the news she's been
hoping for.
JENNIFER JENKS ON PHONE (01:10 – 01:21)
I feel relieved that they, that they've arrested somebody and they have the suspects in custody and, that
hopefully we can have some closure from this.
JAMIE WILSON (01:22 – 02:13)
Court records say the suspects were at a Portland Strip club where they met Jenks for the first time,
surveillance video shows all four of them eventually leaving in Warden-Brosey's car and then they drove
to a remote area.
Police say Robbinet and Warden-Brosey went off to have sex, but they could hear Jenks and Bruynell
back at the car arguing. When the couple returned they say Jenks was gone and they left without her.
Cops say Warden-Brosey later said Robbinet told her he saw a muzzle flash and the couple admits that
earlier they sold Bruynell a gun.
Investigators questioned the couple in Kelso last week but released them for lack of evidence.
Then last night Fox 12 was the only station there as they were officially arrested and charged while
Bruynell was already locked up in Oakland.
"K" (02:12 – 02:18)
She knows a lot of people there are a lot of us who love her and who miss her.
JAMIE WILSON (02:13 – 02:30)
This woman K doesn't want to show her face but she came to court to see the people accused in her
friend's murder. Jenks' loved one say she was a kind and giving person and she didn't deserve any of
this.
JENNIFER JENKS ON PHONE (02:31 – 02:38)
Right now I just feel a lot of anger and I uh, I just wanna make sure that justice is done for my sister.
JAMIE WILSON (02:40 – 02:30)
And tonight Warden-Brosey is in jail on suicide watch and she and Robbinet are being held without bail
as for Bruynell in California, he is charged with murder and he is awaiting transport back to Oregon.
Live in downtown Portland Jamie Wilson the 5-o Clock News.