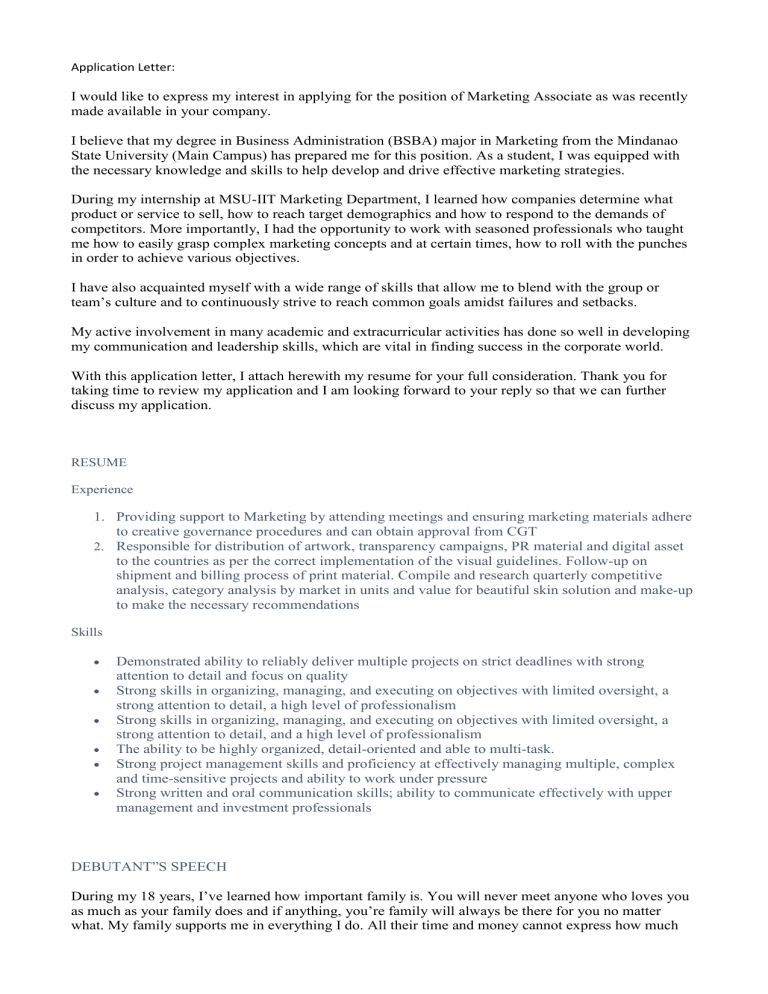 Application Letter:
I would like to express my interest in applying for the position of Marketing Associate as was recently
made available in your company.
I believe that my degree in Business Administration (BSBA) major in Marketing from the Mindanao
State University (Main Campus) has prepared me for this position. As a student, I was equipped with
the necessary knowledge and skills to help develop and drive effective marketing strategies.
During my internship at MSU-IIT Marketing Department, I learned how companies determine what
product or service to sell, how to reach target demographics and how to respond to the demands of
competitors. More importantly, I had the opportunity to work with seasoned professionals who taught
me how to easily grasp complex marketing concepts and at certain times, how to roll with the punches
in order to achieve various objectives.
I have also acquainted myself with a wide range of skills that allow me to blend with the group or
team's culture and to continuously strive to reach common goals amidst failures and setbacks.
My active involvement in many academic and extracurricular activities has done so well in developing
my communication and leadership skills, which are vital in finding success in the corporate world.
With this application letter, I attach herewith my resume for your full consideration. Thank you for
taking time to review my application and I am looking forward to your reply so that we can further
discuss my application.
RESUME
Experience
1. Providing support to Marketing by attending meetings and ensuring marketing materials adhere
to creative governance procedures and can obtain approval from CGT
2. Responsible for distribution of artwork, transparency campaigns, PR material and digital asset
to the countries as per the correct implementation of the visual guidelines. Follow-up on
shipment and billing process of print material. Compile and research quarterly competitive
analysis, category analysis by market in units and value for beautiful skin solution and make-up
to make the necessary recommendations
Skills






Demonstrated ability to reliably deliver multiple projects on strict deadlines with strong
attention to detail and focus on quality
Strong skills in organizing, managing, and executing on objectives with limited oversight, a
strong attention to detail, a high level of professionalism
Strong skills in organizing, managing, and executing on objectives with limited oversight, a
strong attention to detail, and a high level of professionalism
The ability to be highly organized, detail-oriented and able to multi-task.
Strong project management skills and proficiency at effectively managing multiple, complex
and time-sensitive projects and ability to work under pressure
Strong written and oral communication skills; ability to communicate effectively with upper
management and investment professionals
DEBUTANT"S SPEECH
During my 18 years, I've learned how important family is. You will never meet anyone who loves you
as much as your family does and if anything, you're family will always be there for you no matter
what. My family supports me in everything I do. All their time and money cannot express how much
they love me because love is more than any of that. Love between a family is a special bond of time,
laughs, smiles and memories. Love is something that family doesn't have to say to each other because
we already know and I am blessed to have a family that loves me in every way possible. I cannot stress
enough about how much I love you.
Ahead is a new journey, not only for me but for all of us. And what i have to say to that, "Challenge
accepted." I'm an adult now and I'm entering college in a matter of weeks. I understand that I'll be
facing a different kind of atmosphere with a new kind of freedom and I realize the right choices from
the wrong choices that I am going to have to make.
So now I will end my speech with a thank you. Thank you for joining me in celebrating my 18th
birthday. Thank you Papang for getting me this room for this event. Thank you so much to my court for
giving me their time and effort. And a special thank you to my Mommy and Daddy for making this all
possible. I love all of you very much!
PRESIDENTIAL SPEECH
Ladies and Gentlemen,
I am a simple man with a Harvard degree and a solid understanding of tractors. When I was a young
boy, my father took me on his knee and told me the principle that has guided my life ever since: "Agree
with some things, disagree with other things." His was truly the Greatest Generation, along with a few
that came before and a couple that have come since.
Why am I running for president of the United States of America? That's a good question, and perhaps
there's no good way to answer it. Or perhaps there is a good way to answer it. Either way, it's a good
question and I'm glad it was raised.
Our country is sharply divided over a war that is being waged in a distant land. My views on this war
are clear: it is happening, it is happening in Iraq, and it will continue to happen until it stops. Some
people believe we should withdraw all the troops now. Some people believe we should stay and fight
until we've established a stable nation. Some people believe we should gradually hand over control to
the Iraqi government. I feel blessed to live in a country with so many beliefs.
On the subject of South African apartheid: I strongly, strongly, strongly oppose it. I'm glad it's gone,
and I hope it never comes back.
The state of our economy is in flux. Every single day, the stock market goes up or goes down or stays
the same. If elected president, I will ask the Federal Reserve to take a good long look at the interest rate
and decide whether or not to change it. If elected president, I will create jobs where there are none, and
where there are jobs, I will create internships.
Let us take actions that will make people happy.