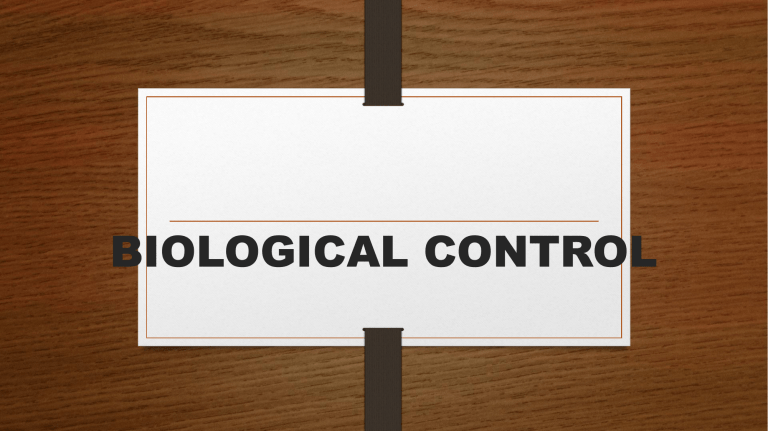 BIOLOGICAL CONTROL
BIOLOGICAL CONTROL
• "The use of living organisms to suppress the
population of a specific pest organism ,
making it less abundant or less damaging than
it would otherwise be.
What are Natural Enemies?
Natural enemies are living organisms that:
-Kill pest
-Decrease pest reproductive potential
-Compete with pest organisms for use of
your plants.
Who Kills Pest?
• Predators
• Parasites
• Pathogens
• Sterilization
TYPES OF BIOLOGICAL PEST
CONTROL
• There are three basic types of biological pest control
strategies:
*Importation (sometimes called "classical biological
control)
*Augmentation
*Conservation
IMPORTATION
• Importation involves the introduction of a pest's
natural enemies to a new locale where they do not
occur naturally.
• It is long lasting and inexpensive.
• When a natural enemy is successfully established it
rarely requires additional input and it continues to kill
the pest with no direct help from humans and at no
cost.
AUGMENTATION
• Augmentation involves the supplemental release
of natural enemies , boosting the naturally
occurring population.
CONSERVATION
• Enhance conditions for existing natural enemy and
reproduction.
BIOLOGICAL CONTROL AGENTS
• PREDATORS
are mainly free-living species that directly
consume a large number of prey during their
whole lifetime.
-
PARASITOIDS
• Parasitoids lay their eggs on or in the body of
an insect host , which is then used as a food
for developing larvae. The host is ultimately
killed.
PATHOGEN
• Pathogen micro organisms include bacteria ,
fungi, and viruses. They kill or debilitate their
host and are relatively host-specific. Various
microbial insect diseases occur naturally, but
may also be used as biological pesticides.
ADVANTAGES OF BIOLOGICAL
CONTROL
• High level of control at low cost
• Self-perpetuating at little cost after initial effort
• Very few harmful effects on man, and environment
• Some natural enemies reproduce rapidly
• Some natural enemies search out hosts
• Some natural enemies survive even at low host densities
DISADVANTAGES OF BIOLOGICAL
CONTROL
• Not effective against Direct Pests where any damage
is unacceptable.
• Some level of damage occurs and must be acceptable.
• Must be implemented over large areas.
• May take years to become effective.