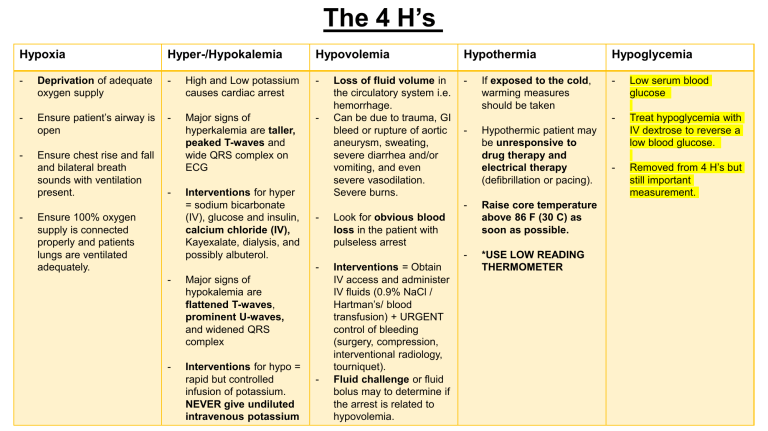 The 4 H's
Hypoxia
Hyper-/Hypokalemia
Hypovolemia
Hypothermia
Hypoglycemia
-
Deprivation of adequate
oxygen supply
-
High and Low potassium
causes cardiac arrest
-
-
If exposed to the cold,
warming measures
should be taken
-
Low serum blood
glucose
-
Ensure patient's airway is
open
-
Major signs of
hyperkalemia are taller,
peaked T-waves and
wide QRS complex on
ECG
-
-
Hypothermic patient may
be unresponsive to
drug therapy and
electrical therapy
(defibrillation or pacing).
Treat hypoglycemia with
IV dextrose to reverse a
low blood glucose.
-
Removed from 4 H's but
still important
measurement.
-
-
Ensure chest rise and fall
and bilateral breath
sounds with ventilation
present.
-
Ensure 100% oxygen
supply is connected
properly and patients
lungs are ventilated
adequately.
Interventions for hyper
= sodium bicarbonate
(IV), glucose and insulin,
calcium chloride (IV),
Kayexalate, dialysis, and
possibly albuterol.
-
-
Major signs of
hypokalemia are
flattened T-waves,
prominent U-waves,
and widened QRS
complex
-
Interventions for hypo =
rapid but controlled
infusion of potassium.
NEVER give undiluted
intravenous potassium
-
Loss of fluid volume in
the circulatory system i.e.
hemorrhage.
Can be due to trauma, GI
bleed or rupture of aortic
aneurysm, sweating,
severe diarrhea and/or
vomiting, and even
severe vasodilation.
Severe burns.
-
Raise core temperature
above 86 F (30 C) as
soon as possible.
-
*USE LOW READING
THERMOMETER
Look for obvious blood
loss in the patient with
pulseless arrest
Interventions = Obtain
IV access and administer
IV fluids (0.9% NaCl /
Hartman's/ blood
transfusion) + URGENT
control of bleeding
(surgery, compression,
interventional radiology,
tourniquet).
Fluid challenge or fluid
bolus may to determine if
the arrest is related to
hypovolemia.
The 4 T's
Tension
Pneumothorax
Cardiac
Tamponade
Toxicity
Thrombosis
(Heart: MI)
Thrombosis
(lungs: PE)
Trauma
-
-
-
Accidental
overdose: most
common drugs are
tricyclics, digoxin,
beta-blockers, and
calcium channel
blockers.
-
-
Blockage of the
main artery of the
lung which can
rapidly lead to
respiratory
collapse and
sudden death.
-
-
Cocaine: most
common and
increases the
incidence of pulseless
arrest
-
ECG: narrow QRS
Complex and rapid
heart rate.
Can be a cause
of pulseless
arrest.
Requires good
evaluation of
the patient's
physical
condition and
history to
reveal any
traumatic
injuries.
-
Physical signs: no
pulse felt with CPR.
distended neck
veins, positive ddimer test, prior
positive test for
DVT or PE.
-
Treat each
traumatic injury
as needed to
correct any
reversible
cause or
contributing
factor to the
pulseless
arrest.
-
Removed from
the 4 T's
-
-
Air enters the
pleural space and is
prevented from
escaping leading to a
build-up of tension
that causes shifts in
the intrathoracic
structure that can
rapidly lead to
cardiovascular
collapse and death.
ECG: narrow QRS
complexes and rapid
heart rate
-
Physical signs:
Decreased air entry,
decreased expansion
and hyperresonance
to percuss on affected
side. Tracheal
deviation, difficulty
with ventilation, and
no pulse felt with CPR
-
-
Interventions =
needle
decompression.
Emergency
condition in which
fluid accumulates in
the pericardium
(sac in which the
heart is enclosed).
Results in the
ineffective
pumping of the
blood leading to
cardiac arrest
ECG: narrow QRS
complex and rapid
heart rate.
Physical signs: JVP
distention, no pulse
or difficulty
palpating a pulse,
and muffled heart
sounds due to the
fluid inside the
pericardium.
Intervention =
pericardiocentesis.
-
-
-
Physical signs:
bradycardia, pupil
symptoms, and other
neurological changes
ECG: prolongation of
the QT interval
Poison control can be
utilized to obtain
information about
toxins and reversing
agents.
-
Coronary thrombosis: an
occlusion or blockage of
blood flow within a
coronary artery caused by
blood clot. Causes an
acute MI which destroys
heart muscle and can lead
to sudden death depends
on the location of the
blockage.
ECG: ST segment
changes, T-wave
inversions and/or Q
wave.
-
Physical signs: Chest pain
and elevated cardiac
markers i.e. trop levels
-
Interventions = fibrinolytic
therapy, or PCI
(percutaneous coronary
intervention)
-
-
Common PCI: coronary
angioplasty with or without
stent placement
Interventions =
surgical (pulmonary
thrombectomy) and
fibrinolytic therapy.
Cardiac arrest due
to PE = give
thrombolytic drug
immediately.