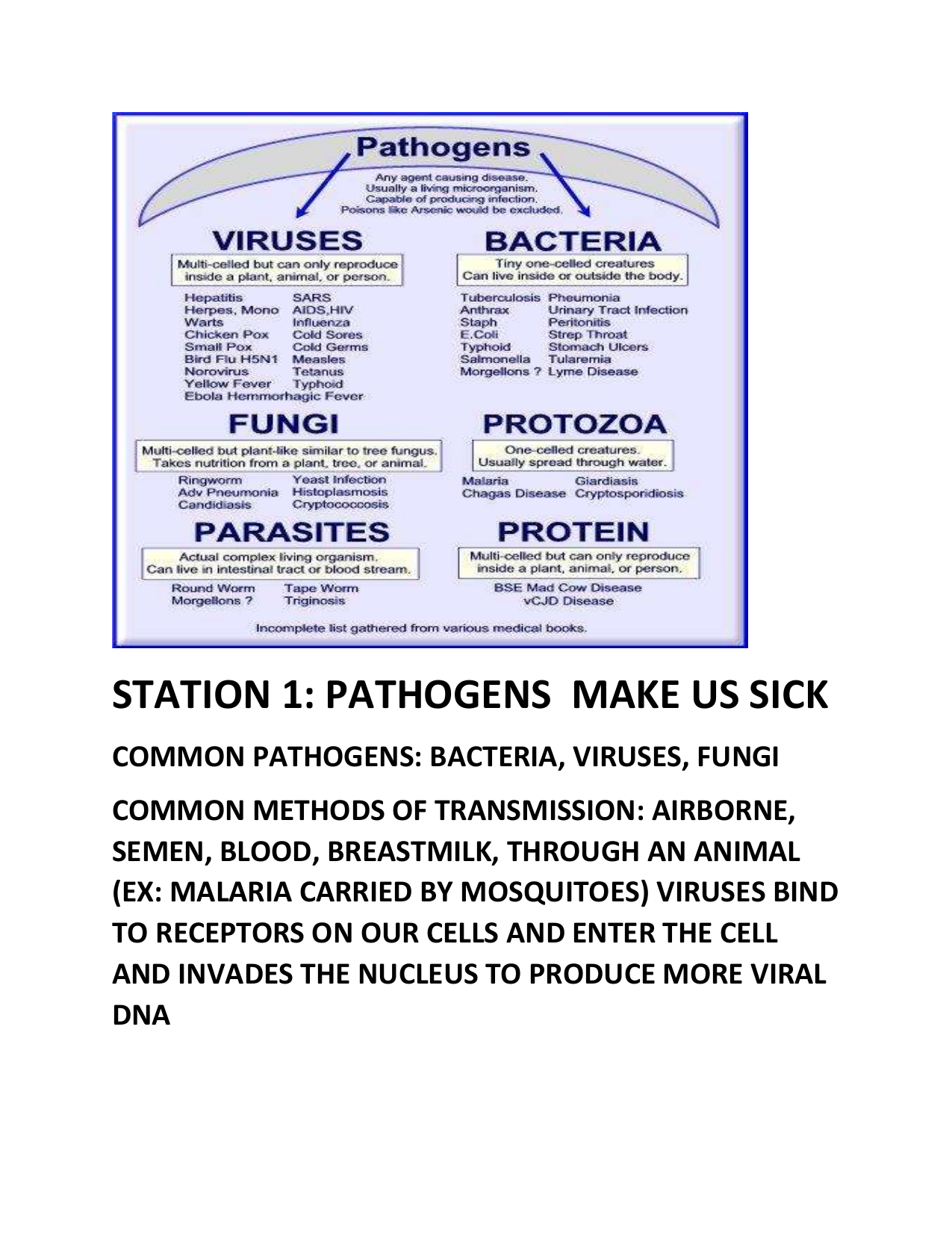 STATION 1: PATHOGENS MAKE US SICK
COMMON PATHOGENS: BACTERIA, VIRUSES, FUNGI
COMMON METHODS OF TRANSMISSION: AIRBORNE,
SEMEN, BLOOD, BREASTMILK, THROUGH AN ANIMAL
(EX: MALARIA CARRIED BY MOSQUITOES) VIRUSES BIND
TO RECEPTORS ON OUR CELLS AND ENTER THE CELL
AND INVADES THE NUCLEUS TO PRODUCE MORE VIRAL
DNA
STATION 2: IMMUNE SYSTEM
THE BODY'S IMMUNE SYSTEM IS DESIGNED TO FIGHT
OFF PATHOGENS. THERE'S THREE LINES OF DEFENSE:
THE OUTER LAYER OF YOUR BODY, MACROPHAGES AND
SPECIFIC WHITE BLOOD CELLS
STATION 3:
WHITE BLOOD
CELLS
WHITE BLOOD CELLS ARE
A LARGE GROUP OF CELLS
IN THE IMMUNE SYSTEM
THAT FIGHT OFF DISEASE.
B CELLS PRODUCE
ANTIBODIES WHICH ARE PROTEINS THAT SPECIFICALLY
BIND TO A PATHOGEN/ANTIGEN BY SHAPE AND
REMOVE THE PATHOGEN FROM THE BODY.
THE HIV VIRUS ATTACKS THE BODY'S T CELLS WHICH
WEAKENS THE BODY'S IMMUNE RESPONSE
STATION 4: VACCINES
VACCINES ARE A FORM OF DISEASE PREVENTION IN
WHICH THE PERSON IS GIVEN A WEAKENED VERSION
OF THE PATHOGEN SO THE BODY BUILDS UP
ANTIBODIES TO FIGHT THE ACTUAL VIRUS
STATION 5: ALLERGIES
ALLERGIES ARE A DISORDER OF THE IMMUNE SYSTEM IN
WHICH THE BODY REACTS TO A HARMLESS SUBSTANCE (LIKE
POLLEN OR PEANUTS) WITH AN IMMUNE RESPONSE. THE
CHEMICAL HISTAMINE IS RELEASED AND THE BODY REACTS
WITH INFLAMMATORY RESPONSES LIKE SNEEZING,
COUGHING, WATERY EYES. MANY PEOPLE WHO HAVE ORGAN
TRANSPLANTS ALSO EXPERIENCE A SIMILAR IMMUNE
REJECTION OF THE ORGAN WHICH IS NOT RECOGNIZED BY
THE BODY AND IS THEREFORE ATTACKED.