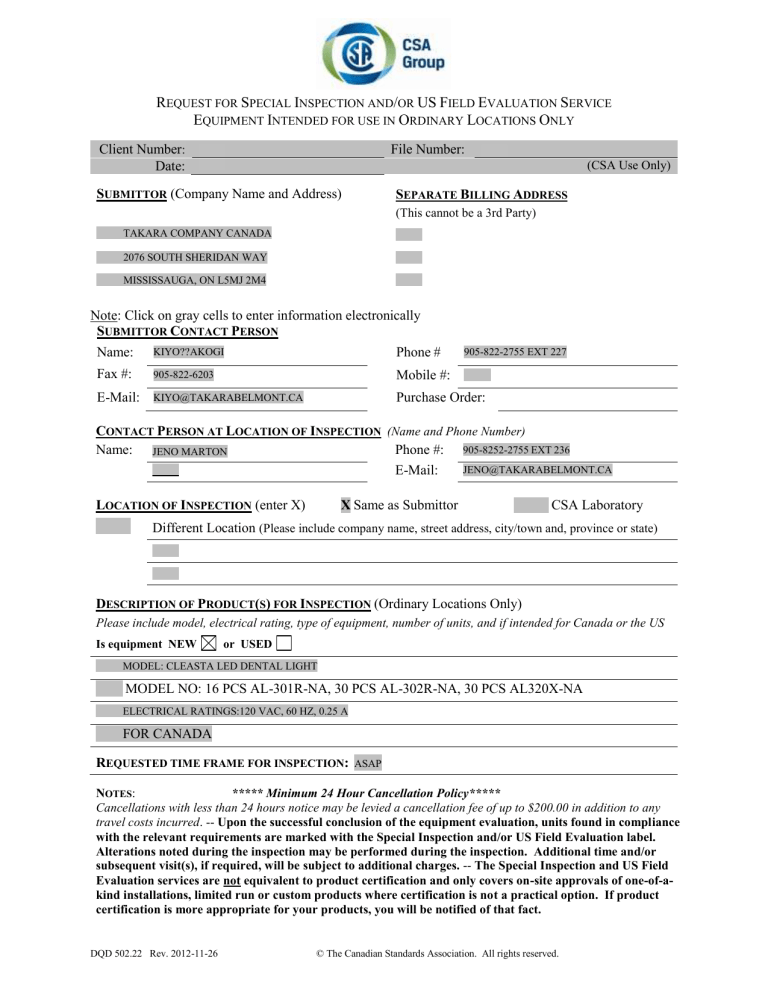 REQUEST FOR SPECIAL INSPECTION AND/OR US FIELD EVALUATION SERVICE
EQUIPMENT INTENDED FOR USE IN ORDINARY LOCATIONS ONLY
Client Number:
Date:
File Number:
(CSA Use Only)
SUBMITTOR (Company Name and Address)
SEPARATE BILLING ADDRESS
(This cannot be a 3rd Party)
TAKARA COMPANY CANADA
2076 SOUTH SHERIDAN WAY
MISSISSAUGA, ON L5MJ 2M4
Note: Click on gray cells to enter information electronically
SUBMITTOR CONTACT PERSON
Name: KIYO??AKOGI
Phone #
905-822-2755 EXT 227
Fax #:
905-822-6203
Mobile #:
E-Mail:
KIYO@TAKARABELMONT.CA
Purchase Order:
CONTACT PERSON AT LOCATION OF INSPECTION (Name and Phone Number)
Name: JENO MARTON
Phone #: 905-8252-2755 EXT 236
JENO@TAKARABELMONT.CA
E-Mail:
LOCATION OF INSPECTION (enter X)
X Same as Submittor
CSA Laboratory
Different Location (Please include company name, street address, city/town and, province or state)
DESCRIPTION OF PRODUCT(S) FOR INSPECTION (Ordinary Locations Only)
Please include model, electrical rating, type of equipment, number of units, and if intended for Canada or the US
Is equipment NEW
or USED
MODEL: CLEASTA LED DENTAL LIGHT
MODEL NO: 16 PCS AL-301R-NA, 30 PCS AL-302R-NA, 30 PCS AL320X-NA
ELECTRICAL RATINGS:120 VAC, 60 HZ, 0.25 A
FOR CANADA
REQUESTED TIME FRAME FOR INSPECTION:
ASAP
NOTES:
***** Minimum 24 Hour Cancellation Policy*****
Cancellations with less than 24 hours notice may be levied a cancellation fee of up to $200.00 in addition to any
travel costs incurred. -- Upon the successful conclusion of the equipment evaluation, units found in compliance
with the relevant requirements are marked with the Special Inspection and/or US Field Evaluation label.
Alterations noted during the inspection may be performed during the inspection. Additional time and/or
subsequent visit(s), if required, will be subject to additional charges. -- The Special Inspection and US Field
Evaluation services are not equivalent to product certification and only covers on-site approvals of one-of-akind installations, limited run or custom products where certification is not a practical option. If product
certification is more appropriate for your products, you will be notified of that fact.
DQD 502.22 Rev. 2012-11-26
© The Canadian Standards Association. All rights reserved.