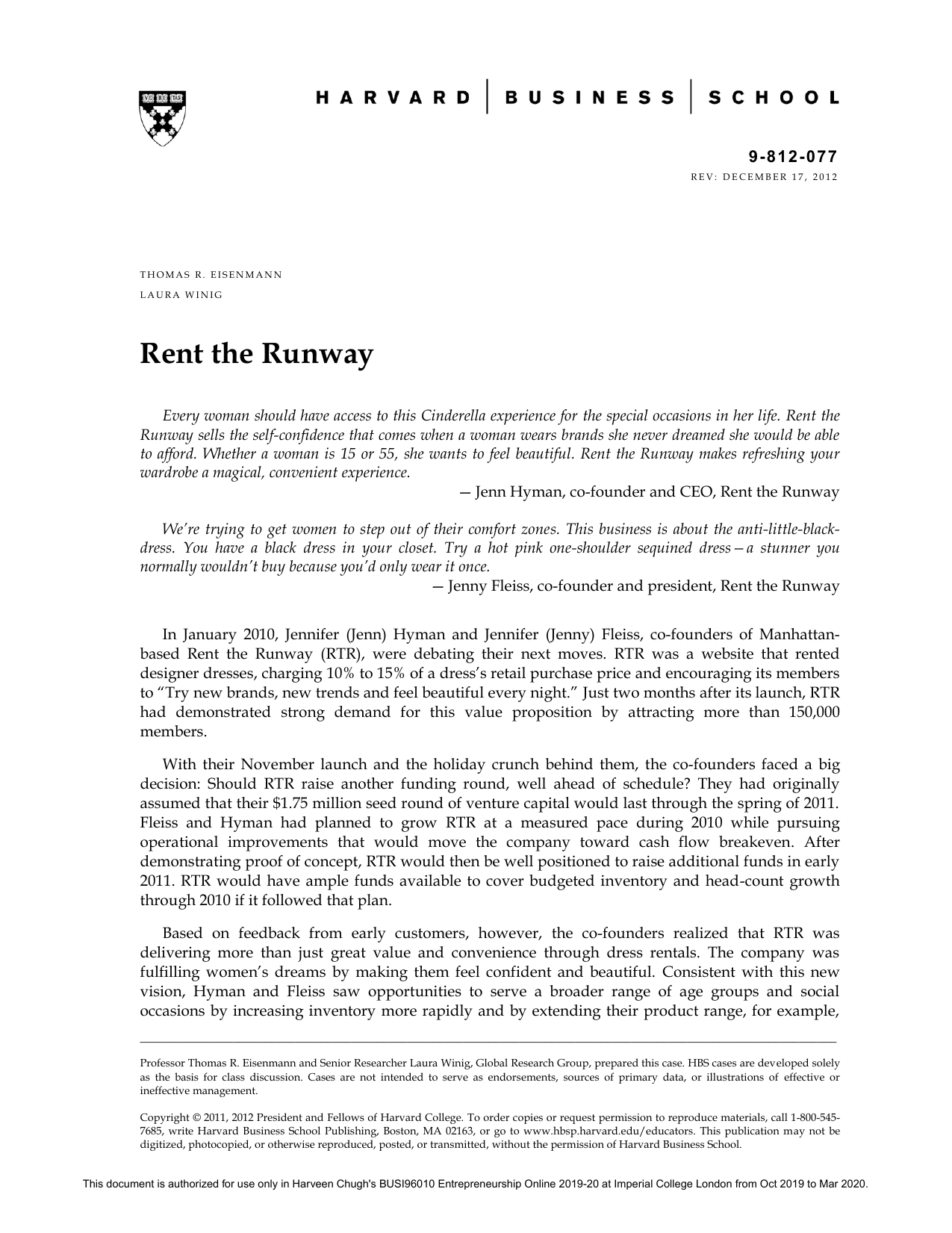 9 -8 1 2 -0 7 7
REV: DECEMBER 17, 2012
THOMAS R. EISENMANN
LAURA WINIG
Rent the Runway
Every woman should have access to this Cinderella experience for the special occasions in her life. Rent the
Runway sells the self-confidence that comes when a woman wears brands she never dreamed she would be able
to afford. Whether a woman is 15 or 55, she wants to feel beautiful. Rent the Runway makes refreshing your
wardrobe a magical, convenient experience.
— Jenn Hyman, co-founder and CEO, Rent the Runway
We're trying to get women to step out of their comfort zones. This business is about the anti-little-blackdress. You have a black dress in your closet. Try a hot pink one-shoulder sequined dress—a stunner you
normally wouldn't buy because you'd only wear it once.
— Jenny Fleiss, co-founder and president, Rent the Runway
In January 2010, Jennifer (Jenn) Hyman and Jennifer (Jenny) Fleiss, co-founders of Manhattanbased Rent the Runway (RTR), were debating their next moves. RTR was a website that rented
designer dresses, charging 10% to 15% of a dress's retail purchase price and encouraging its members
to "Try new brands, new trends and feel beautiful every night." Just two months after its launch, RTR
had demonstrated strong demand for this value proposition by attracting more than 150,000
members.
With their November launch and the holiday crunch behind them, the co-founders faced a big
decision: Should RTR raise another funding round, well ahead of schedule? They had originally
assumed that their $1.75 million seed round of venture capital would last through the spring of 2011.
Fleiss and Hyman had planned to grow RTR at a measured pace during 2010 while pursuing
operational improvements that would move the company toward cash flow breakeven. After
demonstrating proof of concept, RTR would then be well positioned to raise additional funds in early
2011. RTR would have ample funds available to cover budgeted inventory and head-count growth
through 2010 if it followed that plan.
Based on feedback from early customers, however, the co-founders realized that RTR was
delivering more than just great value and convenience through dress rentals. The company was
fulfilling women's dreams by making them feel confident and beautiful. Consistent with this new
vision, Hyman and Fleiss saw opportunities to serve a broader range of age groups and social
occasions by increasing inventory more rapidly and by extending their product range, for example,
________________________________________________________________________________________________________________
Professor Thomas R. Eisenmann and Senior Researcher Laura Winig, Global Research Group, prepared this case. HBS cases are developed solely
as the basis for class discussion. Cases are not intended to serve as endorsements, sources of primary data, or illustrations of effective or
ineffective management.
Copyright © 2011, 2012 President and Fellows of Harvard College. To order copies or request permission to reproduce materials, call 1-800-5457685, write Harvard Business School Publishing, Boston, MA 02163, or go to www.hbsp.harvard.edu/educators. This publication may not be
digitized, photocopied, or otherwise reproduced, posted, or transmitted, without the permission of Harvard Business School.
This document is authorized for use only in Harveen Chugh's BUSI96010 Entrepreneurship Online 2019-20 at Imperial College London from Oct 2019 to Mar 2020.
812-077
Rent the Runway
adding accessories and maternity wear. Also, with website upgrades, customers could interact in
ways that made the service more sticky, sharing stories and advice on what to wear to upcoming
occasions. But pursuing these opportunities would put heavy demands on RTR's small management
team, which was still scrambling to get operations under control. It also would require raising more
capital, and doing so sooner than originally planned. Was the upside revenue potential in their new
vision for RTR great enough to offset the additional dilution the co-founders would suffer if they
raised additional equity now? Had they shown enough progress to significantly increase their
valuation in a new round? Or should they stick with their original plan, which would deliver positive
cash flow sooner—and a bigger equity stake of what might be a smaller company?
Background
Hyman and Fleiss met in the Harvard Business School (HBS) MBA Program. Prior to attending
HBS, Fleiss was an internal strategy consultant at Lehman Brothers and Morgan Stanley, and also
founded an essay editing service for college applicants. Hyman had worked in sales and marketing at
Starwood Hotels and later became an in-house entrepreneur there, launching Starwood's wedding
business. She then led WeddingChannel.com's ad sales team and was director of new media for the
sports talent agency, IMG. (See Exhibit 1 for biographies.)
The inspiration for RTR came to Hyman in November 2008, during her second year at business
school. She recalled:
My younger sister Becky desperately wanted to buy a $1,500 Marchesa dress to wear to a
wedding. She felt compelled to buy a new dress—despite already having a closet full of
designer dresses—because she knew photos would soon appear on Facebook and she didn't
want to be seen twice in the same outfit. She was earning $55,000 a year as an accessories buyer
at Bloomingdale's, so I thought it was crazy for her to spend that much. At the same time, I
realized that designer brands should strive to acquire Becky as a customer. She loves fashion
and she'll spend heavily on apparel for the rest of her life. The system was flawed: young
women couldn't afford the brands they truly desired and designers couldn't access young
women to build brand loyalty.
Hyman shared her idea for a dress rental business with her friend Fleiss. Hyman commented,
"I knew I needed a partner whose skills would complement mine. I'm great at the strategic and
marketing vision—coming up with ideas and selling them, but executing on the details is not my
strength. Jenny is very task-oriented and I knew she would keep us on track. She's also more risk
averse than I am, and I knew I could count on her to challenge ideas that were not fully thought
through." Neither co-founder had experience in the designer apparel business, which had generated
$149 billion in 2008 retail sales to women in the U.S.—$80 billion from dresses alone. "In some ways,
our lack of fashion industry experience has been an asset. We approached the industry with a fresh
perspective on how to change it," said Hyman.
Getting Started
In December 2008, two weeks after RTR was conceived, the women cold-called Diane von
Furstenberg, an influential fashion designer who also was president of the Council of Fashion
Designers of America, and secured a meeting with her. Von Furstenberg was intrigued with their
idea and agreed to meet again to consider a formal proposal.
2
This document is authorized for use only in Harveen Chugh's BUSI96010 Entrepreneurship Online 2019-20 at Imperial College London from Oct 2019 to Mar 2020.
Rent the Runway
812-077
Fleiss and Hyman devised a plan for a turnkey service that would allow DVF (Von Furstenberg's
company) and other designers to rent their dresses through the designers' own websites. The
designers would bear the costs of website upgrades, supplying dresses to rent, and acquiring
customers, while RTR would manage warehouse and customer service operations in exchange for a
transaction fee. Hyman commented: "From the outset, we saw an opportunity to build our own site,
but this white-label approach could be an interim step that required much less capital. This was
important because we both had traditional job offers, and Jenny had resolved to make her career
choice by June. Raising a lot of capital in that time frame would be difficult."
When the pair presented their plan in February 2009, Von Furstenberg said she would only come
on board if Hyman and Fleiss could convince other designers to participate. "From this conversation,
it became clear we'd have to buy dresses directly from designers and develop our own rental site.
Designers would not be willing to bear the costs and risks of building a rental business themselves,"
said Fleiss, adding, "While this model would be more challenging and capital intensive, we realized
that it gave us more control over the business and offered the potential for greater profitability over
time." Hyman said, "It also became clear that it would be imperative to build a customer experience
and a brand that would encourage women to try this new behavior of renting dresses."
Surveying the Competition
To prepare to meet with more designers, Fleiss and Hyman studied other fashion rental websites.
They found only two services in the U.S. that might pose a near-term competitive threat. Wear Today,
Gone Tomorrow (WTGT), launched in March 2009 by a former women's lifestyle magazine editor,
rented dresses, tops, jackets, and skirts. WTGT's customers paid about 90% off an item's retail
purchase price for weekly rentals and 70% off for monthly rentals. Fleiss and Hyman were not
impressed with the quality of WTGT's website or its inventory, but the site was new and could
improve.
Avelle, launched in 2004 as "Bag Borrow or Steal," focused on renting handbags, sunglasses, and
jewelry. The online service had raised $15 million in venture capital in 2007 and gained popularity
after being mentioned in the 2008 movie, Sex and the City. Fleiss said, "Avelle launched with a good
selection of top brands, but rather than buying directly from designers, they initially purchased
through sample sales [retail events that offered designer goods at low prices] and other discount
retailers." She added, "This created ill will among designers. It also meant that Avelle paid retail
prices for their inventory and bought stale goods at the end of the fashion season. We wanted access
to designers' best new products at wholesale prices, so we couldn't afford to alienate designers.
Everyone knows each other in fashion, so if you build trust with one brand, others will follow."
Hyman commented on the prospect of competition:
There have always been brick-and-mortar boutiques that rent to wealthy women before red
carpet events. And there are a few websites that rent dresses, mostly with assortments built
from one woman's closet. But if Rent the Runway turns out to be a great business, we'll see
serious copycats. We might negotiate designer exclusivity for some period, but if rental
becomes a major new channel, competitors will eventually get access to product.
Consequently, we need to differentiate our customer experience. We need to create a brand
that women love; one that absolutely, positively will get them the right dress, on time, with
flawless, "feels-like-new" presentation; and with superb service that treats the customer with
the utmost respect.
3
This document is authorized for use only in Harveen Chugh's BUSI96010 Entrepreneurship Online 2019-20 at Imperial College London from Oct 2019 to Mar 2020.
812-077
Rent the Runway
Another factor would distinguish RTR: no existing competitor catered to women's needs to rent a
dress for a specific occasion by allowing for reservations. Through a hotel-like reservation system,
RTR would enable women to place orders for dresses up to six months in advance.
Selling the Concept to Designers
During February and March 2009, Hyman and Fleiss met with 20 designers and got a lukewarm
reception from most of them. "We were lucky to get encouragement at the outset from Diane. Her
belief in us gave us the fuel we needed to get through many early meetings at which people rejected
our idea," said Hyman, adding, "We were going to designers as two young women who'd never
worked in fashion, asking to buy their inventory so we could rent it at the same time it's available in
Saks Fifth Avenue and Neiman Marcus for 10% of their retail price. In the first five meetings, their
response was basically, 'over my dead body.'"
Hyman and Fleiss steadily refined their pitch. Instead of selling the RTR concept, they asked for
designers' advice and listened carefully to concerns about retail market cannibalization and brand
dilution. Hyman recalled, "Our goal in every conversation was to listen to designers' and retailers'
objections so that we could create a service that was synergistic with their needs. We also were
focused on using meetings to get more introductions. We never turned down a meeting that someone
suggested, even if we couldn't initially figure out its purpose. We were often surprised by what
emerged from building relationships across the industry."
By the end of March, they had formulated a response. "Initially, we had focused on the superior
price that RTR could offer consumers. We could have targeted older women who have money to
spend on black-tie events with a value play. But after learning about designers' concerns about retail
cannibalization, we positioned RTR as a new customer acquisition channel that exposes younger
women to designers' brands, giving these women an aspirational experience," said Fleiss.
Hyman and Fleiss pointed out to designers that women had long found ways to experiment with
brands, but the designers rarely benefited from these interactions. Hyman commented:
Some women try things on in a store's dressing room. Many others buy dresses, wear them
once, and return them for full credit, deodorant stains and all. Returns rates in department
stores for designer dresses are often over 50%. Another segment of young women are
intimidated by the experience of shopping for designer apparel. They shop for moderately
priced dresses on the fifth floor of Bergdorf's, afraid to venture down to the fourth floor to try
on the expensive dresses they dream of wearing.
We said to designers: "This is a way to put that girl in your dress, and give her a powerful
emotional experience. She gets compliments from the most important people in her life. Those
compliments make her intensely loyal to your brand: she wants to own it. And maybe it
doesn't hurt your brand to show it off on a 25-year-old rather than a 45-year-old. Rent the
Runway is the gateway drug to designer fashion."
The new positioning was greeted more warmly; by July, the RTR team had supply agreements
with 15 top dress designers. Derek Guillemette, an experienced Bloomingdale's fashion buyer who
joined RTR as head merchant in May 2009, said the company had avoided pushing too hard to sign
reluctant designers. He said, "We still haven't signed Marc Jacobs and Michael Kors, two of the most
important U.S. designers, but we meet with them regularly. We feel strongly that designers should
only come on board when they are 100% committed to our concept. It would be a disaster if a high-
4
This document is authorized for use only in Harveen Chugh's BUSI96010 Entrepreneurship Online 2019-20 at Imperial College London from Oct 2019 to Mar 2020.
Rent the Runway
812-077
profile brand came for a while, then left. That would be worse than not having them in the first
place!"
Market Trials
To gauge customer demand for dress rentals, the co-founders invited 140 women to two market
trials during the spring of 2009, and 125 attended. The first trial was held at Harvard College in April.
Fleiss and Hyman borrowed or purchased 130 dresses from 15 designers with retail prices ranging
from $50 to $1,500; mid-tier designer dresses were typically priced in the middle of this range. They
held a "styling session" in a dormitory common room to assess the appeal of different price points,
styles, and sizes. "We also wanted to see who would rent more, true fashionistas or aspirational girls,
and whether styling advice had an impact," said Fleiss. Women were encouraged to try on the
dresses, which were priced between $35 to $75, plus a mandatory $4 insurance charge.
During the first trial, 34% of the Harvard College women rented dresses. "We also wanted to see
to what extent the rental experience is inherently social," said Hyman, "so we invited women in
groups, targeting two high-profile undergrad final clubs [sororities] as well as groups like the dance
team." She recalled, "A junior tried on a silver-sequined Tory Burch mini-dress. When she put it on,
the expression on her face changed. She twirled in front of the mirror, threw back her shoulders,
turned to her friends, and said, 'I look hot!' And I said to Jenny, 'That's our business.' It was the first
time we saw the self-confidence and the powerful emotional experience that Rent the Runway can
deliver."
At the second trial, held at Yale College, women could view the dresses, but they were not
allowed to try them on. Fleiss and Hyman also adjusted their dress assortment to focus on trendy
styles and aspirational classics that had been popular at the Harvard trial. At Yale, 75% of the women
rented.
In both trials, renters were given pre-addressed return envelopes to mail back the dresses. "We
needed to know if the women would return the dresses promptly and if the U.S. Postal Service was a
viable option for return shipping," said Hyman. "We received 85% of the dresses back within 24
hours and the rest within two days, and 51 of the 53 were returned in perfect condition. The other
two had minor stains that were easily removed by the dry cleaner."
The team was encouraged by these results, but they had not yet demonstrated that women would
rent dresses online. To address this uncertainty, they conducted a third trial in September 2009 with a
random sample of 1,000 women who had asked to be contacted when RTR launched. These women
were e-mailed PDFs with pictures of dresses that they could rent by telephone. During the trial, 5% of
the women rented. As expected, this was lower than rental rates for the earlier trials, but above the
target rate required for a profitable service.
Preparing to Launch
In February 2009, Hyman and Fleiss sought legal advice on incorporating RTR. They met John
Chory, a senior partner at Wilmer Hale, one of the Boston venture community's most seasoned
attorneys. "Despite our lack of experience, John was impressed with our passion and our progress, so
he decided to work with us," explained Fleiss. Chory introduced the team to several venture capital
(VC) firms, including Bain Capital Ventures, which pursued RTR vigorously. Bain had missed an
opportunity to invest in Gilt Groupe, an invitation-only luxury shopping website, and saw in RTR a
chance to capitalize on the rapid growth in online fashion.
5
This document is authorized for use only in Harveen Chugh's BUSI96010 Entrepreneurship Online 2019-20 at Imperial College London from Oct 2019 to Mar 2020.
812-077
Rent the Runway
"A Bain partner, Scott Friend, liked the way we were learning through trials and networking. He
saw that we had a bias for action, not business planning," said Fleiss, adding, "We debated whether
to get initial funding from angels instead, because we'd heard so many bad stories about VCs. But we
knew that if we were successful, we'd need a lot of capital for inventory—more than angels could
provide. We also knew what we didn't know and recognized the value of a VC's connections."
Hyman said, "We were immediately comfortable with Scott; we didn't feel like we had to be on
guard with him. We'd labored over our financial projections, but he barely looked at them in our first
meeting. From the questions Scott asked, it was clear that he wanted to work together to figure out if
we'd found a good opportunity. Because he shared our commitment to learning-by-doing, it was
okay with Scott that we didn't have all the answers right away. How could we? After all, we weren't
experts about fashion, technology, or operations." Bain led a $1.75 million seed round that included
some angels.
Fleiss and Hyman also recruited a board of advisers during spring 2009 that included Carley
Roney, CEO and founder of The Knot, a wedding planning website; Alexandra Wilkis-Wilson, cofounder of Gilt Groupe; Matt Diamond, co-founder of Alloy Media and creator of the hit television
series, Gossip Girl; and Catherine Levine, COO of DailyCandy, a style and fashion news site. Fran
Hauser, president of People magazine's InStyle online edition, and Jim Gold, president and CEO of
high-end department store Bergdorf Goodman, also offered extensive advice during RTR's early
stages.
Merchandising and Operations
With designers on board and initial funding in hand, RTR began to buy dress inventory. Hyman
and Fleiss had considered trying to borrow dresses from designers through a profit-sharing
arrangement, but they determined that designers would prefer a straightforward purchase by RTR.
"E-commerce was a fairly new concept within the fashion industry, so we had to be careful about
pacing our interactions with designers in a way that made them comfortable," said Fleiss.
Most dresses were purchased from designers at wholesale prices—which averaged about 40% to
50% of retail prices—at the same time that high-end department stores bought their seasonal
inventory. At Gold's suggestion, RTR initially gave department stores an exclusive selling window of
several weeks before offering a new style for rent. After launch, however, RTR collected data that
proved that opportunities for incremental retail sales through broader exposure far outweighed
cannibalization risks: 98% of RTR's customers rented brands they had never owned, and 90%
reported after their rental that they either had purchased or had high intent to purchase that brand.
Based on this data, only a small fraction of designers subsequently requested an exclusive selling
window for department stores.
Fleiss and Hyman considered outsourcing warehouse operations but decided that they should
keep this function in-house. They inventoried and shipped dresses from a warehouse in lower
Manhattan, and sent the dresses to a nearby high-end dry cleaner. "In every part of the process we
knew there was so much to learn. If we'd outsourced, we wouldn't get insights about fit issues, how
to work with our dry cleaner to reduce wear and tear on the dresses, or how to make smart
substitutions when a reserved dress is not in stock because its return was delayed," said Fleiss.
Designing and Building the Website
In February 2009, the team hired a designer to develop the "look and feel" of RTR's website,
marketing materials, and packaging concepts. The designer, whom Hyman had worked with before
attending business school, was the former creative director of a marketing agency and had extensive
6
This document is authorized for use only in Harveen Chugh's BUSI96010 Entrepreneurship Online 2019-20 at Imperial College London from Oct 2019 to Mar 2020.
Rent the Runway
812-077
luxury-brand experience. "Unfortunately, the look he created was all wrong," said Fleiss. "The
imagery was orange and pink: too young, teenybopper, girly." (See Exhibit 2a for an image of the
initial design and Exhibit 2b for an image of the launch design.) Hyman and Fleiss tried to work with
the designer to overhaul the design because they were under pressure to hand it off to a website
development firm. "It was hard, but we had to fire him," said Hyman. "He had 20 years of
experience and he thought his designs were perfect. Our philosophy is to iterate, make mistakes,
learn, and change. He was never going to be someone who had the flexibility to make changes that
way," she said. After securing VC funding, RTR shifted design work to New York City–based Hard
Candy Shell, which previously had worked with Hulu, an online video service, and with Gilt
Groupe.
To find a firm to build their site, Fleiss and Hyman relied on an HBS classmate. The classmate,
who had a computer science background and had worked as a project manager in two technology
companies, referred RTR to a nine-person firm in Canada, which purported to have extensive
experience in website development, retail content management, and inventory control/logistics
systems. RTR hired the firm and paid $45,000 to initiate the project, but by August, just three months
before the site's scheduled launch date, Fleiss discovered that the firm had made little progress.
"Because we lacked technical backgrounds, we'd assumed that there'd be little value in visiting the
firm and requesting interim code reviews," said Fleiss. "We figured we wouldn't understand what
they were doing because we couldn't read the code. But we could have gotten a sense for the
personality and quality of the developers and seen if they were doing something. Once we visited, we
realized that we were way behind schedule. With only two developers actually doing any work, it
would be impossible to meet our targeted launch date. At that point we decided to pull the project
from the Canadian team and start anew," she said. "The lesson I learned from trusting this classmate
was to always check your peers' references," added Hyman.
RTR shifted development work to a firm located in India, based on an investor's referral. At the
same time, RTR hired an engineer through a Craigslist posting, but the fit proved to be poor, so they
fired him in October. With the launch looming in just two weeks, RTR hired Abhishek Sachdeva, a
developer found through a recruiter, as director of technology. Sachdeva scrambled to integrate the
software developed in India. He recalled:
When I arrived, I quickly saw that 1,000 things were wrong with the code. The firm in India
did a solid job building the consumer-facing website, but they lacked deep expertise with backend server software for booking reservations and tracking orders. Our reservation system is
like an airline's. It's much more complex than a standard off-the-shelf e-commerce engine. So,
we received a very wobbly set of back-end systems. But we had to launch with what we had. If
something was 20% okay, we kept it; otherwise, we wrote new code as fast as possible and
made daily fixes.
How to Rent the Runway
RTR was an "invitation only" website; women received an invitation—an e-mail with a link that
allowed them to register for free membership—through a referral by a current member or after
adding their name to a waiting list via RTR's registration web page. Only members (who provided
their e-mail address upon registration) could shop for dresses. To do so, a member entered the date
for her rental, the shipping zip code, and her dress size (0 to 12). She could further filter results by
rental fee, dress color, type of occasion (e.g., wedding, cocktail party), dress style, and designer. The
member could select any dress, read a detailed description, see additional images, and review stylist
notes and fit guidelines. Fees ranged from $50 to $300 for a four-day rental—about 10% to 15% of
7
This document is authorized for use only in Harveen Chugh's BUSI96010 Entrepreneurship Online 2019-20 at Imperial College London from Oct 2019 to Mar 2020.
812-077
Rent the Runway
designers' suggested retail price, which was displayed alongside the rental fee. For a premium,
members could rent a dress for eight days. Late fees were charged to members who did not return
dresses on time.
After reserving a dress, the checkout process began. To improve the odds that the dress would fit,
RTR shipped members the same style in a second size, free of charge. Members were also given the
option to order a second, less expensive style for an additional $25. Members were required to pay
shipping charges of $12.95 (which covered return shipping as well) and a $5 insurance fee that
covered reasonable "wear and tear," including spills and stains, broken zippers, and similar minor
damage.
RTR orders were shipped via UPS in custom-designed garment bags bearing the RTR logo. "The
dresses look and feel new when they arrive," said Fleiss. RTR asked members to return dresses by
dropping them in a mailbox, using an RTR-supplied package with prepaid postage. When the dresses
were returned to RTR's warehouse, they were inspected and, if necessary, repaired and then sent to a
nearby, high-end, professional dry cleaner that used gentle chemicals to prolong the life of the
dresses.
Launch: November 9, 2009
To build buzz before the launch, RTR's co-founders shared their plans with industry insiders and
influential fashion blogs such as Refinery 29. Hyman said, "Our strategy was to rely principally on
word of mouth. We spent a few thousand dollars on a public relations agency to do some prelaunch
work, but we got much more impact from our own networking efforts and from our advisory board
members." RTR launched a beta version of its service on November 2, 2009, with about 5,000 invited
members, one week prior to its full public launch on November 9. The beta test gave the team a sense
of the strong level of demand for dress rentals and the importance of having a waiting list to control
inventory availability. The team also saw from the beta test that women had many questions about
how RTR worked and had a strong need for styling guidance. The co-founders scrambled to staff up
and train their customer service team accordingly.
RTR's team had anticipated launching with a splashy story in Vogue magazine, but news of RTR's
beta test was "scooped" by Fashionista.com, a fashion industry news website, and was subsequently
reblogged extensively. Having lost its exclusive angle, Vogue decided not to print the story. "We were
devastated," recalled Fleiss. As luck would have it, a business reporter from the New York Times had
been an RTR beta user and approached them about writing a story. "The story ran on the front page
of the business section, with a photo of us in our warehouse posed on ladders in flashy dresses. We
got a lot of attention as young female entrepreneurs in online fashion," Hyman said. The story,
"Haute Couture, Available Through Netflix Model" (see Exhibit 3) was the newspaper's third-most
e-mailed story on November 9, and eventually brought 60,000 new members to the site.
When RTR launched, the company had 30,000 names in its e-mail database and 800 dresses in 160
styles from 30 designers at the ready. "We followed the minimum viable product approach," said
Fleiss. "At the outset, we just wanted to provide the capability to rent dresses. Nothing fancy. But in a
sense, we were also forced to use this approach by our limited engineering capabilities."
Initial demand proved almost overwhelming. "We got vastly more orders in our first month than
we had expected," said Sachdeva, adding, "Our warehouse processing system was essentially
manual. We scrambled to write a simple system to generate pick tickets and labels from
reservations."
8
This document is authorized for use only in Harveen Chugh's BUSI96010 Entrepreneurship Online 2019-20 at Imperial College London from Oct 2019 to Mar 2020.
Rent the Runway
812-077
Due to unexpectedly strong demand, RTR faced an inventory shortage during the crucial holiday
party season; 75% of inventory was reserved for New Year's Eve. "We maintained a waiting list to
avoid disappointing new members who would otherwise find nothing to rent. But the list led to
dissatisfaction, too, because people had heard about this great service and they wanted to use it right
away," said Fleiss. In December, the waiting list reached 50,000, but by mid-January, as dress
inventory grew to 1,000 units and holiday demand subsided, the team had reduced the list to 5,000
names and a one-week wait. By then, RTR had received 2,000 orders and had registered more than
150,000 members. Although the site had only been live for just two months, already 12.5% of
customers had ordered more than once. On average during the period, 60% of RTR's dress inventory
was out for rental. (See Exhibit 4 for estimates of unit economics made in July 2009, prior to launch.)
It seemed clear that lack of inventory availability was holding down RTR's conversion rate—the
rate at which new members became renting customers. In response, Fleiss and Hyman decided they
needed to boost dress inventory to 5,000 by April. "We were confident that we could get the
conversion rate up," recalled Fleiss, adding, "Also, with real data about what was renting, we were
taking a lot less risk when we bought inventory."
Likewise, the co-founders saw opportunities to boost conversion rates by improving their
welcome pages and checkout process. "Just like Netflix, we are asking women to engage in a very
new mode of behavior, so the challenge is to get members to try it for the first time," said Hyman.
They had learned from site usability tests and focus groups that their pages for orienting first-time
visitors were not working well. Fleiss said, "Visitors have a serious misunderstanding of how things
work, like the availability of insurance to cover minor damage." She added, "There also seems to be
customer confusion about the checkout process, resulting in a high rate of shopping cart
abandonment [i.e., orders initiated but not completed]. We'll get to work soon on redesigning our
welcome pages and checkout process."
Building the Business
Marketing
RTR's co-founders determined that about 60% of new members had been acquired directly
through publicity efforts during their two months after launch, and 40% came through word-ofmouth referrals. About half of those referrals came via a member-get-member offer, which provided
members with a $20 account credit for each friend they referred, after the friend's first rental shipped.
The co-founders planned to start experimenting with online advertising in the spring to determine
the cost of customer acquisition with pay-per-click search engine marketing (SEM) and Facebook ads.
"So far, we've directed all of our energies into PR, social media, and marketing partnerships; we still
need to hire someone to lead SEM/SEO [search engine optimization] efforts," noted Fleiss.
RTR was planning to sign up "brand ambassadors"—fashionable sorority women on college
campuses—to recruit new members in exchange for free rentals. Likewise, RTR expected to enter
marketing partnerships with media outlets that were relevant to RTR members. Hyman said, "We've
had several requests from fashion magazines, television shows, and e-commerce companies.
Partnerships could be a big source of customer acquisition."
"Our service is event-based, so we see lots of virality," she added. "Conversion from member to
renter is higher amongst those who had been referred by a friend. With a new behavior like renting,
women are more receptive when they hear about it from a trusted source, particularly someone who
has actually tried the service successfully." Fleiss said, "We thought it might be a hush-hush thing
9
This document is authorized for use only in Harveen Chugh's BUSI96010 Entrepreneurship Online 2019-20 at Imperial College London from Oct 2019 to Mar 2020.
812-077
Rent the Runway
with people not wanting others to know that they were renting. But instead, our Facebook fan page
has thousands of very active followers. They love posting photos of themselves in the dresses and
talking about their experiences." (See Exhibit 5 for RTR's Facebook page.)
RTR's early customers were more demographically diverse than the team had expected, as were
the variety of occasions for which they rented. Hyman said, "We knew we'd appeal to women age 15
to 30, but we've also seen heavy demand from women in their thirties and older, even though our
inventory wasn't selected with the tastes of more sophisticated customers in mind—so far, we've
offered a lot of short, bright dresses. And we have women renting not only for weddings and sorority
parties, but also baby showers and anniversary dinners."
The team was planning to retain a fashion-focused public relations firm to build industry
credibility and to get media coverage in industry periodicals that would influence key designers,
such as Women's Wear Daily. "Brand is incredibly important, not just to members but also designers,"
noted vice president of brand marketing Lara Crystal, who had joined RTR in July 2009.
The Customer Insights Team
One of RTR's biggest marketing challenges was getting women comfortable with the idea of
renting dresses they could not try on. "An insight we got from our early trials is that every woman
thinks her body is unique. She thinks that she's the one that dresses don't fit, that she uniquely needs
to spend tons of time in dressing rooms trying things on," said Hyman.
In addition to sending dresses in two sizes (with the second size shipped free of charge) and
offering another style for an additional $25, RTR had built a customer insights team that offered
styling advice and guidance about fit. Hyman said, "Women contact the stylists by phone or via
online chat and say, 'I'm 5'8" and weigh 140 pounds and I don't like showing off my hips. Will this
dress fit me in a size 6? What other styles might work?' Most importantly, our stylists give women
the confidence to try something new." Brooke Hartmann, head of the customer insights team, who
had joined RTR in August 2009, said, "Our stylists are experts who've personally tried on all our
styles, so they understand fit."
Beyond advising on fit, stylists informed product innovation by listening to customers'
complaints, suggestions, and questions. "The stylists are our most important source of feedback
about the service. They are crucial to our ability to experiment and iterate," explained Hyman. "For
example, right after launch, the team heard over and over that customers wanted the ability to filter
dresses according to availability for a particular date. We added that feature as quickly as we could,"
she said. Hartmann added, "We don't view this as an operations function and a cost to be minimized.
The stylists represent the voice of the customer." Stylists were encouraged to build relationships with
customers. "We urge customers to chat with our stylists. It's part of the Cinderella experience,
making customers feel special. You're in the hands of an expert who's attentive to your needs," said
Hyman, who noted that RTR did not time customer service calls.
Stylists also explained to members how RTR worked, and they handled order troubleshooting.
Hartmann explained: "A small fraction of reserved dresses can't be shipped due to late returns or the
need for damage repair. When that happens, we offer members any dress on the site instead,
regardless of the rental price. Our credo is never leave a member with nothing to wear, talk to them
like a girlfriend, and have personal familiarity with fit."
10
This document is authorized for use only in Harveen Chugh's BUSI96010 Entrepreneurship Online 2019-20 at Imperial College London from Oct 2019 to Mar 2020.
Rent the Runway
812-077
Building the Team
With the launch behind them, the co-founders turned more of their attention to building the
organization. In January 2010, the company had just eight full-time team members: Hyman, Fleiss,
Crystal, Guillemette, Hartmann, Sachdeva, and two warehouse managers, along with about a dozen
unpaid interns and some contract workers.
For the time being, the co-founders had determined that they would not need a chief marketing
officer, since Hyman was playing that role, although RTR planned to hire managers to work on
SEM/SEO and on marketing partnerships. Similarly, Fleiss took on all finance functions, obviating
the need to hire a CFO. She commented:
Having Jenn serve as CMO and me as CFO is typical of our fluid approach to allocating
responsibilities. With things moving so fast, we need managers who can wear different hats.
When it gets busy here, everyone has to be willing to answer the phones. We learned about the
value of all-around athletes when Lara joined on an unpaid, trial basis almost a year ago to
help with our college market tests. Although she'd had years of experience at Coach, she
wasn't afraid to move dress racks. Brooke, our director of customer insights, has had several
different roles, but she's never worried about her title. She and other senior team members are
very proactive about just jumping into areas where they can have the biggest impact. In a
startup, resources are slim, and you need people who are scrappy and committed to getting
things done. We now make heavy use of unpaid internships to test whether prospective
employees have the same hungry, jack-of-all-trades attitude.
Above all, we look for passion. When we brought Derek on board as head merchant, we
knew we needed his fashion knowledge and buying skills. But we also needed selling skills—
something his job at Bloomingdale's didn't really call for. At the outset, our head merchant
would spend most of his time pitching RTR to skeptical designers. We asked Derek to show us
how he'd do that, and we were dazzled by his passion and conviction.
Early on, Hyman and Fleiss had shared the product manager role for RTR's website, despite their
non-technical backgrounds. "We did everything from wireframes to requirements documents. We
didn't even know the meaning of those terms on day one," said Fleiss. Sachdeva noted, "Every
project does have an owner, but lots of people have a say, which results in some churn in project
priorities." Hyman added, "We have been handicapped in many ways by not having a CTO. While
we were able to define needs around the product and customer experience, we had no real way of
telling whether our developers were doing a great job, and what skills we might need to add on the
engineering team."
RTR's co-founders saw a need to significantly expand their engineering staff, since Sachdeva
found it difficult to keep pace with demand for new features. Hyman said, "We see technology,
including personalization, at the core of the amazing consumer experience we want to deliver. This
will require a new class of information technology hires. We're missing some staff, including system
administrators and Java programmers, and we need a CTO to guide hiring decisions." RTR had
recently retained an executive search firm to conduct a national search for a CTO. Hyman reflected,
"We figured we were going to be stereotyped as two young women who lack technical experience, so
we needed help from a strong search firm. It will probably be a difficult search. Candidates need to
grasp that we want to revolutionize the way that women shop, and that there's a huge role for
technology in that vision."
11
This document is authorized for use only in Harveen Chugh's BUSI96010 Entrepreneurship Online 2019-20 at Imperial College London from Oct 2019 to Mar 2020.
812-077
Rent the Runway
Issues in January 2010
With the whirlwind of the November launch and the peak holiday season behind them, Hyman
and Fleiss paused to consider their next moves. One decision loomed large: should they raise a new
funding round, well ahead of schedule? The co-founders had originally projected that their $1.75
million seed round would last until spring 2011, and would be used to establish proof of concept.
"We had assumed that we'd grow at a measured pace as we fine-tuned operations. We knew we
couldn't achieve cash flow breakeven this year, but we could get close, and we wanted to show that
we were on the path to profitability. With a proven model, we figured that we'd be well positioned to
raise more money early next year," said Fleiss. She added, "Fund-raising can be very time
consuming. We'd hoped to avoid that distraction this year, so we could focus our energy on
operational effectiveness."
"But after our strong launch, our lead investor, Scott Friend from Bain Capital Ventures, has been
encouraging us to consider scaling up faster," said Hyman. She continued:
As we've learned more, we've been rethinking what Rent the Runway is all about. At the
very beginning, we described our company as "Netflix for fashion." Like Netflix, we'd be all
about delivering great value and convenience—a smarter wardrobe. Our slogan still reflects
that: "Love. Wear. Return." We do offer value and convenience, of course, but we've come to
realize that we are providing much more. We're giving women the best nights of their lives—
empowering them to feel confident and beautiful. Back in November, our customer insights
team surveyed our first customers to find out about their experiences. They heard over and
over, "I've never felt so special." We see the same thing in members' comments on our
Facebook page. We've learned that a woman gets an average of 2 compliments per night with
her own wardrobe, and 12 when she rents from us. And on the flip side, our insights team has
heard the anger and frustration that women feel when we can't make the perfect dress
available for a big occasion.
I should have seen this 14 months ago, when I was standing in front of my sister's closet. I
had no clue then that we'd be building anything beyond a rational business. But what we're
learning is that this business is all about the way that Becky felt about herself when she went
out.
So, if your mission is delivering women's dreams, not just value and convenience, how do
you think about accelerating expansion and funding? You probably want a lot more inventory
to serve a broader set of age groups and social occasions. You add accessories so a member can
complete her look. Maybe you do maternity wear, too. And you upgrade your website with
engaging editorial and community elements that create stickiness. We want our exuberant
customers to share their stories with each other. The site needs to be about more than the
dresses we rent—it needs to be about how we make our members feel.
Fleiss said, "Reframing our mission this way could really change our plans. With our original
focus on value, we had assumed that during 2010 we would emphasize operational improvements, to
ensure that we can deliver value profitably." She added, "There are dozens and dozens of ways we
can boost efficiency. We need to redesign our website to increase conversion rates from visitor to
renter. We need to analyze rental patterns and reservation data to optimize our dress-buying
decisions and increase inventory turns. Our warehouse is often chaotic, and a logistics expert could
surely find ways to reduce picking and packing costs and error rates."
12
This document is authorized for use only in Harveen Chugh's BUSI96010 Entrepreneurship Online 2019-20 at Imperial College London from Oct 2019 to Mar 2020.
Rent the Runway
812-077
Did the team have the capacity to pursue these improvement opportunities while also expanding
in new directions? Adding accessories could be one way to test this. The co-founders had originally
planned to offer accessories rental one year after launch, but based on feedback collected by the
customer insights team, it was clear that demand for accessories—including bracelets, necklaces, and
earrings—was very strong. Also, based on Avelle's rental prices, it was evident that margins on
accessories would be high. But did it make sense to burden the team with a new product line so soon
after launch? Adding accessories would require considerable effort in every function, including
merchandising, website design, and warehouse operations. Order and inventory tracking systems
would have to be modified, and the customer insights team would have to be trained to coach
members on accessories options.
The prospect of accelerated expansion also raised questions about the appropriate allocation of
responsibilities between the co-founders. They had originally agreed on a division of duties that
made Hyman responsible for revenue-related activities—everything that members experienced
directly, including merchandise procurement, website design, marketing, and customer service.
Fleiss was responsible for cost-related activities including warehouse operations, finance,
administration, and information technology infrastructure. Although Hyman was CEO, Fleiss, as
president, did not report to her. Hyman said:
If we expand more rapidly, it might make sense to have Jenny take the lead on new
initiatives. She is great at moving a project from idea to inception. We've always known that I
excel at sales and marketing, but we've come to realize that I love the people side of running
the business, too: inspiring employees, motivating them, giving and getting feedback, and
making sure the culture of the company is incredible. So we're considering a new division of
roles in which Jenny gets to implement new business ideas. I'd take responsibility for all
operations related to the core business. I'd rather spend my day talking to people, and she'd
rather power through a long list of tasks. With the new structure, we'd both get to do what
we're good at and what we love doing.
The co-founders saw many opportunities for growth. "I have visions of RTR guiding women
through the stages of their lives: prom, sorority, graduation, dating, marriage, maternity, black-tie
events, and so forth," said Hyman. Besides broadening the merchandise mix to include accessories
and maternity apparel, shoe rentals were an option. The team also saw opportunities to sell
"consumables." Fleiss said, "We could sell stockings, for example, or cosmetics to increase our
average order price and make us a one-stop shop for a woman's big night out."
While these avenues for growth seemed promising, with so much work to do in the core business,
did it make sense for Fleiss to focus full-time on expansion opportunities at this early stage? If the
team stuck with its original plan to focus on operational improvements during 2010, RTR had ample
funds available to cover budgeted inventory and personnel additions through early 2011. The cofounders felt that it only made sense to raise more capital now if they had a clear plan for how to
spend it, and if they had already significantly boosted their valuation by resolving key uncertainties.
Demand for their service was clearly strong. But had they truly achieved proof of concept—months
ahead of schedule?
13
This document is authorized for use only in Harveen Chugh's BUSI96010 Entrepreneurship Online 2019-20 at Imperial College London from Oct 2019 to Mar 2020.
812-077
Exhibit 1
Rent the Runway
Rent the Runway Leadership Team Biographies
Jenn Hyman, CEO. Hyman is an entrepreneur at heart. She started her career at Starwood Hotels
working on strategy and quickly saw an opportunity for Starwood to expand their business. She
spent over three years developing and leading a wedding business for Starwood, including the first
honeymoon registry in the country. The program was recognized on the Oprah Winfrey Show and in
the Wall Street Journal for its innovation, and quickly became a $30-million-per-year profit center. A
natural leader, she then moved on to WeddingChannel.com where she directed an advertising sales
team, followed by a stint at IMG working in business development at the intersection of media and
fashion. Additionally, Hyman created a college consulting business, which she ran for seven years.
She graduated from Harvard Business School (MBA 2009) and Harvard College (BA 2002, cum laude).
Jenny Fleiss, President. Fleiss came by way of Wall Street. She started her career at Morgan
Stanley in the Strategic Planning Group crafting long-term company strategy. She then moved to
Lehman Brothers' Asset Management Group where she was responsible for analyzing business
growth opportunities through acquisitions, international expansion, and new product strategies. A
natural entrepreneur, Fleiss founded an essay editing and coaching service for college applicants, and
built the company into an online tutoring service. She graduated from Harvard Business School
(MBA 2009) and Yale College (BA 2005, cum laude).
Lara Crystal, Vice President of Brand Marketing. Crystal has played an integral role in all
aspects of marketing strategy as a founding member of the RTR team. Crystal started her career in
fashion at Coach where she worked for three years on the merchandise strategy for U.S. retail stores.
Crystal graduated cum laude from Cornell with a BS in Applied Economic Management and received
an MBA from The Wharton School with a focus on marketing and finance. Crystal joined RTR in July
2009.
Derek Guillemette, Head Merchant. As RTR's first hire in May 2009, Guillemette leveraged his
existing relationships to introduce the concept of Rent the Runway to women's fashion designers. He
began his career in retail at Bloomingdale's as an Assistant Buyer in Women's Designers and was
quickly promoted to Buyer in 2007, with responsibility for about 50 American and European designer
brands, including Herve Leger, Alberta Ferretti, and Yigal Azrouel. Guillemette graduated cum
laude from Boston University with a BA in economics.
Brooke Hartmann, Director of Consumer Insights. Hartmann joined the RTR team in August
2009 and plays an integral role in delivering superior member experiences. Hartmann started her
career at Reebok as Global Product Marketing Manager of the women's fashion footwear category
and was instrumental in launching Reebok's innovative Easy Tone technology in spring 2009.
Hartmann graduated magna cum laude from Boston College in 2005 with a BS in management.
Abhishek Sachdeva, Director of Technology. Prior to joining RTR in October 2009, Sachdeva
worked for Ketchum Interactive and other software development firms as a LAMP stack specialist
serving many clients, including AOL, Monster.com, and Federal Express. He started his career in
Poland working with scientists on medical software, where he discovered his love for Linux.
Sachdeva graduated in 2000 with computer science degree from Guru Nanak Dev University, India.
Source: Company documents.
14
This document is authorized for use only in Harveen Chugh's BUSI96010 Entrepreneurship Online 2019-20 at Imperial College London from Oct 2019 to Mar 2020.
Rent the Runway
Exhibit 2a
812-077
Image of Original Rent the Runway Home Page Design
Source: Company documents.
15
This document is authorized for use only in Harveen Chugh's BUSI96010 Entrepreneurship Online 2019-20 at Imperial College London from Oct 2019 to Mar 2020.
812-077
Exhibit 2b
Rent the Runway
Rent the Runway Home Page at Launch
Source: Company documents.
16
This document is authorized for use only in Harveen Chugh's BUSI96010 Entrepreneurship Online 2019-20 at Imperial College London from Oct 2019 to Mar 2020.
Rent the Runway
Exhibit 3
812-077
New York Times Article Published on Day of Rent the Runway Launch
17
This document is authorized for use only in Harveen Chugh's BUSI96010 Entrepreneurship Online 2019-20 at Imperial College London from Oct 2019 to Mar 2020.
812-077
Exhibit 3 (continued)
Rent the Runway
New York Times Article Published on Day of Rent the Runway Launch
Source: Jenna Wortham, "Haute Couture, Available Through the Netflix Model," New York Times, November 9, 2009,
Section B, p. 1.
18
This document is authorized for use only in Harveen Chugh's BUSI96010 Entrepreneurship Online 2019-20 at Imperial College London from Oct 2019 to Mar 2020.
Rent the Runway
Exhibit 4
812-077
Economics for a Mid-Tier Dress, Estimated Pre-Launch in July 2009
Middle-Tier Dress
Retail price of dress
Wholesale cost of dress
Cost of dress to RTR
Revenue per rental
$750
$323
$226
$90
Variable cost per rental
$31
Source: Company documents.
Note: Revenue per rental includes charges for insurance and shipping. Variable cost includes shipping, dry cleaning, credit
card processing, and packaging
19
This document is authorized for use only in Harveen Chugh's BUSI96010 Entrepreneurship Online 2019-20 at Imperial College London from Oct 2019 to Mar 2020.
812-077
Exhibit 5
Rent the Runway
Facebook Page
Source: Company documents.
20
This document is authorized for use only in Harveen Chugh's BUSI96010 Entrepreneurship Online 2019-20 at Imperial College London from Oct 2019 to Mar 2020.