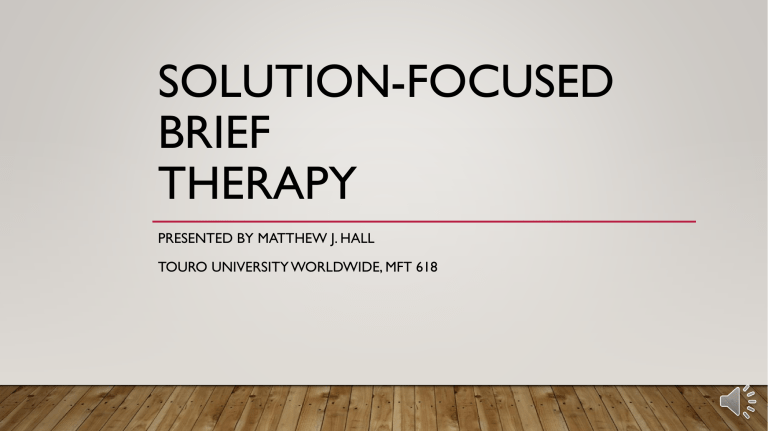 SOLUTION-FOCUSED
BRIEF
THERAPY
PRESENTED BY MATTHEW J. HALL
TOURO UNIVERSITY WORLDWIDE, MFT 618
SFBT (Solution Focused
Brief Therapy)
Symptoms or issues that
brought the individual to
therapy are typically not
discussed
WHAT IS IT?
Goal oriented therapy
Focus on the present and
the future
Much as in it's name, the
point is finding solutions to
problems
Therapists encourage
development as they
determine abilities,
resources and skills needed
to achieve the client's vision
of the future.
HISTORY OF SFBT
*IMAGE CREDIT TO SOLUTIONFOCUSED.NET
*PICTURED TO THE RIGHT: STEVE DE SHAZER & INSOO KIM BERG
• Developed in the early 1980's by Steve de Shazer and
Insoo Kim Berg of the Brief Family Therapy Center in
Milwaukee
• Developed as a response to inefficiency of change in
the therapeutic process
• Utilized by therapists in Asia, Europe, Canada, South
America, and the United States
SO . . .
HOW DOES IT WORK?
• Practitioners help clients visualize change
and execute toward those goals
• The therapist is a guide and coach for
exploration of finding solutions to
current problems
• Emphasis on learning from current
toolsets
• SFBT recognizes that most people know
change is needed and likely already have
the necessary skills to create that change
• The client is the expert and the therapist
is the coach who outlines problems and
goals
SOLUTION FOCUSED BRIEF
THERAPY
------------------------------------TECHNIQUES
SFBT in practice uses
specific types of
questions to help the
therapist facilitate
exploration of client
skillsets
Recognizing what can be
learned from past
experiences gives client's
another toolset to use
and returns feelings of
independence
COPING QUESTIONS
Coping questions demonstrate to those
in treatment their resilience in coping
with challenges and how they have done
so previously.
Ex: "Considering how severe your
anxiety has been lately, how have you
been fulfilling your daily obligations to
work and family?"
Recognition of skills
MIRACLE
QUESTIONS
• "If not for _____, how would
your life look?"
• Creates an opportunity to see
what can be changed
Present questions in the form of "on
a scale of 0 to 10" as an assessment
of progress or circumstances.
SCALING
QUESTIONS
A quick way of determining attributes
like hopefulness, motivation, and
confidence.
Used when there is not enough time
to explore miracle questions
ISSUES EFFECTIVELY TREATED USING SFBT
• Positive results in both individual and group therapy
• Individuals from all backgrounds, cultures, and ages have found beneficial results
• Research has shown it to be a useful intervention for school behavioral and academic
concerns, substance abuse, family therapy, and couples counseling
PURSUING TRAINING IN SFBT
Certifications are issued by the International
Alliance of Solution-Focused Teaching
Institutes (IASTI)
Three levels of certification:
Level 1: Solution-focused practitioner
Level 2: Advanced solution-focused practitioner
Level 3: Master solution-focused practitioner
REFERENCES
• Team, G. T. E. (n.d.). Solution-Focused Brief Therapy (SFBT). Retrieved from
https://www.goodtherapy.org/learn-about-therapy/types/solution-focused-therapy.
• Why would a therapist choose to use SFBT?
• What led to the development of SFBT?
REVIEW
• Can you see yourself using this therapeutic model in
your practice?
• What are three basic ideas behind SFBT?
• What types of questioning are used in SFBT?