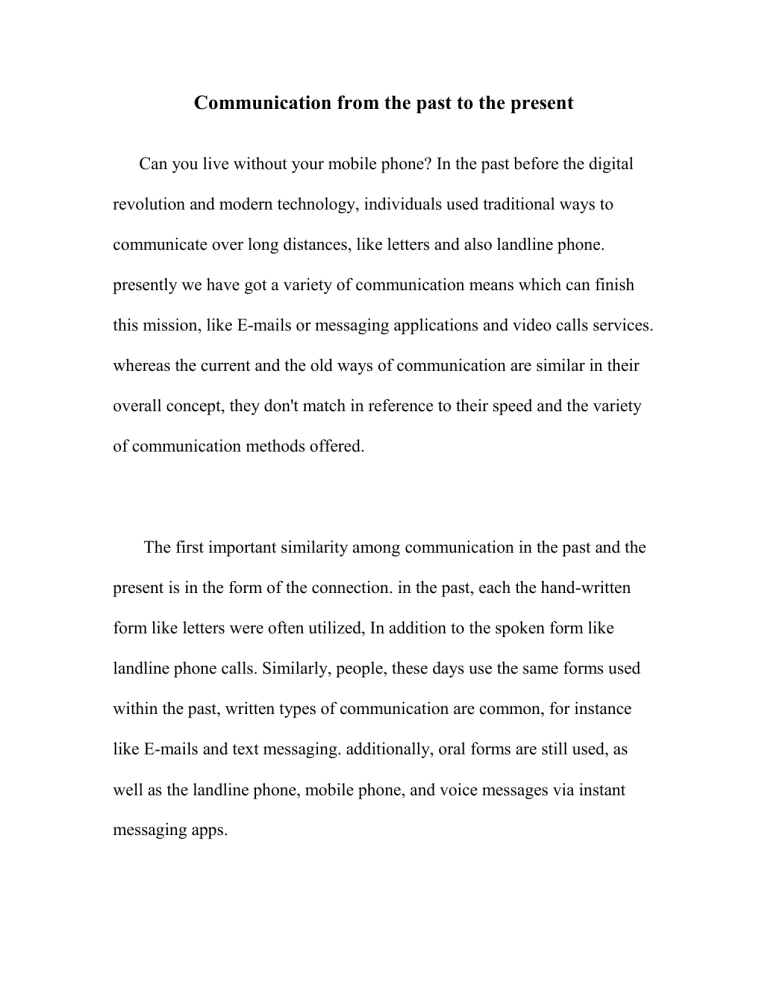 Communication from the past to the present
Can you live without your mobile phone? In the past before the digital
revolution and modern technology, individuals used traditional ways to
communicate over long distances, like letters and also landline phone.
presently we have got a variety of communication means which can finish
this mission, like E-mails or messaging applications and video calls services.
whereas the current and the old ways of communication are similar in their
overall concept, they don't match in reference to their speed and the variety
of communication methods offered.
The first important similarity among communication in the past and the
present is in the form of the connection. in the past, each the hand-written
form like letters were often utilized, In addition to the spoken form like
landline phone calls. Similarly, people, these days use the same forms used
within the past, written types of communication are common, for instance
like E-mails and text messaging. additionally, oral forms are still used, as
well as the landline phone, mobile phone, and voice messages via instant
messaging apps.
On the other hand, there are obviously several differences in the means
of communicating over long distances, the most distinguished difference is
the speed and efficiency. This is often most noticeable in regard to the
written form of communicating. in the past, letters sent by mail could take
many days to reach their destination. In contrast, e-mails reach almost
instantly once it was sent. While in the early days, if someone wanted to
send a note or a memo, for instance at an office, a note can be circulated
around the staff, which might need a while to reach. On the other hand,
nowadays, in a similar situation, a text message can be sent and received
instantly.
An additional big difference is the variety of communication tools
available. in the past, the methods available for communicating overseas
were mainly the landline phone and the typical letter. By contrast, there are
different kinds of communication tools existing nowadays. Those consist of
not only the things that I have already mentioned like telephones, letters, Emails, and text messages, in addition to video sessions via software like
Skype or smartphone apps like WhatsApp, and social media services like
Instagram and Facebook.
To conclude, communication methods have significantly evolved over
the past century. whereas there are some common factors, like the forms of
communication, there are some great differences, primarily in regard to the
speediness and efficiency of the connection and the diversity of
communication ways offered. the evolution of communication technology in
the future is a sure thing, and the advanced tools that we use nowadays can
at some point also become out-of-date.