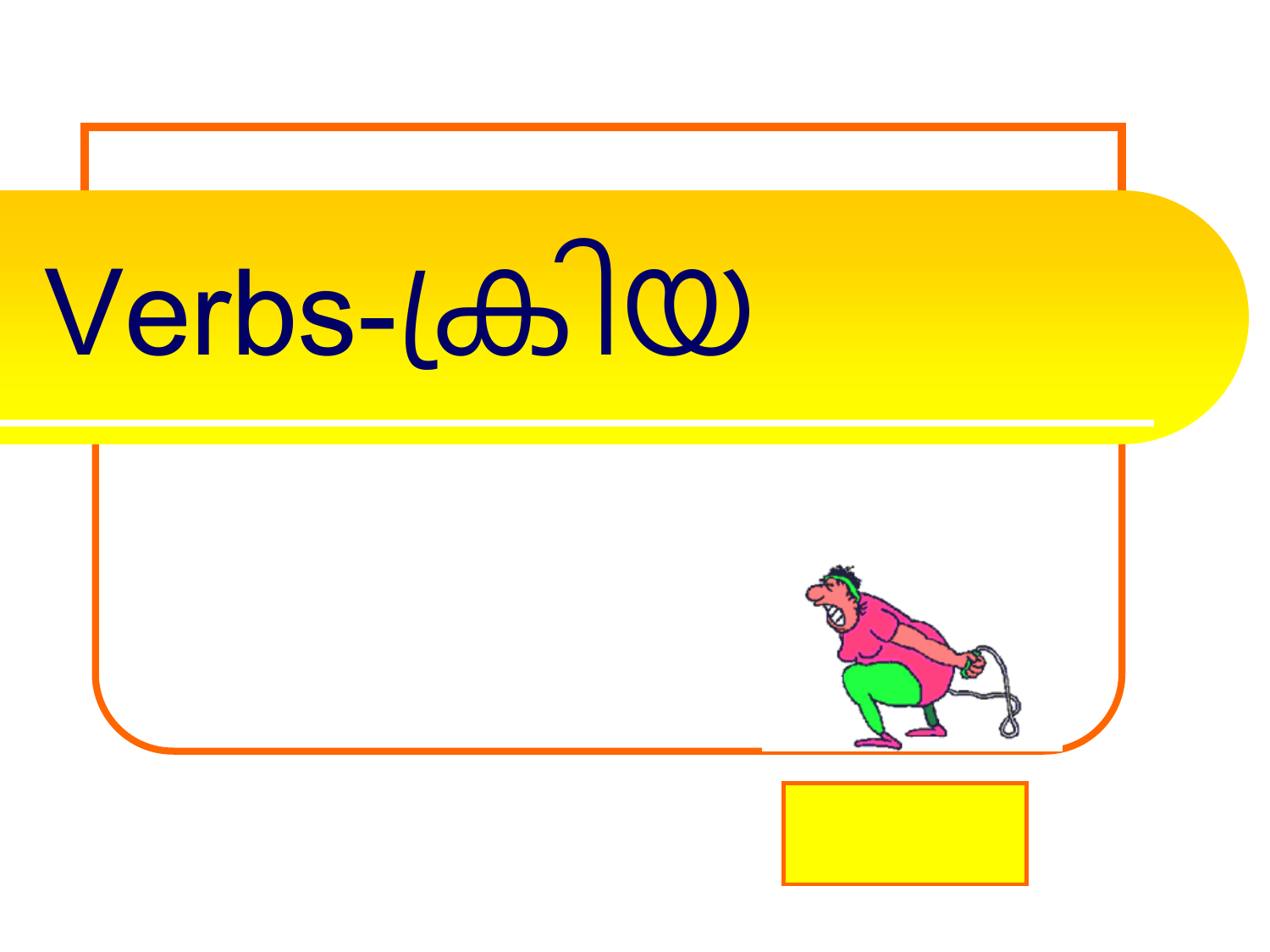 Verbs-ക്രിയ
ചില ക്രിയാ പദങ്ങൾ
ചില ക്രിയാ പദങ്ങൾ
Ran
Coughed
Chumachu
Swallowed
Vizhungi
Laugh
Chirichu
odi
Awake
Sang
Ezhunnettu
Paadi
Do
Did
Will Do
Do not do
Verb
Cheyunnu
Cheythu
Cheyyum
Cheyyilla
Do
Karayunnu
Karanju
Karayum
Karayilla
Cry
Parayunnu
Paranju
Parayum
Parayilla
Tell
Chirikkunnu
Chirichu
Chirikkum
Chirikkilla
Laugh
Kazhikkunnu Kazhichu Kazhikkum Kazhikkilla
Eat
Kalikkunnu
Kalichu
Kalikkum
Kalichilla
PlayU
Urangunnu
Urangi
Urangum
Urangiyilla
Sleep

Cheyunnu
 Karayunnu
 Parayunnu
 Chirikkunnu
 Kazhikkunnu
 Kalikkunnu
 Urangunnu
Innu Kalikkunnu
 Innale Kalichu
 Naale Kalikkum
 Innu = Today
 Innale = Yesterday
 Naale = Tomorrow

kalikkunnu
Ayaal
Chirikkunnu
(pachakam)
Cook cheyyunnu
Avan
Vaayikkunnu
odunnu
Avan
urangunnu
Aval
Neenthunnu
Naaya
Kuraykkunnu
Dance = dance cheyyunnu
AVAL
Make sentences
Subject Pronouns
Njan
Njangal
Nee
Ningal
Avan
Aval
Avar
Athu
Pronouns
Verbs
Chirichu
Chirikkum
Chirikkilla
Kazhikkunnu
Kazhichu
Kazhikkum
Kazhikkilla
Kalikkunnu
Kalichu
Kalikkum
Kalichilla
Cheyunnu
Cheythu
Njan
Njangal
Nee
Ningal
Avan
Aval
Avar
Athu











Cheyyum
Cheyyilla
Karayunnu
Karanju
Karayum
Karayilla
Parayunnu
Paranju
Parayum
Parayilla
Chirikkunnu
Thathamma = Parrot
 Kunji thatha = Baby Parrot
 Oonjal = swing
 Chanchakkam chanjaadu ponnunni
 Chandathil padunnu thaamma

Present tense verbs
Many
present tense verbs
end with s, but some end
with es, or ies.
cries
sleeps
splashes
Past Verbs
 Verbs
which tell about actions
which happened some time ago
are past tense verbs.
The dog wanted a
bone.
Wanted is a past tense
verb because the action
has already happened.
Past tense verbs
Many
past tense verbs end
with ed, but some end with d,
or ied.
tried
clapped
played
Kazhuthayum Simhavum
Kazhuthayum Simhavum

Orikkal kazhuthayum simhavum vellam
kudikkuka aayirunnu. Simham
kazhuthaye pidichu thinnan nokki.
Budhimaan aaya kazhutha paranju
"strong lion" prarthichittanu bhkashnam
kazhikkunnathu. Udane simham
kannadachu prarthichu. Aa samayam
kazhutha odi rakshapettu.