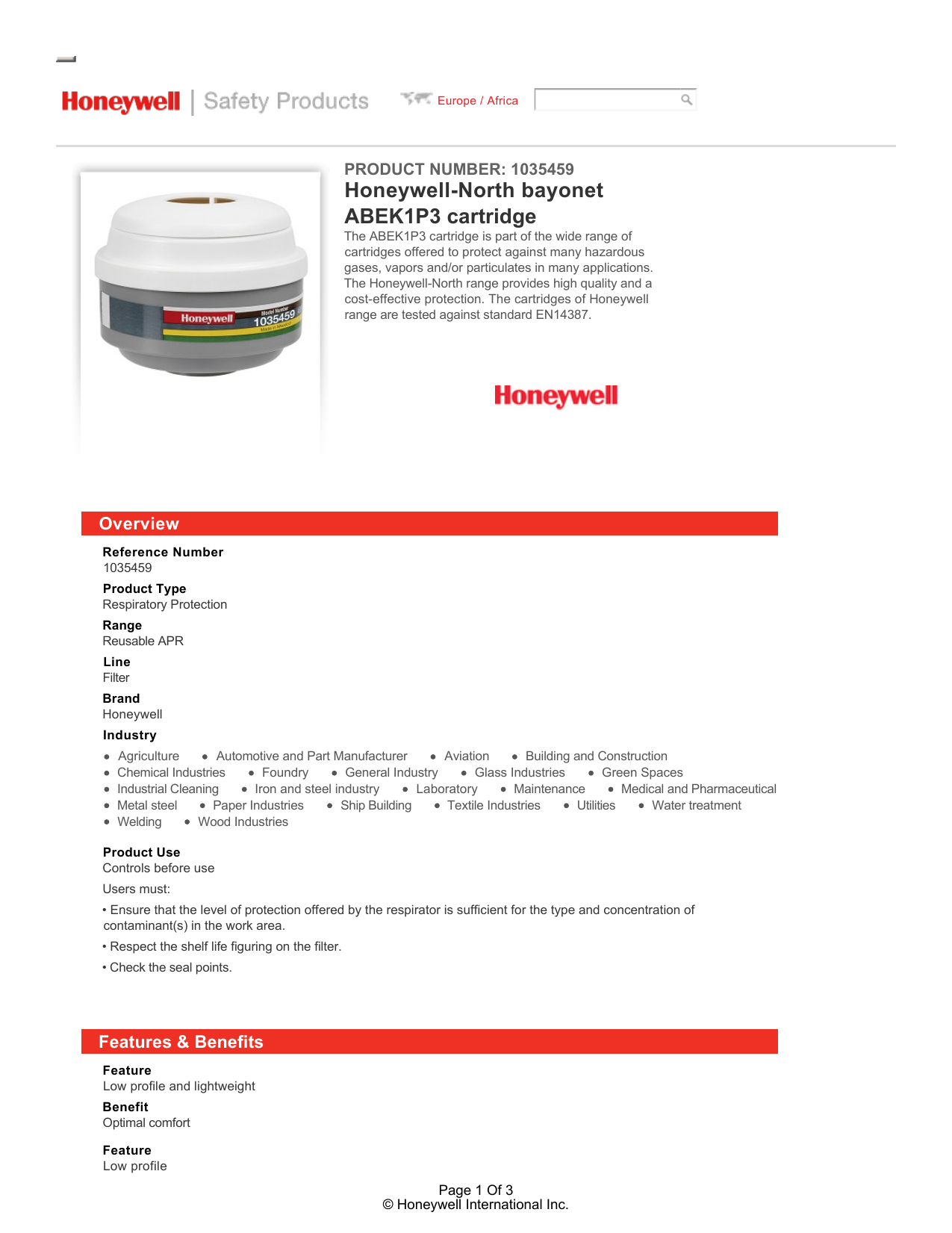 Europe / Africa
PRODUCT NUMBER: 1035459
Honeywell-North bayonet
ABEK1P3 cartridge
The ABEK1P3 cartridge is part of the wide range of
cartridges offered to protect against many hazardous
gases, vapors and/or particulates in many applications.
The Honeywell-North range provides high quality and a
cost-effective protection. The cartridges of Honeywell
range are tested against standard EN14387.
Overview
Reference Number
1035459
Product Type
Respiratory Protection
Range
Reusable APR
Line
Filter
Brand
Honeywell
Industry
Agriculture
Automotive and Part Manufacturer
Aviation
Building and Construction
Chemical Industries
Foundry
General Industry
Glass Industries
Green Spaces
Industrial Cleaning
Iron and steel industry
Laboratory
Maintenance
Medical and Pharmaceutical
Metal steel
Paper Industries
Ship Building
Textile Industries
Utilities
Water treatment
Welding
Wood Industries
Product Use
Controls before use
Users must:
• Ensure that the level of protection offered by the respirator is sufficient for the type and concentration of
contaminant(s) in the work area.
• Respect the shelf life figuring on the filter.
• Check the seal points.
Features & Benefits
Feature
Low profile and lightweight
Benefit
Optimal comfort
Feature
Low profile
Page 1 Of 3
© Honeywell International Inc.
Honeywell-North bayonet ABEK1P3 cartridge - 1035459
Benefit
Do not obstruct the field of vision
Feature
Bayonet connector
Benefit
Easy to attach and secure
Feature
Small opening
Benefit
Easy check up
Technical Description
Filters Cartridges
Standard
EN 14387:2004+A1:2008
Protection Type
Combination
Protection Type Other
Broad spectrum & particulates
Connection Type
Bayonet
Protection Level
ABEK1P3
Material
ABS - Activated carbon - fiber glass paper
Certifications
E.C. Declaration of Conformity
EC Category PPE
3
Quality Assurance
ISO 9001 / 2000
EC Certificate Number
PPE18161067
EC Attestation Number
PPE18161067
Certifications
EN 14387:2004+A1:2008
REACH
EU Regulation 1907/2006 (REACH) Compliance
The substance(s) listed below may be contained in this product above the threshold level of 0.1% by
weight of the listed article.
Product Reference Sold in Europe
Substance > 0.1%
Substance Name
CAS Number
No Substance Content
Page 2 Of 3
© Honeywell International Inc.
Honeywell-North bayonet ABEK1P3 cartridge - 1035459
Maintenance
Life Cycle
6 years
Storage Information
Filters should be stored in their original packaging in a cool, dry, non contaminated atmosphere. Storage under conditions
other than those specified by the manufacturer may affect the shelf life.
Temperature range of storage conditions: -10°C/+40°C
Maximum humidity of storage conditions: 90% RH
Care Instructions
Conditions of use (temperature range, maximum humidity, etc.) :
Temperature range : -10°C/+40°C
Maximum humidity : 90% RH
Restrictions of use :
In an explosive atmosphere.
• If the concentration of oxygen is less than 19.5% by volume or in an oxygen enriched environment.
• If the package unsealed or damaged.
Packaging
Quantity per Box/Pack/Case
4 pairs
Country of Origin
Mexico
© Honeywell International Inc.
Page 3 Of 3
© Honeywell International Inc.