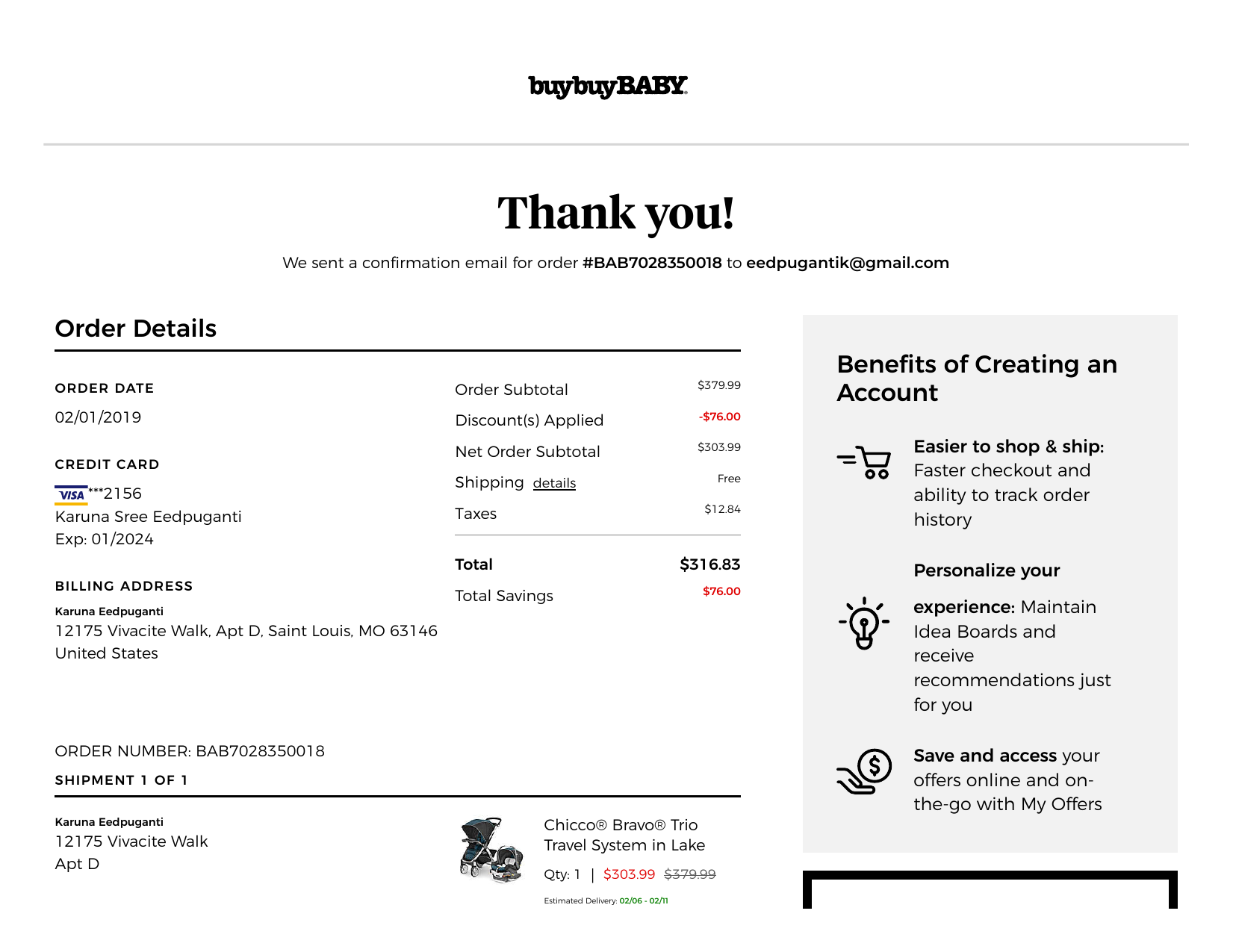 Thank you!
We sent a confirmation email for order #BAB7028350018 to [email protected]
Order Details
ORDER DATE
Order Subtotal
$379.99
02/01/2019
Discount(s) Applied
-$76.00
Net Order Subtotal
$303.99
CREDIT CARD
***2156
Karuna Sree Eedpuganti
Exp: 01/2024
$12.84
Taxes
Total
BILLING ADDRESS
Karuna Eedpuganti
Free
Shipping details
$316.83
Total Savings
$76.00
12175 Vivacite Walk, Apt D, Saint Louis, MO 63146
United States
ORDER NUMBER: BAB7028350018
12175 Vivacite Walk
Apt D
Easier to shop & ship:
Faster checkout and
ability to track order
history
Personalize your
experience: Maintain
Idea Boards and
receive
recommendations just
for you
Save and access your
offers online and onthe-go with My Offers
SHIPMENT 1 OF 1
Karuna Eedpuganti
Benefits of Creating an
Account
Chicco® Bravo® Trio
Travel System in Lake
Qty: 1 | $303.99 $379.99
Estimated Delivery: 02/06 - 02/11
Saint Louis, MO 63146
United States
20% off One Single Item
Standard Shipping
Returns are Easy
Gift Wrap: Unavailable
We want you to love what you buy whether you buy it
in any of our stores or online! If you are not fully
satisfied with your purchase, we will help you find the
item thats right for you. So Relax, No Pressure!
©2019 Buy Buy Baby, Inc.