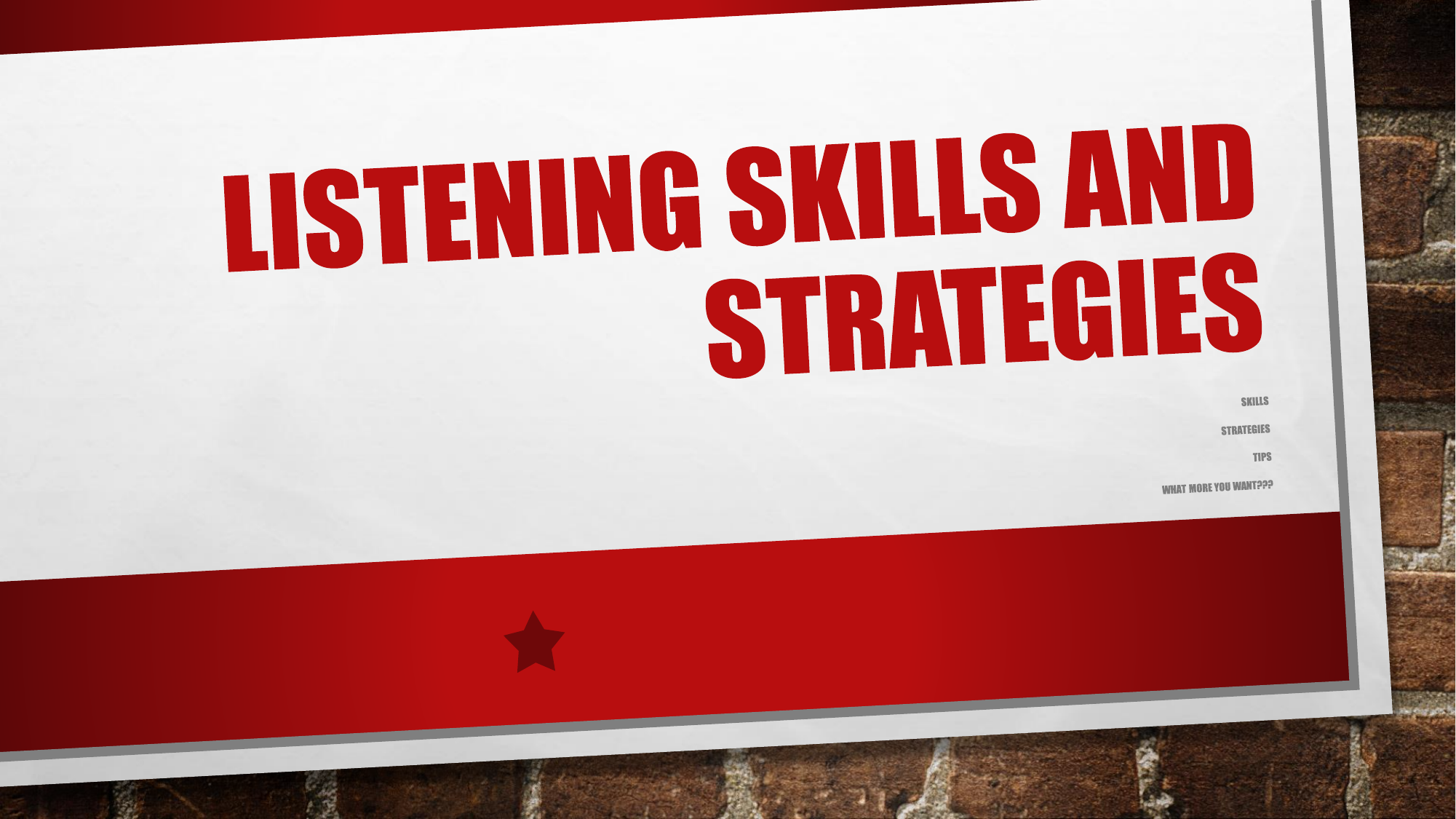 LISTEN FOR KEYWORDS
Specific information
• Names, time, numbers
Form main idea
• General idea
• Repeated words
• Word relations
USE BACKGROUND KNOWLEDGE
Content knowledge
•
•
•
•
•
Sample topic: environment
Pollution
Recycling
Preservation
Conservation
USE CONTEXTUAL CLUES
Clues
Conversation
setting
Speakers'
voice tone
Vocabulary
used
FOCUSED INFORMATION
Specific information
•
•
•
•
Birthday party
Date
Venue
Time
Functions
Transitional Signals
Add an idea
in addition, furthermore, also, moreover, besides, another
Time and
sequence
first, second, next, then, last, finally
Contrast
however, in contrast, on the other hand, nevertheless, whereas
Result
as a result, therefore, consequently, hence, thus
Example
for example, for instance, such as, in particular
Emphasis
in fact, indeed, certantly
Generalize
in general, in short, all in all
Conclude
in conclusion, in summary, in short
PRONOUN REFERENTS
Pronoun Types
Personal Pronoun:
I, you, he, she, it, we, they
Function
Replace nouns
Example
She ran all the way home.
Reflexive Pronoun:
myself, yourself, himself, herself,
itself, ourselves, yourselves,
themselves
Intensify antecedents
Reflect antecedents
Dr. Rayyan Elyas himself will be
conducting the "Be Healthy"
seminar.
Relative Pronoun:
who, whose, which, that
Join two sentences
Replace noun/pronoun
Refer to antecedents
The talk on self-confidence, that
was, attended by many
participants, was a huge success
as compared to the year before.
WORD STRESS
longer
Syllables
clearer
louder
Word
apple
table
happy
suspect
import
insult
Word Type
Two-syllable nouns and adjectives
Tendency
Exceptions
Stress on the first syllable
Oo
AP ple
hotel
Lagoon
Noun – first syllable
Oo
"You are the SUSpect!"
Words which can be used as both nouns and verbs
hairbrush
Compound nouns
football
The verb – second syllable
oO
"I susPECT you."
First part stronger stress
Oo
HAIRbrush
respect
witness
Information marker
• Information focus
• Different stress, different meaning
Example:
• You play the violin?
• You play the violin?
CONTENT AND FUNCTION
STRESSED CONTENT WORDS
UNSTRESSED FUNCTION WORDS
WORDS
EXAMPLE
WORDS
EXAMPLE
nouns
kitchen, Peter
Determiners
the, a, some, a few
(most) principle verbs
visit, construct
auxiliary verbs
don't, am, can, were
adjectives
beautiful, interesting
prepositions
before, next to, opposite
adverbs
often, carefully
conjunctions
but, while, as
pronouns
they, she, us
CONTENT AND FUNCTION
Example
Will
you
CALL
CALL
my
MOTHER
MOTHER
because
I've
LOST
LOST
my
HANDPHONE
HANDPHONE
Rising intonation
•
•
•
•
Express various information
I am not sure if I can do /it.
Aminah is /coming?
I would really love to meet /you.
Falling intonation
•
•
•
•
Statements, commands, exclamatory sentences
Eric does not own a \car.
I haven't read the \book.
Sarimah does not feel like calling \him.
INTONATION IN QUESTIONS
"yes" or "no" questions - Rises on last content words
• Did you go to the /cinema?
• Are you going to tell /Anusha?
-wh words - Rising falling on last content words
• What time will the show /\starts?
• When is Sue's /\birthday?
FEELINGS AND
ATTITUDE
INTONATIONS
DIVIDE TO GROUPS
ROLEPLAY DIFFERENT EMOTIONS
• HAPPY
• SAD
• DISAPPOINTED
• ARROGANT
• INDIFFERENT
• BOSSY
• ENTHUSIASTIC
• SURPRISE
TRANSITIONAL MARKERS
Function
Example
Listing
First, second, third
First, furthermore, finally
To begin with, to conclude, next
Reinforcing
Also
Furthermore
Moreover,
What's more
In addition
Besides
Above all
As well as
In the same way
Not only ___, but also ___
On top of that
In fact
Actually
Highlighting
In particular
Particularly
Especially
Mainly
Primarily
Generalizing
In general
Generally
On the whole
As a rule
For the most part
In most cases
Usually
Now, as far as ___ is concerned
Transition to new point
With regards/reference to
As for ___
It follows that
Turning to
SUPPORTING OPINION PHRASES
Function
Phrases
For example…
For instance…
To elaborate
Let me give you an example…
Let me illustrate…
To reason
Because…
Due to…
Owing to the fact…
As…
Since…
As a consequence/result…
To explain
So that…
In my opinion, …
As we know, …
To reiterate
First, …
Second, …
Finally, …
In conclusion, …
SOUNDS AND WORDS
Receive and interpret messages
Understood accurately
Avoid communication breakdown
READ AND GUESS
SET A
•
•
•
•
•
•
•
CONTEXT / CONTEST
HE / SHE
BOOKS / HOOKS
THEIR / THEY
MAKES / MIX
HIGH / HIDE
THROW / THROUGH
SET B
•
•
•
•
•
•
•
BAKING / MAKING
RETORT / REPORT
HASSLE / MUSSLE
CUSTOMER / COSTUMER
HEIGHT / WEIGHT
LISTEN / LISTENS
DOODLE / DOODLES
STEP 1: FOCUSED LISTENING
• WHAT WAS 2013'S MOST DOWNLOADED APPLICATION?
• HOW MANY TIMES HAS THE APPLICATION BEEN DOWNLOADED?
• WHAT APPLICATION EARNED THE MOST REVENUE?
• HOW MANY TIMES DOES THE WOMAN PLAY THE APPLICATION IN A DAY?
• WHAT IS THE OTHER TOP DOWNLOADED APPLICATION IN 2013?
• WHAT KIND OF APPLICATION IS IT?
STEP 2: SELECT AND REINFORCE
INFORMATION
• WHAT IS THE KEY REQUIREMENT FOR TOURISTS AND TRAVELERS?
• WHY ARE MANY HOTEL GUESTS FED UP WITH HOTELS?
• WHAT IS THE RANGE OF THE INTERNET ACCESS FEE CHARGED BY HOTELS?
• HOW MANY TRAVELERS DID THE SURVEY ASK?
• WHAT WAS THE BIGGEST COMPLAINT ABOUT STAYING IN A HOTEL?
• WHAT WAS THE SECOND MOST COMMON COMPLAINT?
STEP 3: SEQUENCE MARKERS
• WRITE THE INSTRUCTIONS ON "HOW TO BE ON TIME"
STRATEGY 1: TITLE/TOPIC SENTENCE
Title
• Gives idea about the whole passage
Topic sentence
• First sentence of a paragraph
STRATEGY 2: LISTEN IN CHUNKS
What
Why
Who
How
When
Where
STRATEGY 3: LANGUAGE SIGNALS
Signals
What I'm going to talk about today is …
First,
Furthermore,
One reason,
The main point is …
In addition, The important thing here is …
The purpose of my remarks is …
STRATEGY 4:
How could I be so stupid?
• asked merely
• no answer expected
• obvious or immediately provided by the questioner
Examples
• "If practice makes perfect, and no one's perfect, then why practice?"