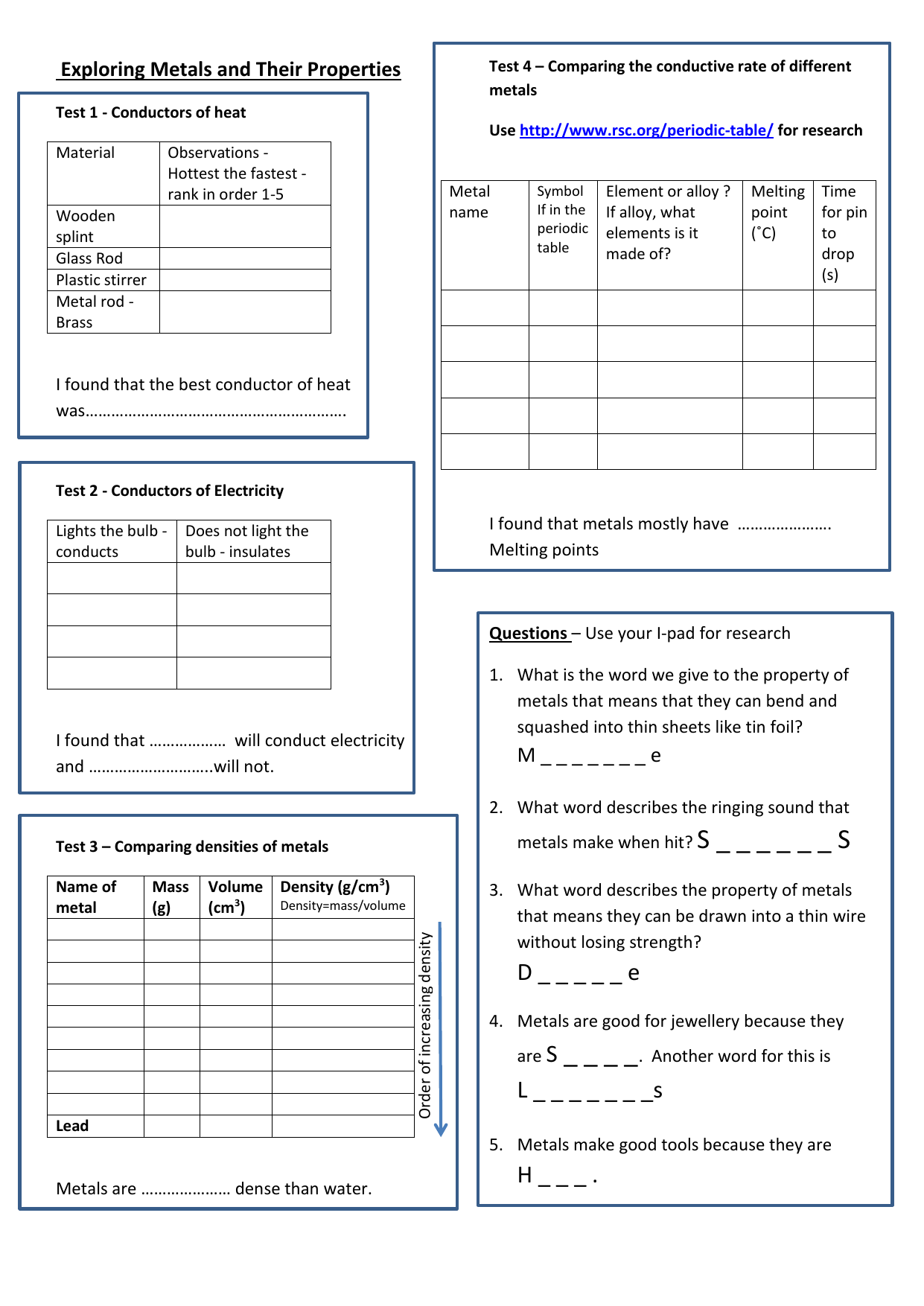 Test 4 – Comparing the conductive rate of different
metals
Exploring Metals and Their Properties
Test 1 - Conductors of heat
Use http://www.rsc.org/periodic-table/ for research
Material
Observations Hottest the fastest rank in order 1-5
Metal
name
Wooden
splint
Glass Rod
Plastic stirrer
Metal rod Brass
Symbol
If in the
periodic
table
Element or alloy ?
If alloy, what
elements is it
made of?
Melting Time
point
for pin
(˚C)
to
drop
(s)
I found that the best conductor of heat
was…………………………………………………….
Test 2 - Conductors of Electricity
Lights the bulb conducts
I found that metals mostly have ………………….
Melting points
Does not light the
bulb - insulates
Questions – Use your I-pad for research
1. What is the word we give to the property of
metals that means that they can bend and
squashed into thin sheets like tin foil?
I found that ……………… will conduct electricity
and ………………………..will not.
M_______e
2. What word describes the ringing sound that
metals make when hit? S
Test 3 – Comparing densities of metals
Mass
(g)
Volume Density (g/cm3)
Density=mass/volume
(cm3)
Lead
Order of increasing density
Name of
metal
______S
3. What word describes the property of metals
that means they can be drawn into a thin wire
without losing strength?
D_____e
4. Metals are good for jewellery because they
are S
_ _ _ _. Another word for this is
L _ _ _ _ _ _ _s
5. Metals make good tools because they are
Metals are ………………… dense than water.
H___.