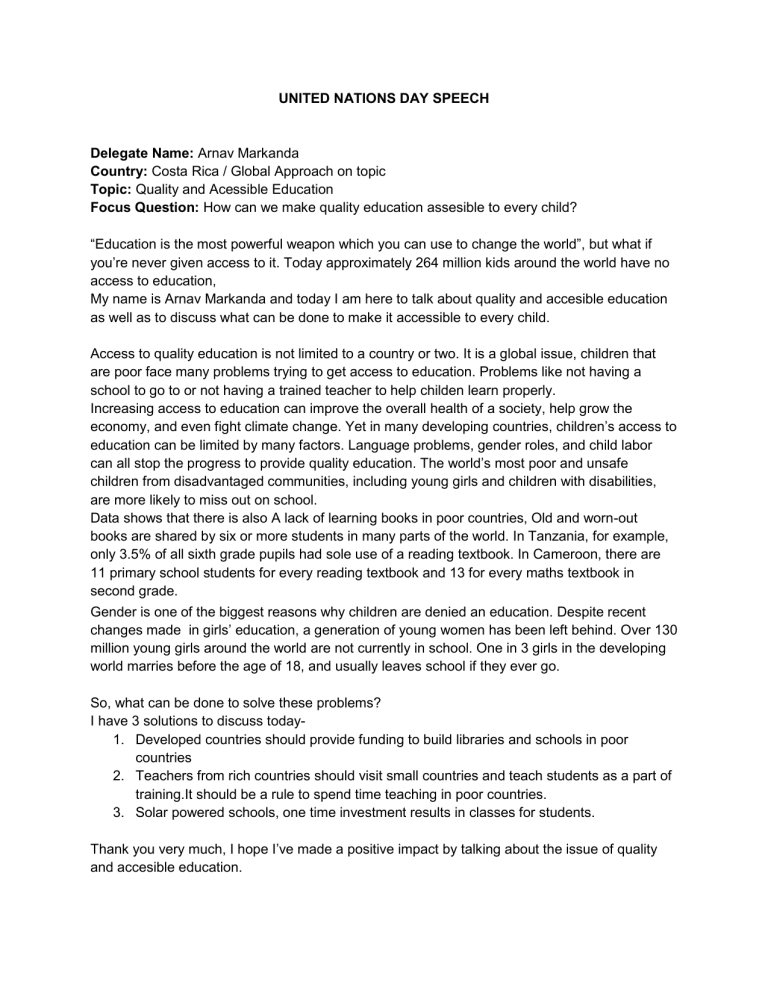 UNITED NATIONS DAY SPEECH
Delegate Name: Arnav Markanda
Country: Costa Rica / Global Approach on topic
Topic: Quality and Acessible Education
Focus Question: How can we make quality education assesible to every child?
"Education is the most powerful weapon which you can use to change the world", but what if
you're never given access to it. Today approximately 264 million kids around the world have no
access to education,
My name is Arnav Markanda and today I am here to talk about quality and accesible education
as well as to discuss what can be done to make it accessible to every child.
Access to quality education is not limited to a country or two. It is a global issue, children that
are poor face many problems trying to get access to education. Problems like not having a
school to go to or not having a trained teacher to help childen learn properly.
Increasing access to education can improve the overall health of a society, help grow the
economy, and even fight climate change. Yet in many developing countries, children's access to
education can be limited by many factors. Language problems, gender roles, and child labor
can all stop the progress to provide quality education. The world's most poor and unsafe
children from disadvantaged communities, including young girls and children with disabilities,
are more likely to miss out on school.
Data shows that there is also A lack of learning books in poor countries, Old and worn-out
books are shared by six or more students in many parts of the world. In Tanzania, for example,
only 3.5% of all sixth grade pupils had sole use of a reading textbook. In Cameroon, there are
11 primary school students for every reading textbook and 13 for every maths textbook in
second grade.
Gender is one of the biggest reasons why children are denied an education. Despite recent
changes made in girls' education, a generation of young women has been left behind. Over 130
million young girls around the world are not currently in school. One in 3 girls in the developing
world marries before the age of 18, and usually leaves school if they ever go.
So, what can be done to solve these problems?
I have 3 solutions to discuss today1. Developed countries should provide funding to build libraries and schools in poor
countries
2. Teachers from rich countries should visit small countries and teach students as a part of
training.It should be a rule to spend time teaching in poor countries.
3. Solar powered schools, one time investment results in classes for students.
Thank you very much, I hope I've made a positive impact by talking about the issue of quality
and accesible education.