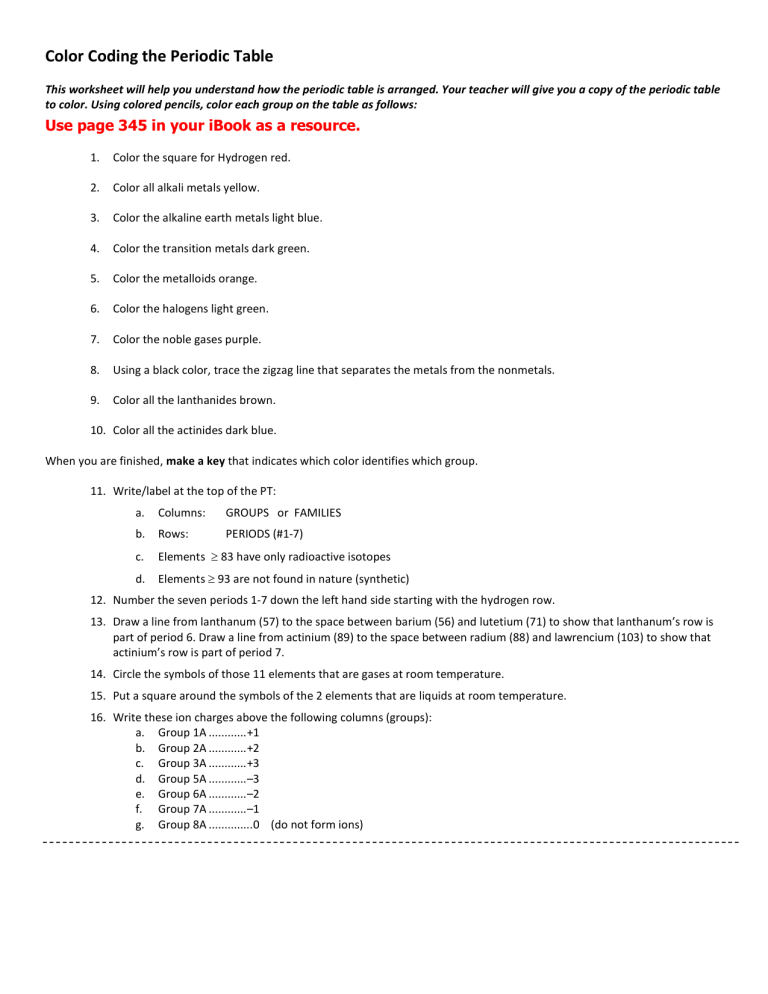 Color Coding the Periodic Table
This worksheet will help you understand how the periodic table is arranged. Your teacher will give you a copy of the periodic table
to color. Using colored pencils, color each group on the table as follows:
Use page 345 in your iBook as a resource.
1.
Color the square for Hydrogen red.
2.
Color all alkali metals yellow.
3.
Color the alkaline earth metals light blue.
4.
Color the transition metals dark green.
5.
Color the metalloids orange.
6.
Color the halogens light green.
7.
Color the noble gases purple.
8.
Using a black color, trace the zigzag line that separates the metals from the nonmetals.
9.
Color all the lanthanides brown.
10. Color all the actinides dark blue.
When you are finished, make a key that indicates which color identifies which group.
11. Write/label at the top of the PT:
a.
Columns:
GROUPS or FAMILIES
b.
Rows:
PERIODS (#1-7)
c.
Elements  83 have only radioactive isotopes
d.
Elements  93 are not found in nature (synthetic)
12. Number the seven periods 1-7 down the left hand side starting with the hydrogen row.
13. Draw a line from lanthanum (57) to the space between barium (56) and lutetium (71) to show that lanthanum's row is
part of period 6. Draw a line from actinium (89) to the space between radium (88) and lawrencium (103) to show that
actinium's row is part of period 7.
14. Circle the symbols of those 11 elements that are gases at room temperature.
15. Put a square around the symbols of the 2 elements that are liquids at room temperature.
16. Write these ion charges above the following columns (groups):
a. Group 1A ............ +1
b. Group 2A ............ +2
c. Group 3A ............ +3
d. Group 5A ............ –3
e. Group 6A ............ –2
f. Group 7A ............ –1
g. Group 8A .............. 0 (do not form ions)
Quiz Practice: See how many of these you can answer by using a blank periodic table then check your work using your labeled table.
1.
____ Only alkali metal that has no stable isotopes.
2.
____ Nobel gas in period 5.
3.
____ Metalloid that is in Group 5A and period 4
4.
____ Only metal that is liquid at room temperature.
5.
____ Only nonmental that is liquid at room temperature.
6.
____ This element commonly loses one electron and is in period 3.
7.
____ This radioactive element is a gas and is part of the group that does not form ions.
8.
____ This is one of the two elements along the stairstep line that is not considered a metalloid.
9.
____ This is the halogen with the least amount of protons.
10. ____ This inner transition metal is found in nature and has an isotope used for fission reactions.
11. ____ This element commonly gains two electrons and is a metalloid.
12. ____ Only element in Group 1A that is not referred to as an alkali metal.
13. _________________ What group of metals would likely attract (bond) to a halogen ion in a 1:1 ratio to produce a neutral
compound?
14. _________________ Find 1 or 2 incidences as you go across each row where atomic # increases but atomic mass
_________________ decreases.