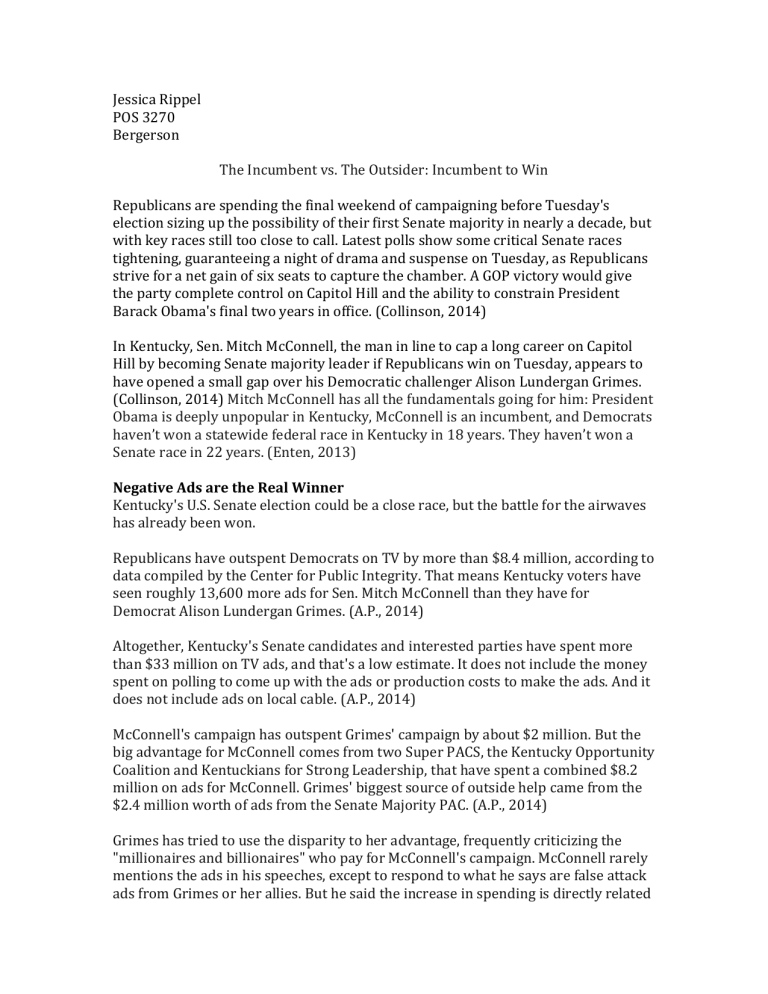 Jessica Rippel
POS 3270
Bergerson
The Incumbent vs. The Outsider: Incumbent to Win
Republicans are spending the final weekend of campaigning before Tuesday's
election sizing up the possibility of their first Senate majority in nearly a decade, but
with key races still too close to call. Latest polls show some critical Senate races
tightening, guaranteeing a night of drama and suspense on Tuesday, as Republicans
strive for a net gain of six seats to capture the chamber. A GOP victory would give
the party complete control on Capitol Hill and the ability to constrain President
Barack Obama's final two years in office. (Collinson, 2014)
In Kentucky, Sen. Mitch McConnell, the man in line to cap a long career on Capitol
Hill by becoming Senate majority leader if Republicans win on Tuesday, appears to
have opened a small gap over his Democratic challenger Alison Lundergan Grimes.
(Collinson, 2014) Mitch McConnell has all the fundamentals going for him: President
Obama is deeply unpopular in Kentucky, McConnell is an incumbent, and Democrats
haven't won a statewide federal race in Kentucky in 18 years. They haven't won a
Senate race in 22 years. (Enten, 2013)
Negative Ads are the Real Winner
Kentucky's U.S. Senate election could be a close race, but the battle for the airwaves
has already been won.
Republicans have outspent Democrats on TV by more than $8.4 million, according to
data compiled by the Center for Public Integrity. That means Kentucky voters have
seen roughly 13,600 more ads for Sen. Mitch McConnell than they have for
Democrat Alison Lundergan Grimes. (A.P., 2014)
Altogether, Kentucky's Senate candidates and interested parties have spent more
than $33 million on TV ads, and that's a low estimate. It does not include the money
spent on polling to come up with the ads or production costs to make the ads. And it
does not include ads on local cable. (A.P., 2014)
McConnell's campaign has outspent Grimes' campaign by about $2 million. But the
big advantage for McConnell comes from two Super PACS, the Kentucky Opportunity
Coalition and Kentuckians for Strong Leadership, that have spent a combined $8.2
million on ads for McConnell. Grimes' biggest source of outside help came from the
$2.4 million worth of ads from the Senate Majority PAC. (A.P., 2014)
Grimes has tried to use the disparity to her advantage, frequently criticizing the
"millionaires and billionaires" who pay for McConnell's campaign. McConnell rarely
mentions the ads in his speeches, except to respond to what he says are false attack
ads from Grimes or her allies. But he said the increase in spending is directly related
to McConnell's position as Senate minority leader. Speaking last month to Viamedia,
a company that sells local cable TV advertising, McConnell noted he spent $6.5
million in 2002 followed by $20 million in 2008. (A.P., 2014)
The high stakes, which include whether McConnell will be elevated to Senate leader
if Republicans can gain win a majority, have prompted mostly negative ads in
Kentucky. More than half of the ads aired here, 56 percent, have been negative,
according to an analysis by the Wesleyan Media Project, while just 17 percent have
been positive. About 26 percent have been ads contrasting the two candidates. (A.P.,
2014)
Polls
According to Huffington Post's poll information:
2013 - Started out 5.3% difference with McConnell in the lead
Sept. 9th – 16th again reached a 5.3% difference with McConnell in the lead
As of November 2nd, McConnell in the lead by 5.8%
August 2013 stayed within 0.1%
Jan 30th – Feb 13th stayed within 0.2%, reaching 0.1% Feb 7th – 10th
57 polls dating from December 7th, 2012 – November 1st, Grimes only in the
lead 16 times with McConnell and Grimes tying 4 times (HP Pollster, 2014)
Currently tracking 57 polls from 27 pollsters
ESTIMATE WITH 95% CONFIDENCE INTERVAL
"FiveThirtyEight's election forecasting model combines hundreds of opinion polls
with historical and demographic information to calculate odds for each Senate race.
We estimate the probability that each party will win control of the Senate by
running those odds through thousands of simulations. The forecast is updated
regularly."
Works Cited
Associated Press. Republicans winning TV ad war in Kentucky. (2014,
November 2). Politico.
Collinson, S. (2014, November 2). Republicans eye slim Senate majority. CNN.
Enten, H. (2014, July 15). Democrats Are in a Perilous Position in 2014
Senate Races. FiveThirtyEight.
FiveThirtyEight's Senate Forecast. (2014, November 1).
Huffpost Pollster. (2014, November 2). 2014 Kentucky Senate: McConnell vs.
Grimes. Huffington Post.