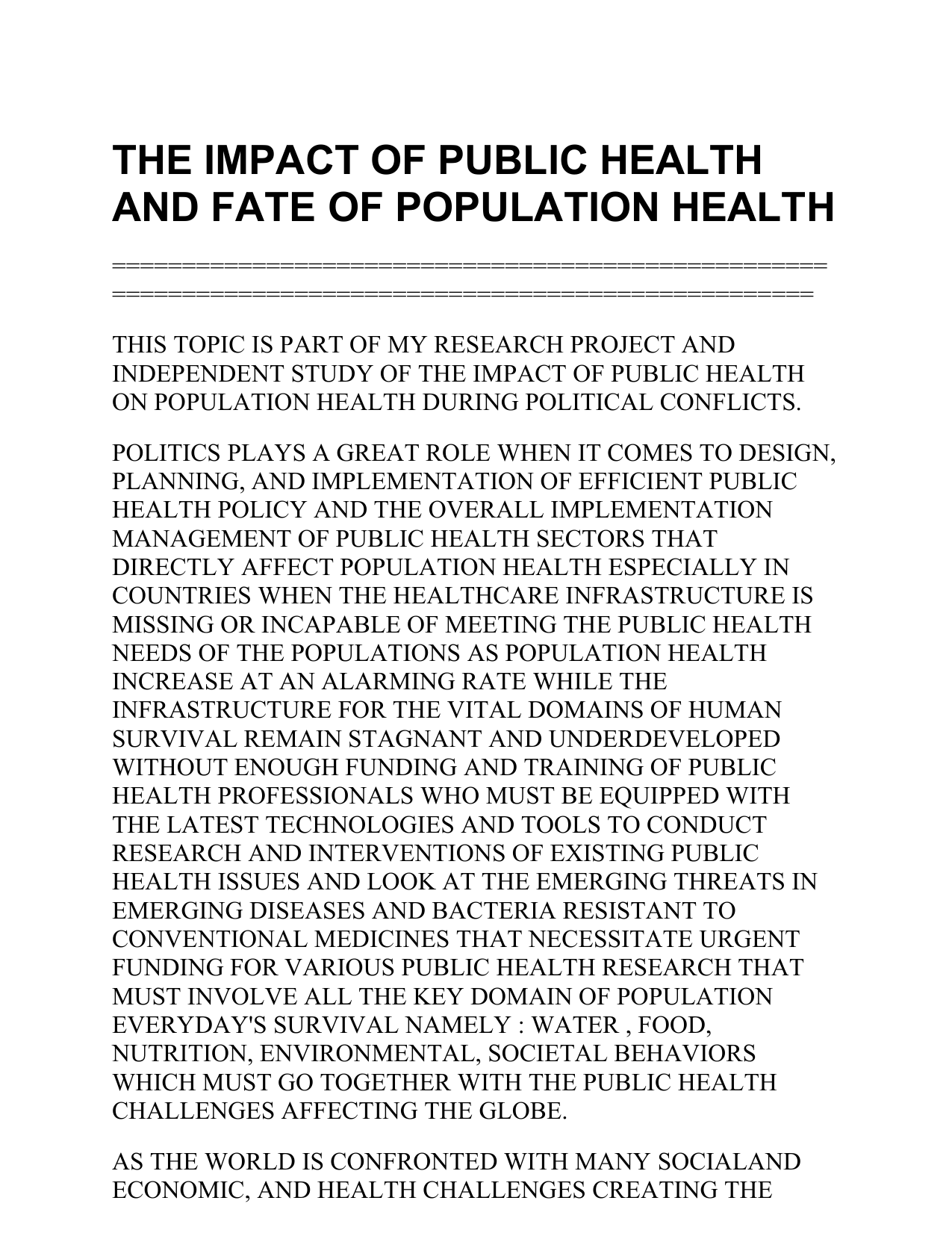 THE IMPACT OF PUBLIC HEALTH
AND FATE OF POPULATION HEALTH
===================================================
==================================================
THIS TOPIC IS PART OF MY RESEARCH PROJECT AND
INDEPENDENT STUDY OF THE IMPACT OF PUBLIC HEALTH
ON POPULATION HEALTH DURING POLITICAL CONFLICTS.
POLITICS PLAYS A GREAT ROLE WHEN IT COMES TO DESIGN,
PLANNING, AND IMPLEMENTATION OF EFFICIENT PUBLIC
HEALTH POLICY AND THE OVERALL IMPLEMENTATION
MANAGEMENT OF PUBLIC HEALTH SECTORS THAT
DIRECTLY AFFECT POPULATION HEALTH ESPECIALLY IN
COUNTRIES WHEN THE HEALTHCARE INFRASTRUCTURE IS
MISSING OR INCAPABLE OF MEETING THE PUBLIC HEALTH
NEEDS OF THE POPULATIONS AS POPULATION HEALTH
INCREASE AT AN ALARMING RATE WHILE THE
INFRASTRUCTURE FOR THE VITAL DOMAINS OF HUMAN
SURVIVAL REMAIN STAGNANT AND UNDERDEVELOPED
WITHOUT ENOUGH FUNDING AND TRAINING OF PUBLIC
HEALTH PROFESSIONALS WHO MUST BE EQUIPPED WITH
THE LATEST TECHNOLOGIES AND TOOLS TO CONDUCT
RESEARCH AND INTERVENTIONS OF EXISTING PUBLIC
HEALTH ISSUES AND LOOK AT THE EMERGING THREATS IN
EMERGING DISEASES AND BACTERIA RESISTANT TO
CONVENTIONAL MEDICINES THAT NECESSITATE URGENT
FUNDING FOR VARIOUS PUBLIC HEALTH RESEARCH THAT
MUST INVOLVE ALL THE KEY DOMAIN OF POPULATION
EVERYDAY'S SURVIVAL NAMELY : WATER , FOOD,
NUTRITION, ENVIRONMENTAL, SOCIETAL BEHAVIORS
WHICH MUST GO TOGETHER WITH THE PUBLIC HEALTH
CHALLENGES AFFECTING THE GLOBE.
AS THE WORLD IS CONFRONTED WITH MANY SOCIALAND
ECONOMIC, AND HEALTH CHALLENGES CREATING THE
OPEN DOORS TO DIFFERENT CONFLICTS THAT AFFECT
VULNERABLE POPULATION AND THEIR WELL-BEING.
PUBLIC HEALTH AS A MULTIDISCIPLINARY DOMAIN WITH
AN INDIVISIBLE NATURE OF INTERCONNECTED DOMAINS
THAT MUST HAVE STRONG LINK TO SOLVE SOME OF
HUMANITARIAN CATASTROPHES, ENVIRONMENTAL,
HEALTHCARE, SOCIAL PROBLEMS AFFECTING THE
INTERNALLY DISPLACED LOCAL POPULATIONS.
THESE UNTIMELY MOVEMENT OF LOCAL POPULATION HAS
A SERIOUS HEALTH HAZARD TO THE LOCAL POPULATION
THAT ARE IN DIRE NEED OF EMERGENCY SERVICES TO
CATER FOR THEIR BASIC FOOD, HEALTH, SHELTER,
EDUCATION WHICH ARE IN MOST CASES IMPOSSIBLE TO BE
PROVIDED BY THE CENTRAL OR LOCAL GOVERNMENTS OF
THE COUNTRIES INVOLVED IN THE POLITICAL CONFLICTS
FACING SERIOUS PRESSURE TO PROVIDE THESE BASIC LIFE
NECESSITIES TO THE LOCAL DISPLACED POPULATION.
THESE LOCAL GOVERNMENT CANNOT BE LEFT ALONE TO
DEAL WITH THESE SUDDEN, UNPLANNED HUMANITARIAN
CATASTROPHES HENCE THE NEED FOR THE INTERVENTION
BY THE INTERNATIONAL COMMUNITY WHICH NORMALLY
PROVIDE EMERGENCY ASSISTANCE TO THE PEOPLE IN NEED
SUCH AS MEDICAL SUPPLIES, FOODSTUFFS, CLOTHES,
MAKE-SHIFT SHELTERS TO PROTECT THESE LOCALLY
DISPLACED POPULATION.
THESE LOCAL GOVERNMENTS OF THE COUNTRIES
INVOLVED IN THE CONFLICTS MUST BE SUPPORTED BY
COUNTRIES WITH EXPERTISE IN PUBLIC HEALTH AND
HEALTHCARE DELIVERY SYSTEMS TO AVERT THE
MORTALITY RATE IN THE POPULATION BY HELPING THE
LOCAL COUNTRIES OR GOVERNMENT WITH INNOVATIVE
AND INTEGRATIVE APPROACHED TO PUBLIC HEALTH THAT
MUST INVOLVED ALL THE SERVICES WITH THE ASSISTANCE
IN THE CAPACITY BUILDING AND DISASTER PREPAREDNESS
, EMERGENCY PREPAREDNESS, RISK ASSESSMENT, PUBLIC
HEALTH MANAGEMENT TO PROTECT THESE VULNERABLE
DISPLACED POPULATION FROM HEALTH, ENVIRONMENTAL
HAZARDS, PUBLIC HEALTH INTERVENTIONS.
THESE PUBLIC HEALTH INTERVENTIONS MUST INVOLVED
ALL THE STAKEHOLDERS, GOVERNMENT ORGANIZATIONS,
COMMUNITY ORGANIZATIONS, LOCAL COMMUNITIES TO
RAISE AWARENESS AND HELP THESE LOCALLY DISPLACED
POPULATION WITH SUPPORT AND COMPASSION
THESE LOCAL GOVERNMENT AND COMMUNITY
ORGANIZATIONS SUPPORTED BY INTERNATIONAL
ORGANIZATIONS MUST SET UP REGULAR MONITORING OF
POPULATION HEALTH STATUS WITH REGULAR SCREENING,
VACCINATION, AND SURVEILLANCE METHODS CRUCIAL TO
PROTECT, PREVENT, AND PROLONG THE LIVES OF
DISPLACED POPULATION BY USING EFFECTIVE INNOVATIVE
PUBLIC HEALTH METHODS, INTEGRATIVE ENGAGEMENT
MODELS, EFFICIENT PUBLIC HEALTH PROMOTION
FOCUSING ON PROACTIVE BEHAVIOR AND SOCIAL CHANGE
OF THE LOCAL PEOPLE WITH PROPER HYGIENE
OBSERVATION AND EDUCATION TO PREVENT DISEASE
TRANSMISSION AND PROTECT THE LIVES OF LOCAL
POPULATIONS AND THEIR HEALTH AND THE REGULAR
TESTING AND SCREENING OF INFECTIOUS DISEASES,
EMERGING DISEASES ESPECIALLY FOR THE CHILDREN,
ELDERLY PEOPLE, AND THE AT RISK POPULATION
SUSCEPTIBLE TO DISEASES .
FOR THIS REASON, PUBLIC HEALTH IS A VERY CRITICAL
DOMAIN THAT MUST BE CONSIDERED AS THE SOLUTION TO
POPULATION HEALTH, PRODUCTIVE, STABILITY, AND
PEACE.