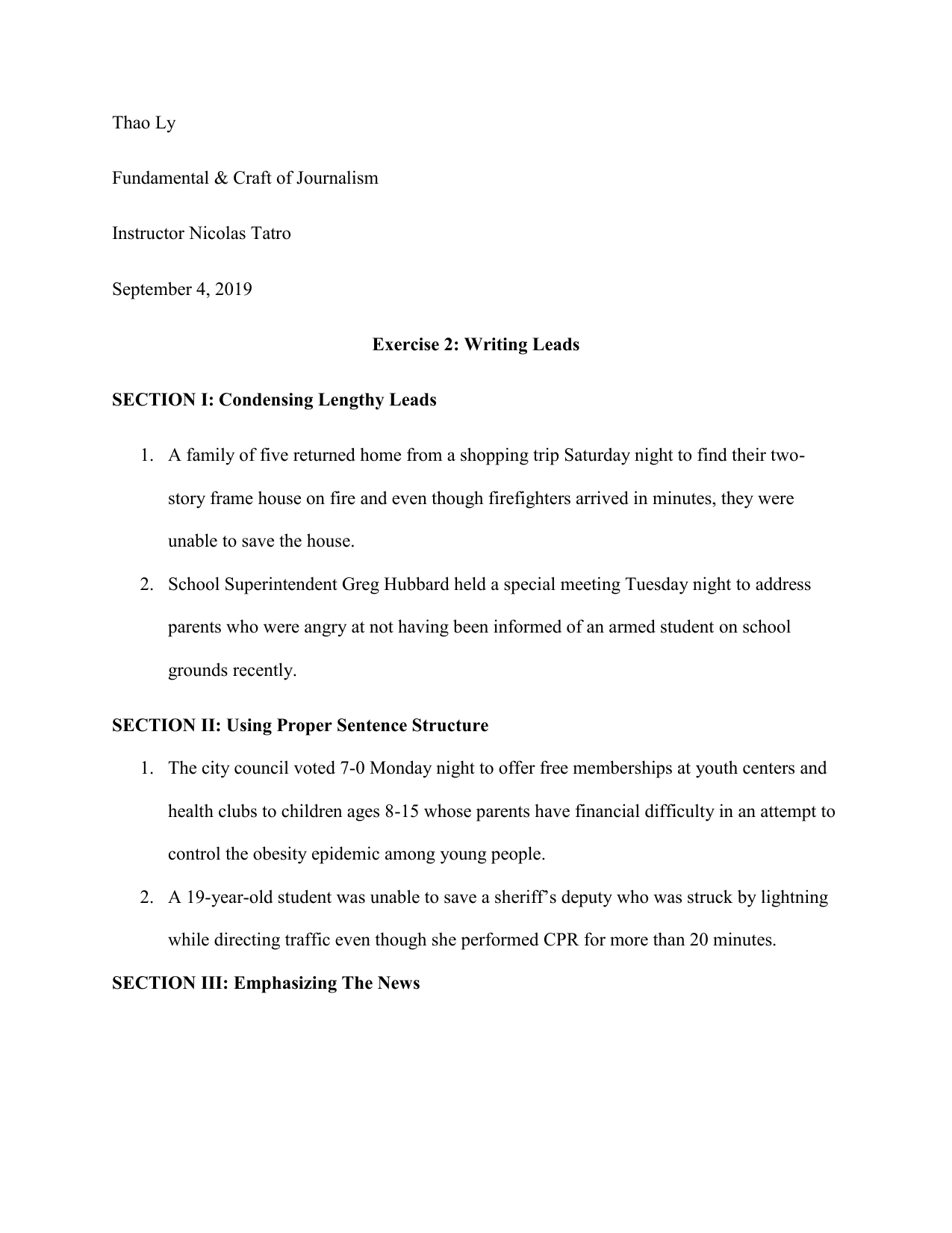 Thao Ly
Fundamental & Craft of Journalism
Instructor Nicolas Tatro
September 4, 2019
Exercise 2: Writing Leads
SECTION I: Condensing Lengthy Leads
1. A family of five returned home from a shopping trip Saturday night to find their twostory frame house on fire and even though firefighters arrived in minutes, they were
unable to save the house.
2. School Superintendent Greg Hubbard held a special meeting Tuesday night to address
parents who were angry at not having been informed of an armed student on school
grounds recently.
SECTION II: Using Proper Sentence Structure
1. The city council voted 7-0 Monday night to offer free memberships at youth centers and
health clubs to children ages 8-15 whose parents have financial difficulty in an attempt to
control the obesity epidemic among young people.
2. A 19-year-old student was unable to save a sheriff's deputy who was struck by lightning
while directing traffic even though she performed CPR for more than 20 minutes.
SECTION III: Emphasizing The News
1. More than 90 percent of all heart attack victims have one or more classic risk factors such
as smoking, diabetes, high cholesterol, and high blood pressure, the National Institutes of
Health in Washington D.C reported.
2. A 16-year-old girl got involved in an accident while driving the Jeep Wrangler, injuring
herself and two other passengers, police reported Monday.
SECTION V: Stressing The Unusual
1. Not having installed the fans and air conditioners which the city workers had delivered to
their homes, three elderly people died due to the extreme heat, Deland authorities
announced Monday morning.
2. A 36-year-old woman faced several charges for putting her son's life at risk Saturday
afternoon as she encouraged him to cross the railroad despite seeing the train
approaching, police and witnesses reported.
3. A 34-year-old paramedic is fighting to get his job back after learning from a state health
official that his HIV test taken 8 years ago was an error.
4. A 25-year-old girl was talking to her agent about her insurance bill when she ran into a
pickup truck Thursday, severely damaging her car and slightly injuring herself, police
reported.
5. Burglars broke into the house on Santana Avenue Monday afternoon and stole several
items while the homeowner was attending her husband's funeral.