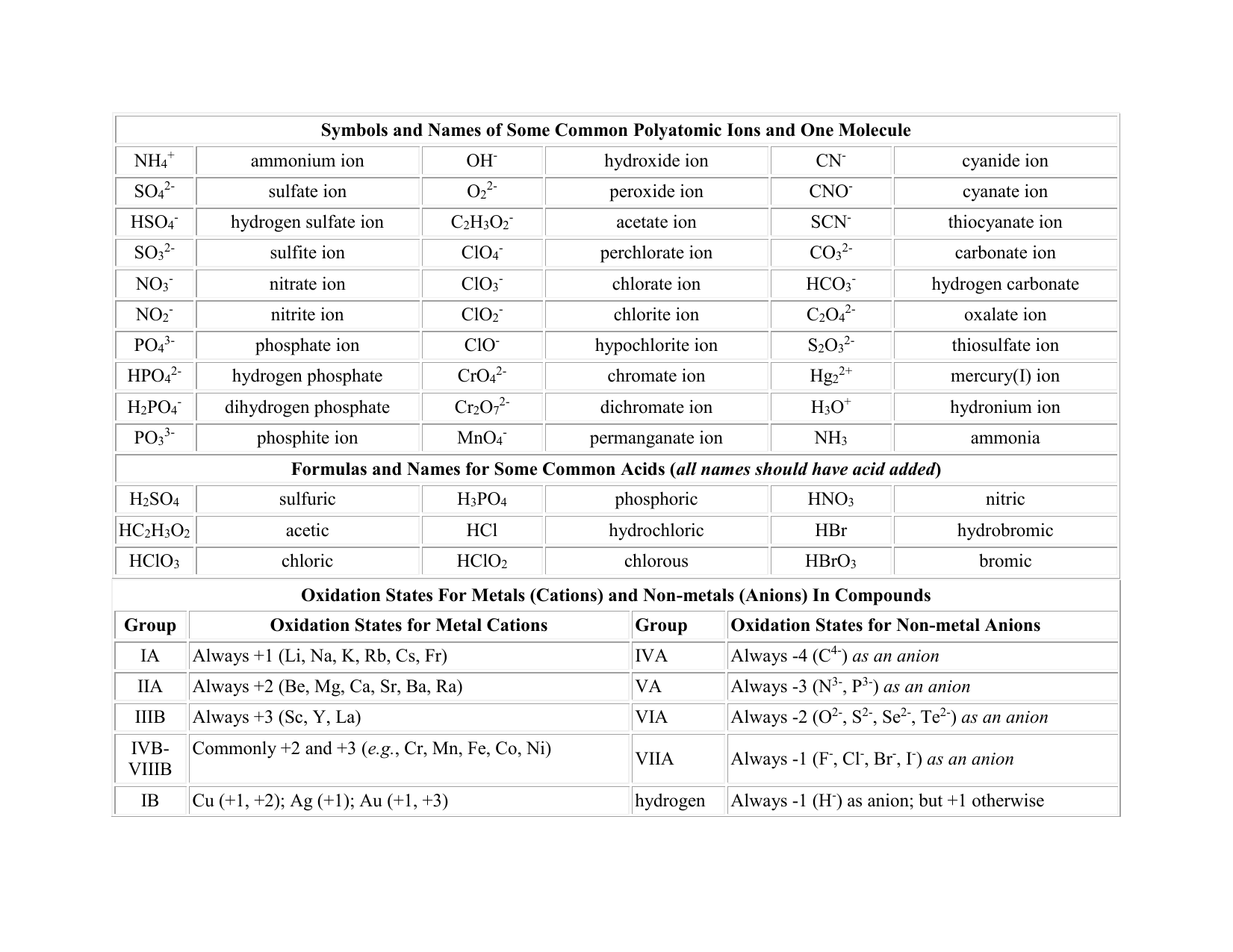 Symbols and Names of Some Common Polyatomic Ions and One Molecule
NH4+
ammonium ion
OH-
hydroxide ion
CN-
cyanide ion
SO42-
sulfate ion
O22-
peroxide ion
CNO-
cyanate ion
HSO4-
hydrogen sulfate ion
C2H3O2-
acetate ion
SCN-
thiocyanate ion
SO32-
sulfite ion
ClO4-
perchlorate ion
CO32-
carbonate ion
NO3-
nitrate ion
ClO3-
chlorate ion
HCO3-
hydrogen carbonate
NO2-
nitrite ion
ClO2-
chlorite ion
C2O42-
oxalate ion
PO43-
phosphate ion
ClO-
hypochlorite ion
S2O32-
thiosulfate ion
HPO42-
hydrogen phosphate
CrO42-
chromate ion
Hg22+
mercury(I) ion
H2PO4-
dihydrogen phosphate
Cr2O72-
dichromate ion
H3O+
hydronium ion
PO33-
phosphite ion
MnO4-
permanganate ion
NH3
ammonia
Formulas and Names for Some Common Acids (all names should have acid added)
H2SO4
sulfuric
H3PO4
phosphoric
HNO3
nitric
HC2H3O2
acetic
HCl
hydrochloric
HBr
hydrobromic
HClO3
chloric
HClO2
chlorous
HBrO3
bromic
Oxidation States For Metals (Cations) and Non-metals (Anions) In Compounds
Group
Oxidation States for Metal Cations
Group
Oxidation States for Non-metal Anions
IA
Always +1 (Li, Na, K, Rb, Cs, Fr)
IVA
Always -4 (C4-) as an anion
IIA
Always +2 (Be, Mg, Ca, Sr, Ba, Ra)
VA
Always -3 (N3-, P3-) as an anion
IIIB
Always +3 (Sc, Y, La)
VIA
Always -2 (O2-, S2-, Se2-, Te2-) as an anion
VIIA
Always -1 (F-, Cl-, Br-, I-) as an anion
hydrogen
Always -1 (H-) as anion; but +1 otherwise
IVBVIIIB
IB
Commonly +2 and +3 (e.g., Cr, Mn, Fe, Co, Ni)
Cu (+1, +2); Ag (+1); Au (+1, +3)
IIB
Zn and Cd (+2); Hg (+1, +2)
IIIA
Al and Ga (+3); In and Tl (+1, +3)
IVA
Sn and Pb (+2, +4)
VA
Bi (+3, +5)
Note: this list contains commonly-found oxidation states. Oxidation states not shown exist, but they are less-frequently encountered and therefore not "common."
Other oxidation states are commonly encountered for metals in polyatomic ions, where the metal is not the cation of a compound. When naming compounds, the
oxidation state of the metal cation is given only if the metal has more than one common oxidation state (e.g., Iron(III) or Iron(II) in the name).