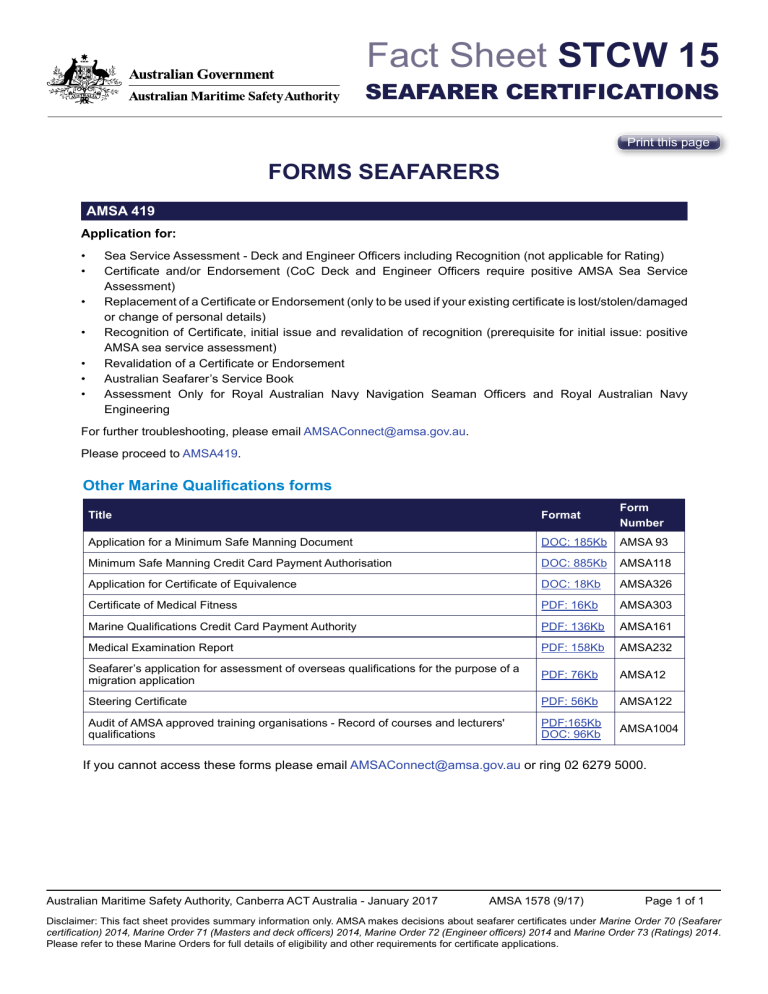 Fact Sheet STCW 15
SEAFARER CERTIFICATIONS
Print this page
FORMS SEAFARERS
AMSA 419
Application for:
•
•
•
•
•
•
•
Sea Service Assessment - Deck and Engineer Officers including Recognition (not applicable for Rating)
Certificate and/or Endorsement (CoC Deck and Engineer Officers require positive AMSA Sea Service
Assessment)
Replacement of a Certificate or Endorsement (only to be used if your existing certificate is lost/stolen/damaged
or change of personal details)
Recognition of Certificate, initial issue and revalidation of recognition (prerequisite for initial issue: positive
AMSA sea service assessment)
Revalidation of a Certificate or Endorsement
Australian Seafarer's Service Book
Assessment Only for Royal Australian Navy Navigation Seaman Officers and Royal Australian Navy
Engineering
For further troubleshooting, please email AMSAConnect@amsa.gov.au.
Please proceed to AMSA419.
Other Marine Qualifications forms
Title
Format
Form
Number
Application for a Minimum Safe Manning Document
DOC: 185Kb
AMSA 93
Minimum Safe Manning Credit Card Payment Authorisation
DOC: 885Kb
AMSA118
Application for Certificate of Equivalence
DOC: 18Kb
AMSA326
Certificate of Medical Fitness
PDF: 16Kb
AMSA303
Marine Qualifications Credit Card Payment Authority
PDF: 136Kb
AMSA161
Medical Examination Report
PDF: 158Kb
AMSA232
Seafarer's application for assessment of overseas qualifications for the purpose of a
migration application
PDF: 76Kb
AMSA12
Steering Certificate
PDF: 56Kb
AMSA122
Audit of AMSA approved training organisations - Record of courses and lecturers'
qualifications
PDF:165Kb
DOC: 96Kb
AMSA1004
If you cannot access these forms please email AMSAConnect@amsa.gov.au or ring 02 6279 5000.
Australian Maritime Safety Authority, Canberra ACT Australia - January 2017
AMSA 1578 (9/17)
Page 1 of 1
Disclaimer: This fact sheet provides summary information only. AMSA makes decisions about seafarer certificates under Marine Order 70 (Seafarer
certification) 2014, Marine Order 71 (Masters and deck officers) 2014, Marine Order 72 (Engineer officers) 2014 and Marine Order 73 (Ratings) 2014.
Please refer to these Marine Orders for full details of eligibility and other requirements for certificate applications.