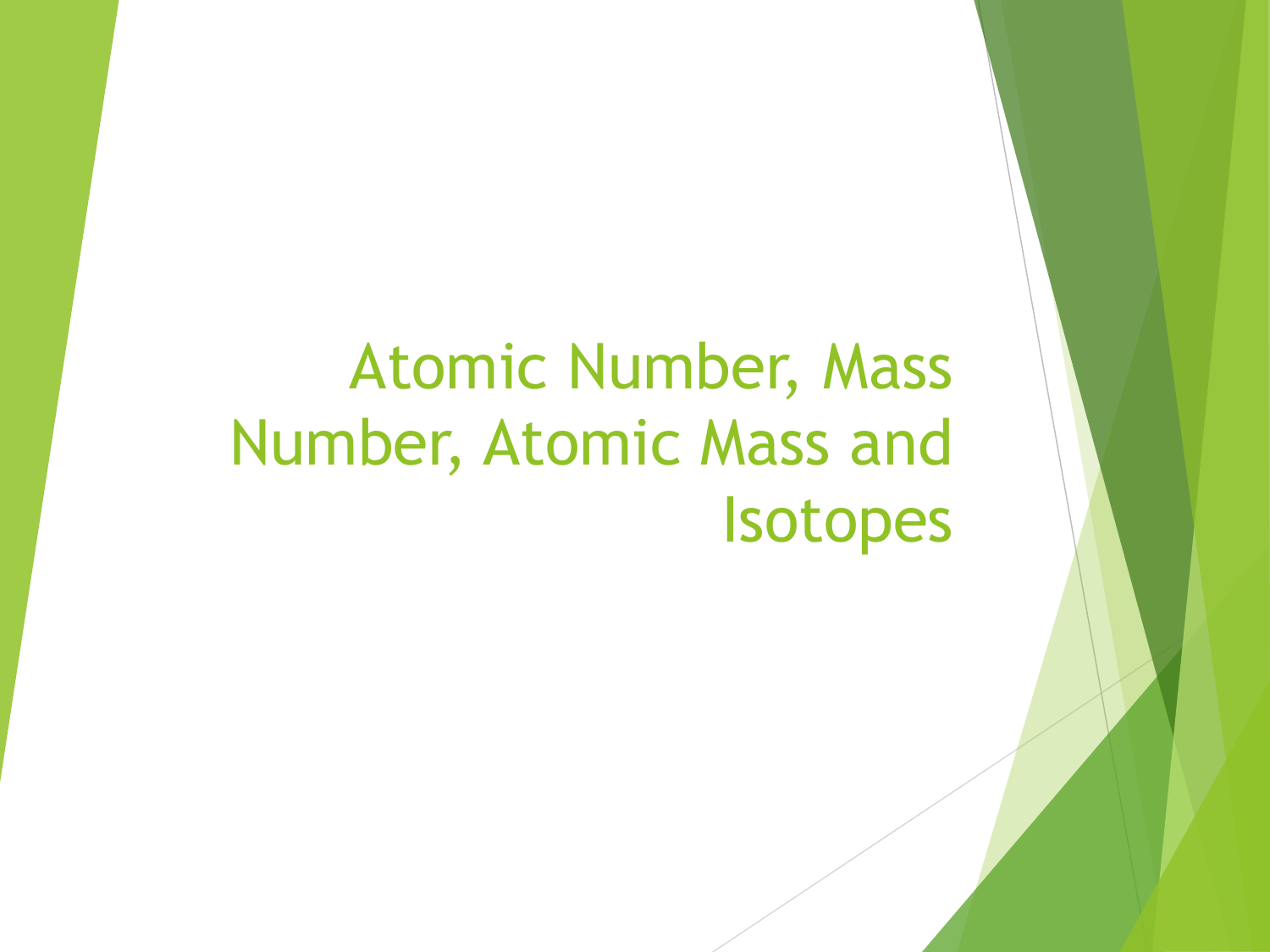 Atomic Number, Mass
Number, Atomic Mass and
Isotopes
Atomic Number: is the number of
protons in the nucleus of the atom.
All atoms of the same element have
the same atomic number and the
same protons.
If the protons change, the element is
also not the same.
Atoms have no overall electrical charge
so, an atom must have as many
electrons
as there are
protons
in its nucleus.
Atomic number = Protons = electrons
A=P=E
Ex: Sodium (Na)

What is the atomic number of Sodium?

How many protons does sodium have?

How many electrons does sodium have?
Mass Number:
•
The sum of the protons and
neutrons in the nucleus.
•
Mass – Atomic = Neutrons
M–A=N
Nuclear Notation
NUCLEAR NOTATION : Gives
specific information about the
nucleus
Other ways to write
elements:
Mass Number
Mass Number
36
17Cl
Atomic Number
Cl-36
HYPHEN NOTATION: Gives
only specific mass number.
Nucleons:
protons and neutrons
Isotopes
of an element have
different mass numbers
because
they have
different numbers of neutrons,
but they have
the same atomic number.
What type of notation is
used above?
Example:
Isotopes of Carbon and Hydrogen
Isotopes of Hydrogen
protium deuterium
H
H
Isotopes of Carbon
tritium
H
Atomic Mass Unit
is a unit used to compare
the masses of atoms
and has the symbol
u
or
amu.
1 amu or u
is approximately equal to
the mass of
a single
proton or neutron.
Atomic Mass
is the weighted average
mass
of all the naturally occurring
isotopes
of that element.