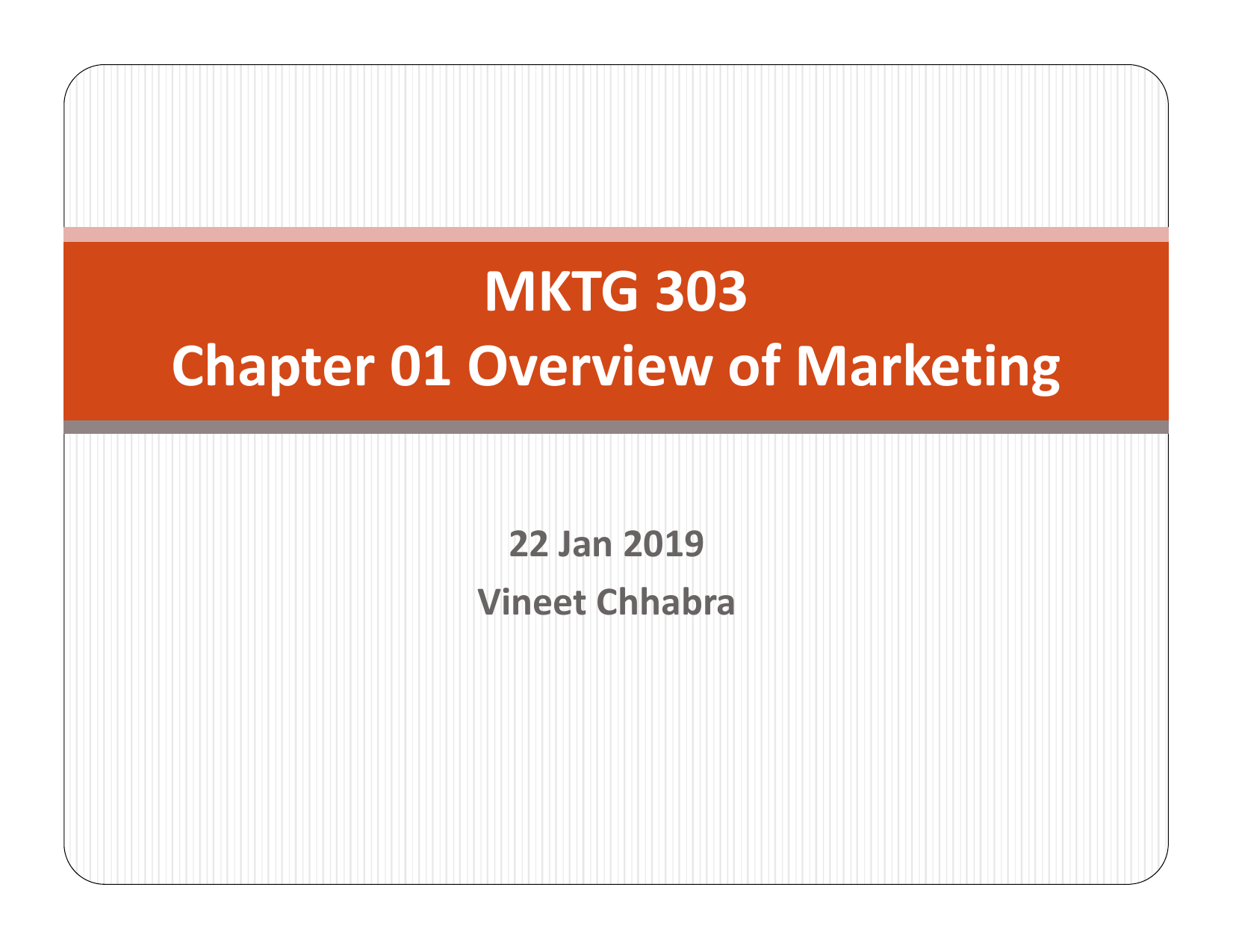 MKTG 303
Chapter 01 Overview of Marketing
22 Jan 2019
Vineet Chhabra
Plan for the Day
 Introductions
 Class Norms
 Syllabus Review
 Groups
 Chapter 01
Class Norms
 Attendance
 Breaks
 Phone usage
 Laptop usage
 Group Work
 Honor code
 Class Discussion
 End of Chapter Questions & Cases
 Anything else?
Syllabus Review
Group Project
Lets Get Started
Chapter 01 ‐ Learning Goals
1.
Define the role of marketing in organizations
2.
Describe how marketers create value for a product or service
3.
Understand why marketing is important both within and outside
the firm
What is Marketing?
 Marketing is the activity, set of institutions, and processes
for creating, capturing, communicating, delivering, and
exchanging offerings that have value for customers, clients,
partners, and society at large
Other Descriptors
 Satisfying customer needs and wants through an exchange
process better than your competitors
 Create, keep and satisfy the customer
Core Aspects of Marketing
Creates
Value
Affects
Stakeholders
& Enriches
Society
Satisfy
Customer
Needs &
Wants
MARKETING
Exchange
B2B/B2C
4-P
Decisions
Marketing Entails an Exchange
The 4 Ps of Marketing
Product – Creating Value
Goods
Services
Ideas
Price – Capturing Value
 What the buyer gives up in the exchange
 What is the customer willing to pay, and are you willing to
accept that?
 Money, time, energy, etc.
We Make Pricing Decisions Every Day
 Not just across products,
and also within a
product set
‐
Buying a car
("Technology package")
‐
Airline tickets and seats
("free checked bags and
priority boarding")
‐
Ordering food ("make it
a combo meal")
Place – Delivering Value
 Place, or supply chain management, describes all activities
necessary to get the product to the right customer when
the customer wants it
‐ Channel of choice
Promotion – Communicating Value
 Promotion is communication by a marketer that informs,
persuades, and reminds potential buyers about a product
or service so as to influence their opinions or elicit a
response.
Who Performs Marketing
B2B
B2C
C2C
Marketing Impacts All Stakeholders
 Society
 Employees
 Customers
 Supply Chain
From Production to Value Based Marketing
Photos (left to right): © Ryan McVay/Getty Images RF; © CMCD/Getty Images RF; © Ryan McVay/Getty Images RF; © Ted Dayton
Photography/Beateworks/Corbis RF; © McGraw-Hill Education/Mark Dierker, photographer
From Production to Value Based Marketing
 Production Oriented
 Innovation, keep costs low, efficiency
 It you make it, they'll come buy it
 Sales Oriented
 Response to lower consumption
 Personal selling and advertising
 Marketing Oriented
 Post WW‐II expansion
 More sophistication, and more choices
 Focus on needs & wants, marketing mix elements, customer is king
 Value Oriented
 Holistic view, better vale than competitors
 Focus on customer analytics, building relationships, balance costs &
benefits, leverage technology in interconnected world
How Do Firms Become Value Driven?
 Sharing information
 Balancing benefits with costs
 Building relationships with customers
 Connecting with customers using social and mobile
media
Why Is Marketing Important?
Recap
 Marketing a set of processes for creating, communicating,




and delivering value to customers and for managing
customer relationships in ways that benefit the
organization and its stakeholders
Marketing is about satisfying customer needs and wants
Marketing helps create value
Marketing entails an exchange
Marketing requires product, price, place, and promotion
decisions (a.k.a. the Marketing Mix)
Recap
 Marketing can be performed by both individuals and
organizations
 Production, sales, market, and value‐based eras of
marketing
 Marketing affects various stakeholders (customers,
employees, suppliers, society)
 It helps expand global presence, pervasive across
organization, pervasive across supply chain, makes life
easier, enriches society, can be entrepreneurial.