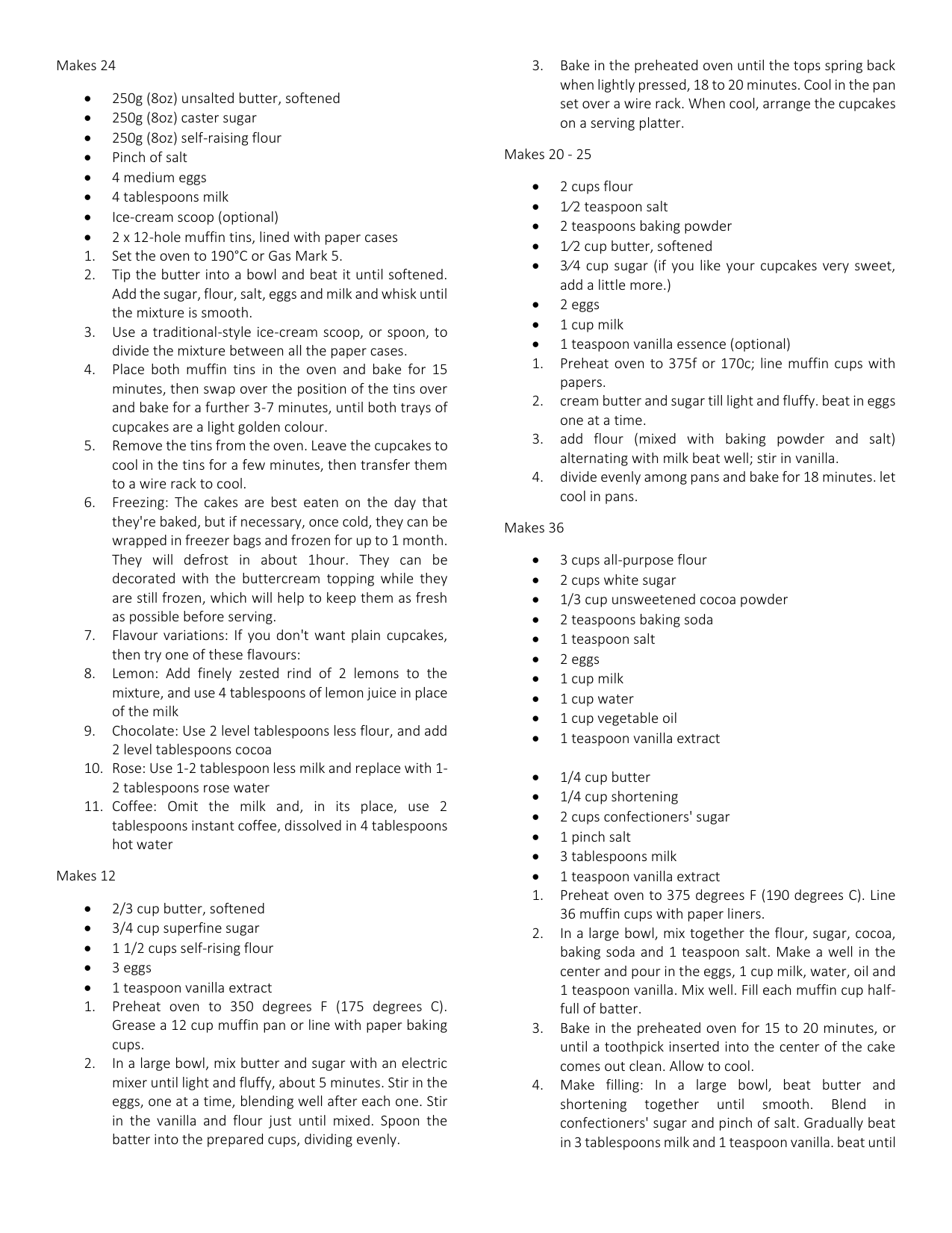 Makes 24








1.
2.
250g (8oz) unsalted butter, softened
250g (8oz) caster sugar
250g (8oz) self-raising flour
Pinch of salt
4 medium eggs
4 tablespoons milk
Ice-cream scoop (optional)
2 x 12-hole muffin tins, lined with paper cases
Set the oven to 190°C or Gas Mark 5.
Tip the butter into a bowl and beat it until softened.
Add the sugar, flour, salt, eggs and milk and whisk until
the mixture is smooth.
3. Use a traditional-style ice-cream scoop, or spoon, to
divide the mixture between all the paper cases.
4. Place both muffin tins in the oven and bake for 15
minutes, then swap over the position of the tins over
and bake for a further 3-7 minutes, until both trays of
cupcakes are a light golden colour.
5. Remove the tins from the oven. Leave the cupcakes to
cool in the tins for a few minutes, then transfer them
to a wire rack to cool.
6. Freezing: The cakes are best eaten on the day that
they're baked, but if necessary, once cold, they can be
wrapped in freezer bags and frozen for up to 1 month.
They will defrost in about 1hour. They can be
decorated with the buttercream topping while they
are still frozen, which will help to keep them as fresh
as possible before serving.
7. Flavour variations: If you don't want plain cupcakes,
then try one of these flavours:
8. Lemon: Add finely zested rind of 2 lemons to the
mixture, and use 4 tablespoons of lemon juice in place
of the milk
9. Chocolate: Use 2 level tablespoons less flour, and add
2 level tablespoons cocoa
10. Rose: Use 1-2 tablespoon less milk and replace with 12 tablespoons rose water
11. Coffee: Omit the milk and, in its place, use 2
tablespoons instant coffee, dissolved in 4 tablespoons
hot water
Makes 12





1.
2.
2/3 cup butter, softened
3/4 cup superfine sugar
1 1/2 cups self-rising flour
3 eggs
1 teaspoon vanilla extract
Preheat oven to 350 degrees F (175 degrees C).
Grease a 12 cup muffin pan or line with paper baking
cups.
In a large bowl, mix butter and sugar with an electric
mixer until light and fluffy, about 5 minutes. Stir in the
eggs, one at a time, blending well after each one. Stir
in the vanilla and flour just until mixed. Spoon the
batter into the prepared cups, dividing evenly.
3.
Bake in the preheated oven until the tops spring back
when lightly pressed, 18 to 20 minutes. Cool in the pan
set over a wire rack. When cool, arrange the cupcakes
on a serving platter.
Makes 20 - 25








1.
2.
3.
4.
2 cups flour
1⁄2 teaspoon salt
2 teaspoons baking powder
1⁄2 cup butter, softened
3⁄4 cup sugar (if you like your cupcakes very sweet,
add a little more.)
2 eggs
1 cup milk
1 teaspoon vanilla essence (optional)
Preheat oven to 375f or 170c; line muffin cups with
papers.
cream butter and sugar till light and fluffy. beat in eggs
one at a time.
add flour (mixed with baking powder and salt)
alternating with milk beat well; stir in vanilla.
divide evenly among pans and bake for 18 minutes. let
cool in pans.
Makes 36










3 cups all-purpose flour
2 cups white sugar
1/3 cup unsweetened cocoa powder
2 teaspoons baking soda
1 teaspoon salt
2 eggs
1 cup milk
1 cup water
1 cup vegetable oil
1 teaspoon vanilla extract






1.
1/4 cup butter
1/4 cup shortening
2 cups confectioners' sugar
1 pinch salt
3 tablespoons milk
1 teaspoon vanilla extract
Preheat oven to 375 degrees F (190 degrees C). Line
36 muffin cups with paper liners.
In a large bowl, mix together the flour, sugar, cocoa,
baking soda and 1 teaspoon salt. Make a well in the
center and pour in the eggs, 1 cup milk, water, oil and
1 teaspoon vanilla. Mix well. Fill each muffin cup halffull of batter.
Bake in the preheated oven for 15 to 20 minutes, or
until a toothpick inserted into the center of the cake
comes out clean. Allow to cool.
Make filling: In a large bowl, beat butter and
shortening together until smooth. Blend in
confectioners' sugar and pinch of salt. Gradually beat
in 3 tablespoons milk and 1 teaspoon vanilla. beat until
2.
3.
4.
light and fluffy. Fill a pastry bag with a small tip. Push
tip through bottom of paper liner to fill each cupcake.
1.
Makes 12 Vanilla Cupcakes









1½ cups all-purpose flour
1 cup granulated sugar
1½ teaspoons baking powder
½ teaspoon table salt
8 tablespoons unsalted butter (1 stick), room
temperature
½ cup sour cream
1 large egg , room temperature
2 large egg yolks , room temperature
1½ teaspoons vanilla extract
Vanilla Buttercream Frosting:



1.
2.
3.
4.
5.
1 cup (8 ounces) unsalted butter, at room
temperature
2½ cups powdered sugar
1 tablespoon vanilla extract
Adjust oven rack to middle position; heat oven to 350
degrees F. Line standard muffin/cupcake tin with
paper or foil liners.
Whisk together flour, sugar, baking powder, and salt
in bowl of standing mixer fitted with paddle
attachment. Add butter, sour cream, egg and egg
yolks, and vanilla; beat at medium speed until smooth
and satiny, about 30 seconds. Scrape down sides of
bowl with rubber spatula and mix by hand until
smooth and no flour pockets remain.
Divide batter evenly among cups of prepared tin. Bake
until cupcake tops are pale gold and toothpick or
skewer inserted into center comes out clean, 20 to 24
minutes. Remove the cupcakes from tin and transfer
to wire rack; cool cupcakes to room temperature
before frosting.
Using the wire whisk attachment of your stand mixer,
whip the butter on medium-high speed for 5 minutes,
stopping to scrape the bowl once or twice.
Reduce the speed to low and gradually add the
powdered sugar. Once all of the powdered sugar is
incorporated, increase the speed to medium-high and
add the vanilla, mixing until incorporated. Whip at
medium-high speed until light and fluffy, about 2
minutes, scraping the bowl as needed.
Makes 18 CREAM CHEESE CUPCAKES








3/4 c. graham cracker crumbs
2 tbsp. melted butter
3 (8 oz.) pkgs. cream cheese, softened
1 tsp. sugar
1 1/2 tsp. vanilla
3/4 c. sugar
3 eggs
1 (20 oz.) can prepared pie filling (cherry, blueberry, or
pineapple)
2.
Place cupcake liners in muffin tins. In mixing bowl
combine cracker crumbs, butter and 1 teaspoon
sugar. Place 1/2 teaspoon mixture in each liner; pat
down.
Place cream cheese, vanilla, 3/4 cup sugar and eggs in
mixing bowl of food processor until well blended.
Should be smooth. Pour on top of crumbs. Fill 1/2 full.
Bake 20-25 minutes at 325 degrees.
Makes (Walang sinabe)











1.
2.
3.
4.
5.
6.
7.
8.
110g/4oz butter or margarine, softened at room
temperature
110g/4oz caster sugar
2 free-range eggs, lightly beaten
1 tsp vanilla extract
110g/4oz self-raising flour
1-2 tbsp milk
For the buttercream icing
140g/5oz butter, softened
280g/10oz icing sugar
1-2 tbsp milk
a few drops food colouring
Preheat the oven to 180C/350F/Gas 4 and line a 12hole muffin tin with paper cases.
Cream the butter and sugar together in a bowl until
pale. Beat in the eggs a little at a time and stir in the
vanilla extract.
Fold in the flour using a large metal spoon, adding a
little milk until the mixture is of a dropping
consistency. Spoon the mixture into the paper cases
until they are half full.
Bake in the oven for 10-15 minutes, or until goldenbrown on top and a skewer inserted into one of the
cakes comes out clean. Set aside to cool for 10
minutes, then remove from the tin and cool on a wire
rack.
For the buttercream icing, beat the butter in a large
bowl until soft. Add half the icing sugar and beat until
smooth.
Then add the remaining icing sugar with one
tablespoon of the milk, adding more milk if necessary,
until the mixture is smooth and creamy.
Add the food colouring and mix until well combined.
Spoon the icing into a piping bag with a star nozzle and
pipe the icing using a spiralling motion onto the cup
cakes in a large swirl.
Buttercream frosting





1.
2.
1 cup butter, softened
3 1⁄2 cups confectioners' sugar
1 teaspoon milk
1 teaspoon vanilla extract
1⁄8 teaspoon salt
In a bowl combine butter, sugar and salt. Beat till
blended.
Add the milk and vanilla and beat for an additional 3
to 5 minutes or until smooth and creamy.