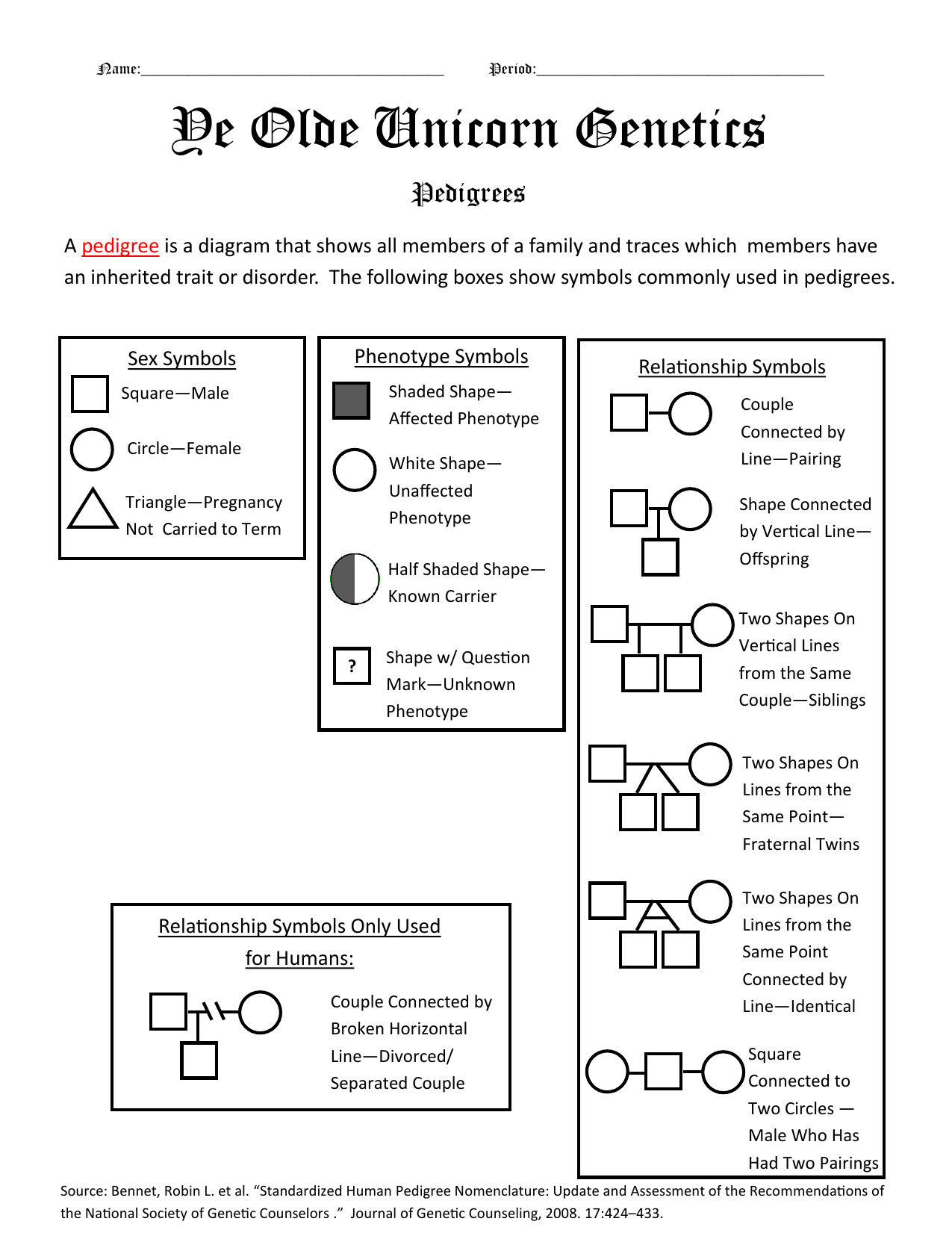 Name:_______________________________________
Period:_____________________________________
Ye Olde Unicorn Genetics
Pedigrees
A pedigree is a diagram that shows all members of a family and traces which members have
an inherited trait or disorder. The following boxes show symbols commonly used in pedigrees.
Sex Symbols
Phenotype Symbols
Shaded Shape—
Affected Phenotype
Square—Male
Circle—Female
White Shape—
Unaffected
Phenotype
Triangle—Pregnancy
Not Carried to Term
Half Shaded Shape—
Known Carrier
?
Shape w/ Question
Mark—Unknown
Phenotype
Relationship Symbols
Couple
Connected by
Line—Pairing
Shape Connected
by Vertical Line—
Offspring
Two Shapes On
Vertical Lines
from the Same
Couple—Siblings
Two Shapes On
Lines from the
Same Point—
Fraternal Twins
Relationship Symbols Only Used
for Humans:
Couple Connected by
Broken Horizontal
Line—Divorced/
Separated Couple
Two Shapes On
Lines from the
Same Point
Connected by
Line—Identical
Square
Connected to
Two Circles —
Male Who Has
Had Two Pairings
Source: Bennet, Robin L. et al. "Standardized Human Pedigree Nomenclature: Update and Assessment of the Recommendations of
the National Society of Genetic Counselors ." Journal of Genetic Counseling, 2008. 17:424–433.