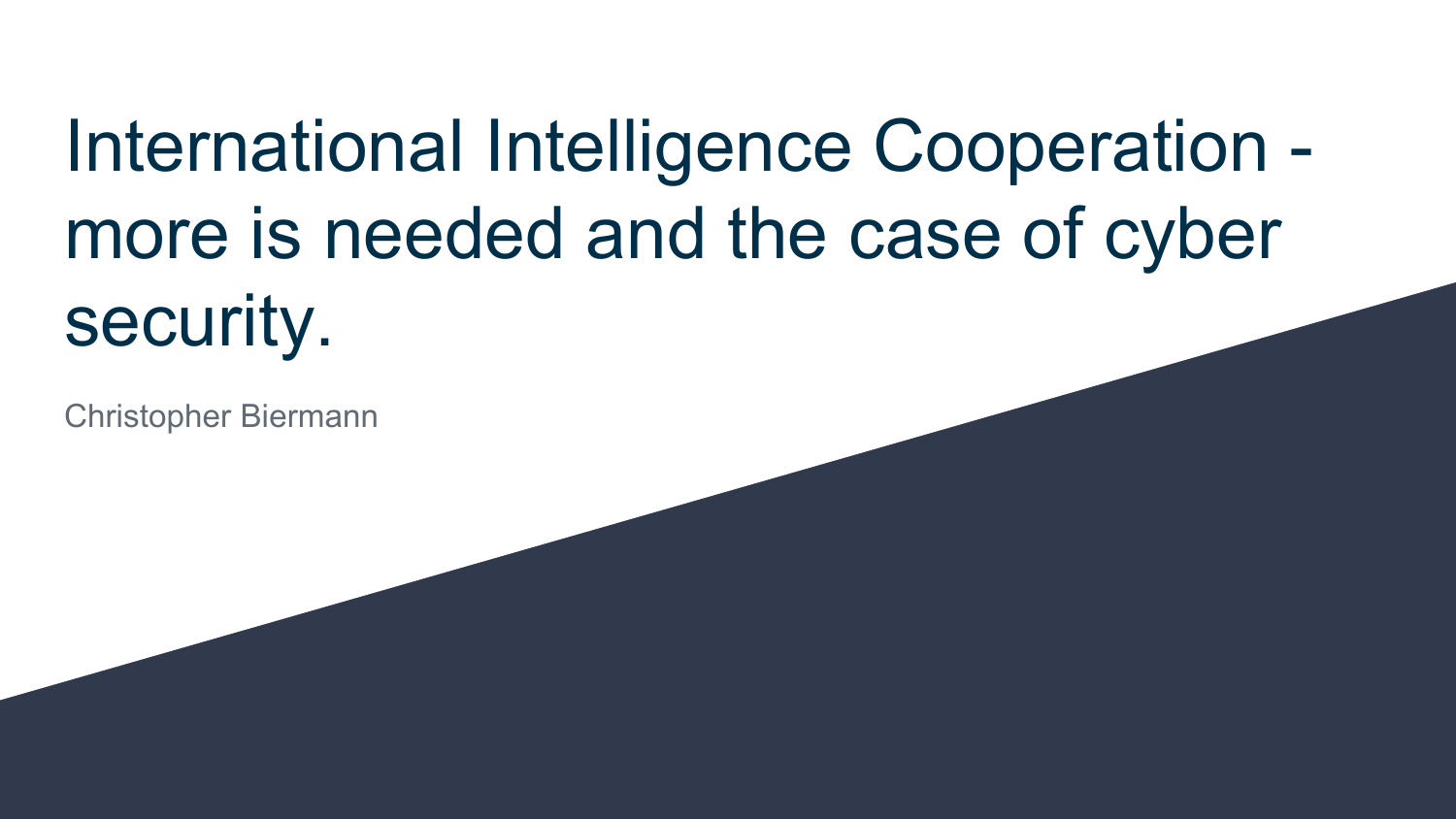 International Intelligence Cooperation more is needed and the case of cyber
security.
Christopher Biermann
Outline
I.
II.
Introduction
Review of the Related Literature on Intelligence
Cooperation
III. Background on sharing efforts
A.
B.
UK-Britain in WWII
1. Atlantic Charter
2. BRUSA Agreement (1946)
NATO intelligence sharing
IV. Contemporary Intelligence Cooperation - 9/11
and on
A.
B.
C.
D.
E.
F.
G.
H.
Club of Berne
Counter Terrorist Group
Special Committee of NATO
Middle European COnference
FBI has liason offices in EU
Agreement on Extradition and Mutual Legal
Assistance
PNR
Kilowatt Group ( just came across this)
V. Why Cooperate? Challenges
VI. Bilateral to Multilateral sharing
VII. Cybersecurity-need for cooperation
VIII. Conclusion
Why cooperate?
●
●
●
●
●
Threats are no longer limited to national borders
- they are transnational; especially Terrorism
and Cyber
Need to address these threats together
Sharing resources
We are allies after all…
We need to move from unilateral/bilateral efforts
to multilateral cooperation and security
arrangements:
○
○
Why?
Because the threat no longer just impacts one
state
■
I.e.: WannCry and NotPetya
●
Even Stuxnet!
Difficulties in
Cooperating
●
●
●
●
Trust
National interest
Perception of the threat and foreign policy
objectives
Distribution of power can be different
○
●
●
US has 17 agencies...UK has 3 main ones
Legal issues
Unintentional consequences of sharing
intelligence
Cybersecurity
cooperation - building
on models for
counterterrorism
●
●
●
Cooperation through the EU on common
cybersecurity/defense strategies
Cooperation through NATO on Cyber Defense
by introducing standards
US model of Fusion Centers in national, state
and local levels.
Conclusion
●
Where do you feel theories of IR might fit?
Suggestions?
● I've thought of alliance theory and institutionalist
theory
●
General thoughts? Questions?