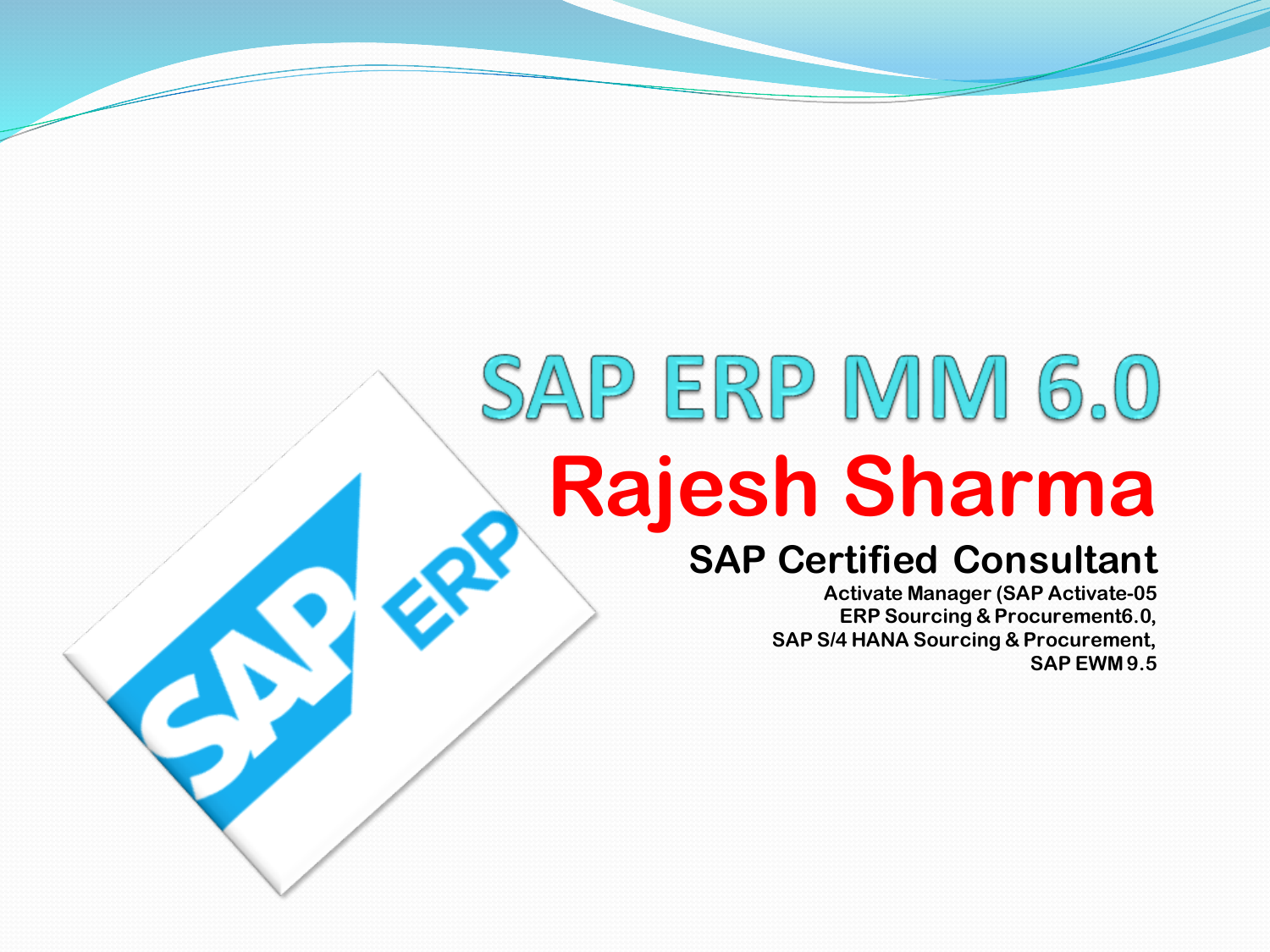 Rajesh Sharma
SAP Certified Consultant
Activate Manager (SAP Activate-05
ERP Sourcing & Procurement6.0,
SAP S/4 HANA Sourcing & Procurement,
SAP EWM 9.5
SAP ERP
Introduction
SAP ERP
Topics
• What is ERP?
• Why ERP?
• ERP Software in market?
• Introduction to SAP.
• Implementation of SAP.
• Various Modules of SAP.
• Role of MM Consultant.
• Components of Material Management
What is ERP?
ERP stands for Enterprise Resource Plan it is the integrated management of main
business processes, often in real-time and mediated by software and technology.
ERP referred to as business management software – typically suite of integrated
applications, that an organization can use to collect, store, manage and interpret
data from these many business activities.
ERP provides an integrated and continuously updated view of core business
processes using common databases maintained by database management system.
ERP systems track business resources such as, cash, raw material, production
capacity and the status business commitments: orders, purchase orders and
payroll. The applications that make up the system share data across various
departments like manufacturing, purchasing, sales & distribution, accounting etc.
ERP facilitates flow between all business functions and manages the connections
to others stakeholders.
ERP system integrates varied organizational systems and facilitates error free
transactions and production, there by enhancing organization's efficiency. ERP
systems run on a variety of computer hardware and network configuration using a
database as an information repository.
Why ERP?
➢ Integration for Business Process
➢ Standardization of systems across locations
➢ For overall control of organization
➢ Better controlling of different business
Processes
➢ Better Reporting System
➢ Best utilization of resources i.e. Man,
Material & Machines
Which ERP products available in market?
➢ SAP – More than 60% Market share
➢ Oracle
➢ BAAN
➢ People Soft
➢ JD Edwards
➢ Marshalls
Etc……….
Introduction to SAP
SAP stands for System Applications Product in data processing. SAP ERP software
developed by German company SAP AE. SAP ERP 6.0 was made available in 2006,
The most recent enhancement package for SAP ERP 6.0 was released in 2016.
Business Processes included in SAP ERP are operations:
• Sales & Distribution
• Material Management
• Production Planning
• Logistics Execution
• Quality Management
• Financial Accounting
• Financial Supply Chain Management
• Human Capital Management (training, payroll, e-Recruiting)
• Corporate Services ( Travel Management)
• Environment, Health & Safety
• Real Estate Management
An ERP was built based on former SAP R/3 software. SAP R/3 was launch in 1992,
consisted of various application on top of SAP basis, SAP's set of middleware
programs and tools. All applications were built on top of the SAP Web Application
Server. Extension sets were used to deliver new features and keep the core as
stable as possible.
Highlights of SAP
➢ SAP Stands for Systems Applications and
Products in Data Processing
➢ 10 Million users, 30,000 installations, 1000 partners, 21
Industry Solutions, Customer world-wide. Mostly fortune,
500 companies for overall control of organizations
➢ SAP is the 4th largest software company in the world
➢ The SAP R/3 System is a business software package
designed to integrate all areas of a business.
SAP R/3 Applications
Modules in SAP
In SAP Modules are of two types
1. Functional Modules
2. Technical Modules
Functional Modules
➢ FI (Financial Planning)
➢ CO (Controlling)
➢ HR (Human Resources)
➢ SD (Sales & Distribution)
➢ MM (Material Management)
➢ PP (Production Planning)
➢ QM (Quality Management)
➢ CRM (Customer Relationship Management)
➢ SRM (Supplier Relationship Management)
➢ Many more……………
Technical Modules
➢ Netweaver Basis
➢ ABAP Programmer
➢ BI/BW
➢ SAP Enterprise Portal
➢ HANA
➢ Etc…..
Classical Implementation Landscape
When ever we going to implement SAP in any company we not to go
direct to Live system. We need to make all configuration is SAP
Development system. After that it will go to QA System where will test the
all configuration is working fine or not. After confirming every thing is fine
then changes will be make in Live System.
Development System
Development
Client
QA System
Productive System
Test Client
Productive
Client
Role of SAP MM Consultant
➢ SAP MM Support consultant
• Attending the issue SAP MM end users.
• Gathering requirements from end users.
• Mapping requirements into SAP and changing SAP
configuration if required.
• Coordinating with developers for enhancement.
• Helping end-users with User Acceptance Testing.
• Delivering SAP training to the end user.
• Creating Training Documents.
• Etc……
➢ SAP MM Junior consultant (Implementation)
• Organizing workshops and gathering Customer's,
requirements. Scoping, Gap Analysis, preparing blue print.
• Customizing and delivering the solution.
• Coordinate with technical team for enhancements.
• Testing the changes.
SAP Material Management MM
SAP Material Management is also known as Procure to Pay. Material
Management is a function of SAP is a part of the logistic area.
SAP MM is one of the core module and one of the important modules in SAP
ERP software. MM application module supports the procurement and inventory
functions occurring day to day business operations.
The Material Management module consists of all master data, system
configuration, and transactions to complete the Procure to Pay process.
Components of Material Management
Foreign
Trade/
Customs
Valuation
Material
Management
MM
Logistics
Invoice
Verification
Purchasing
Service
Master
Service
Entry
Sheet
Material
Master
Inventory
Management
Product
Catalog
MRP
Physical
Inventory
SAP MM Interface with other Modules
Logistics
QM Quality
Management
MM
Material Master
SD
Sales &
Distribution
Purchasing
Requirement Plan
Inventory
QM Quality
Management
FI
Finance
Accounting
Management
Invoice Verification
CO
Controlling
PM
Plant
Maintenance
AM Fixed Asset
Management
Thank You……………………….