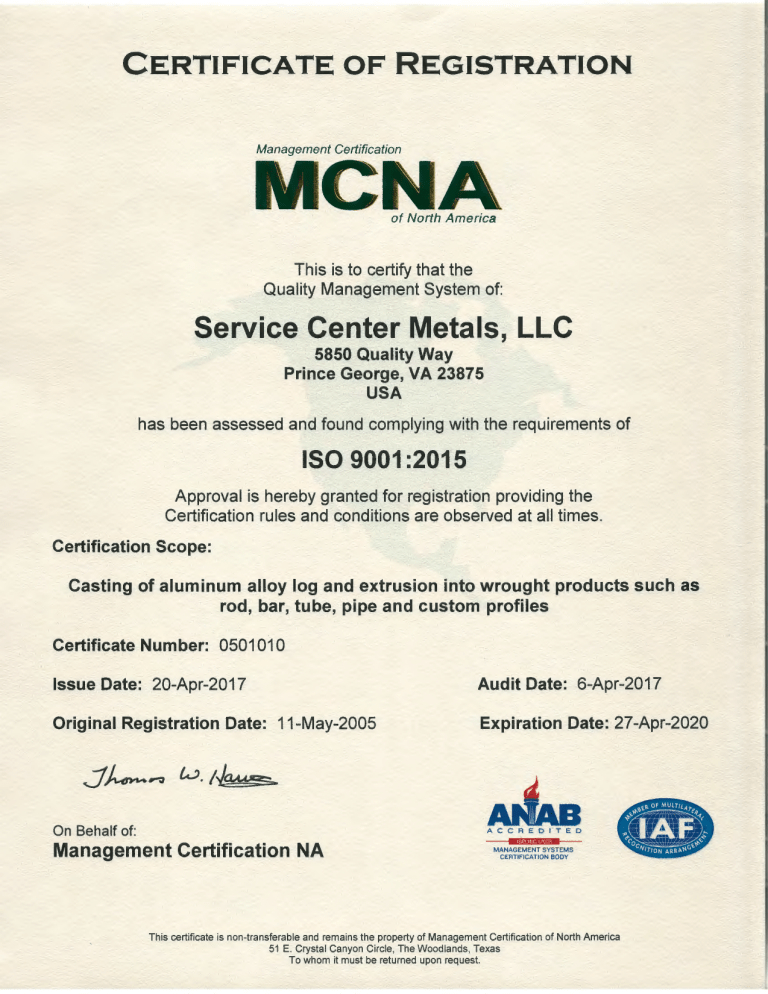 CERTIFICATE OF REGISTRATION
Management Certification
MC A of North America
This is to certify that the
Quality Management System of:
Service Center Metals, LLC
5850 Quality Way
Prince George, VA 23875
USA has been assessed and found complying with the requirements of
ISO 9001 :2015
Approval is hereby granted for registration providing the
Certification rules and conditions are observed at all times.
Certification Scope:
Casting of aluminum alloy log and extrusion into wrought products such as rod, bar, tube, pipe and custom profiles
Certificate Number: 0501010
Issue Date: 20-Apr-2017
Original Registration Date: 11-May-2005
Audit Date: 6-Apr-2017
Expiration Date: 27 -Apr-2020
:1~~ w.;~
On Behalf of:
Management Certification NA
~
A C C R E D I T E D
~
MANAGEMENT SYSTEMS
CERTIFICATION BODY
This certificate is non-transferable and remains the property of Management Certification of North America
51 E . Crystal Canyon Circ l e , The Woodlands , Texas
To whom it must be returned upon request.