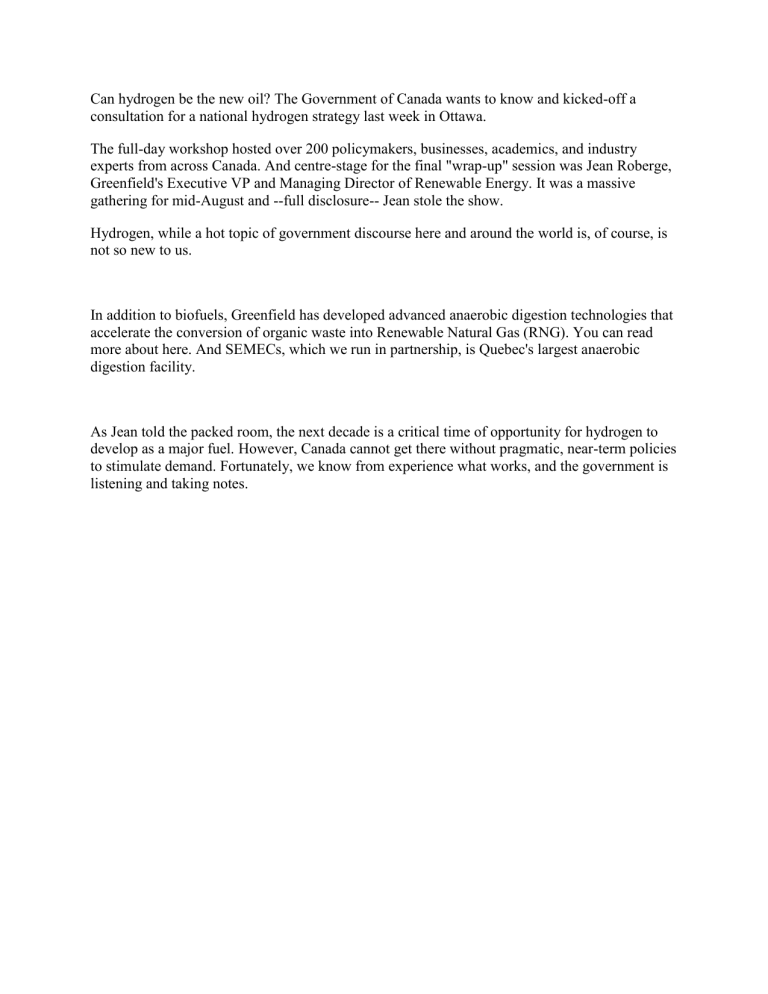 Can hydrogen be the new oil? The Government of Canada wants to know and kicked-off a
consultation for a national hydrogen strategy last week in Ottawa.
The full-day workshop hosted over 200 policymakers, businesses, academics, and industry
experts from across Canada. And centre-stage for the final "wrap-up" session was Jean Roberge,
Greenfield's Executive VP and Managing Director of Renewable Energy. It was a massive
gathering for mid-August and --full disclosure-- Jean stole the show.
Hydrogen, while a hot topic of government discourse here and around the world is, of course, is
not so new to us.
In addition to biofuels, Greenfield has developed advanced anaerobic digestion technologies that
accelerate the conversion of organic waste into Renewable Natural Gas (RNG). You can read
more about here. And SEMECs, which we run in partnership, is Quebec's largest anaerobic
digestion facility.
As Jean told the packed room, the next decade is a critical time of opportunity for hydrogen to
develop as a major fuel. However, Canada cannot get there without pragmatic, near-term policies
to stimulate demand. Fortunately, we know from experience what works, and the government is
listening and taking notes.