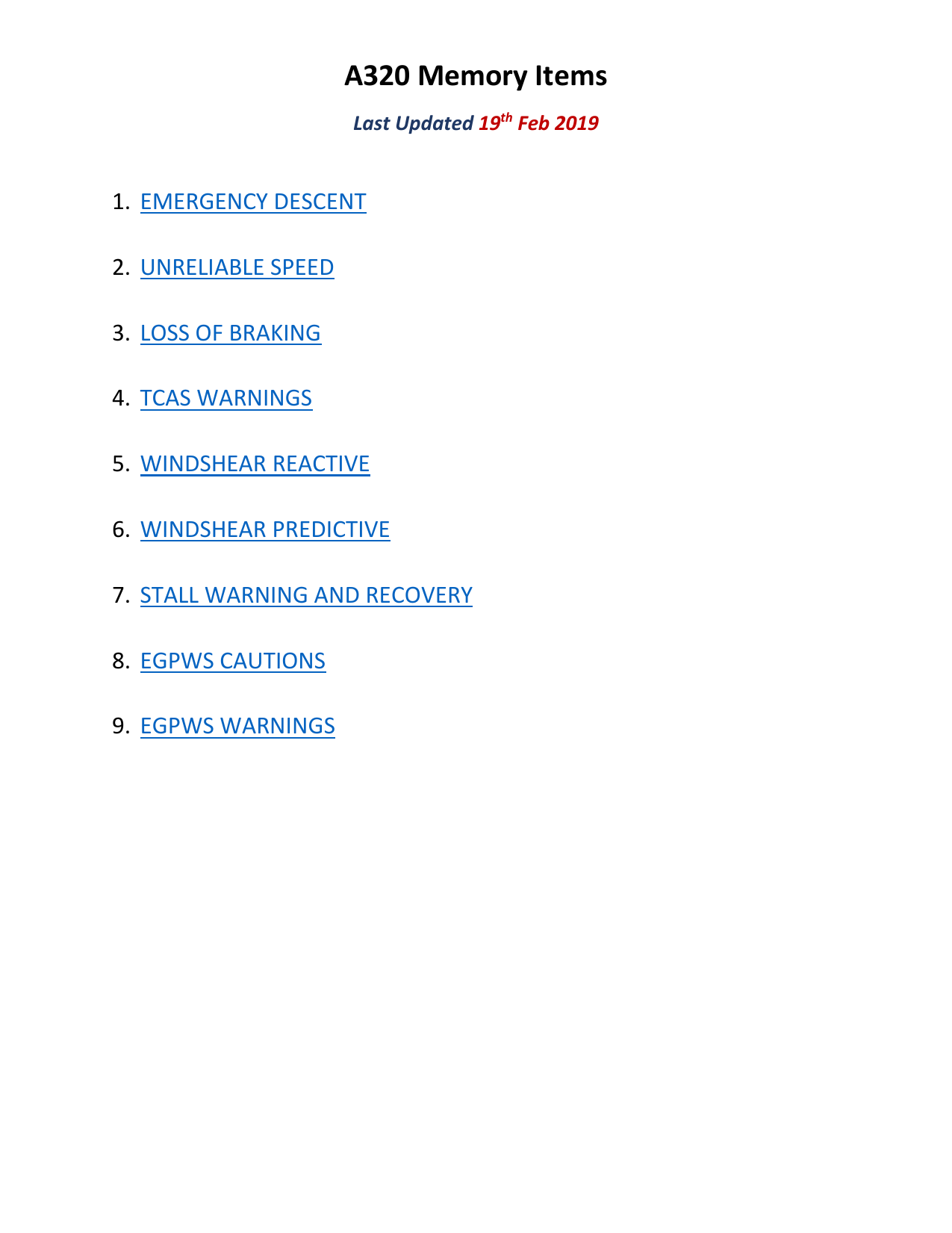 A320 Memory Items
Last Updated 19th Feb 2019
1. EMERGENCY DESCENT
2. UNRELIABLE SPEED
3. LOSS OF BRAKING
4. TCAS WARNINGS
5. WINDSHEAR REACTIVE
6. WINDSHEAR PREDICTIVE
7. STALL WARNING AND RECOVERY
8. EGPWS CAUTIONS
9. EGPWS WARNINGS
EMERGENCY DESCENT [PRO-ABN-MISC P 1/36]
CALLOUT: EMERGENCY DESCENT
Notes:
• To save oxygen, set the oxygen diluter selector to the N position.
UNRELIABLE SPEED [PRO-ABN-NAV P 1/76]
CALLOUT: UNRELIABLE SPEED
LOSS OF BRAKING [PRO-ABN-BRAKES P 1/20]
CALLOUT: LOSS OF BRAKING
Note: If needed, maximum reverse thrust can be kept until full aircraft stop.
TCAS WARNINGS [PRO-ABN-SURV P 7/10]
CALLOUT ON TA: I HAVE CONTROLS. CALLOUT ON RA: TCAS RA
WINDSHEAR (REACTIVE) [PRO-ABN-SURV P 8/10]
CALLOUT: WINDSHEAR TOGA
Notes:
• Before V1 abort for significant airspeed variations and if stop distance is sufficient.
• If necessary, sidestick can be pulled fully back.
• If no FD bars then initial pitch 17.5°. To prevent further loss of altitude, increase pitch.
• If AOA > α PROT then autopilot will disengage.
WINDSHEAR AHEAD (PREDICTIVE) [PRO-ABN-SURV P 9/10]
Notes:
• Spurious predictive windshear alerts have been reported.
• If there is no hazard then you can disregard the alert if:
o No other signs of possible windshear conditions.
o Reactive windshear system is operational.
• Always rely on reactive windshear alerts.
• For departure, delay takeoff or select the most favorable runway.
• Slat/Flap configuration can be changed, provided the windshear is not entered.
STALL WARNING AT LIFTOFF [PRO-ABN-MISC P 3/36]
CALLOUT: STALL TOGA 15o
Notes:
• Spurious stall warning may sound in NORMAL law, if AOA probe is damaged.
• Apply the above procedure and attain a safe flight path and speed.
• If stall warning continues, consider it as spurious.
STALL RECOVERY [PRO-ABN-MISC P 2/36]
CALLOUT: STALL, I HAVE CONTROL
Notes:
• For lack of pitch down authority, reducing thrust may be necessary.
• In case of single engine, compensate asymmetry with rudder while increasing thrust.
EGPWS CAUTIONS [PRO-ABN-SURV P 1/10]
EGPWS WARNINGS [PRO-ABN-SURV P 6/10]
CALLOUT: PULL UP TOGA
Notes:
• Pull to full backstick and maintain that position.
• Keep wings level.
• A turning maneuver can be initiated if that is the safest action.
• PULL UP maneuver must be performed before the turn.
Disclaimer: "A320 Memory Items" are personal notes of the undersigned for training only. These notes do not sanction any
pilot to violate his/her Company's Standard Operating Procedures, Aircraft Manuals or Manufacturer's Recommendations.