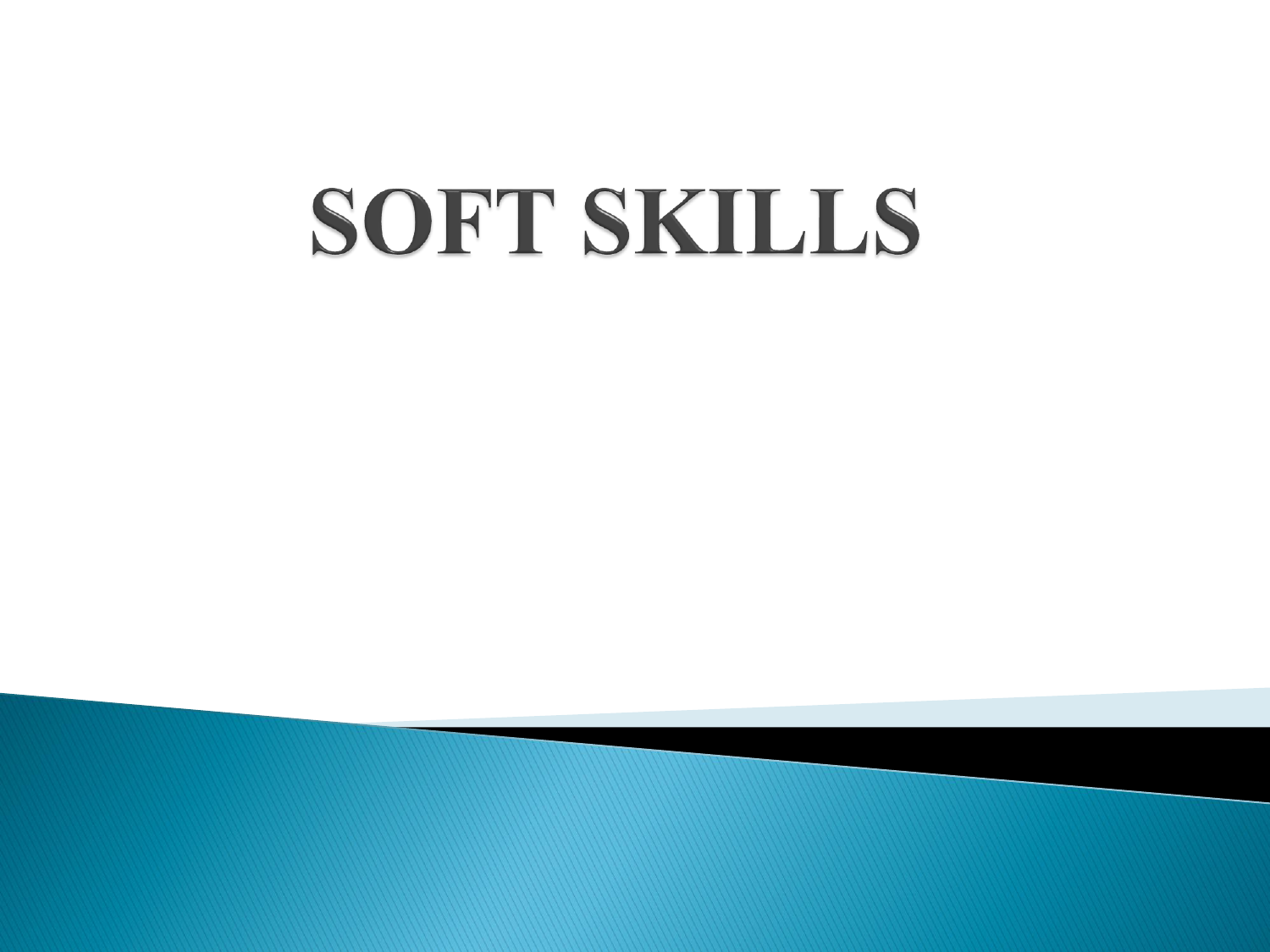 
Self awareness

Assessing strengths & opportunities

Working on weaknesses

Interactive, class participation, activities

Presentations, role plays, questionnaires, public
speaking exercises, writing skills exercises

Character traits, attitudes and behaviours

Intangible, nontechnical, personality-specific skills

Enhance a person's interactions, job performance and
career prospects
Soft Skills = Interpersonal (People) Skills +
Personal (Career) Attributes









Communication skills
Language skills – vocabulary, pronunciation,
grammar
Social skills - Interpersonal & intrapersonal skills
Public Speaking
Social etiquettes
Body language
Time Management
Leadership skills
Team building










Communication – oral, speaking capability, written, presenting, listening
• Courtesy – manners, etiquette, business etiquette, gracious, says please
and thank you, respectful
• Flexibility – adaptability, willing to change, lifelong learner, accepts new
things, adjusts, teachable
• Integrity – honest, ethical, high morals, has personal values, does what's
right
• Interpersonal Skills – nice, personable, sense of humor, friendly,
nurturing, empathetic, has self-control, patient, sociability, warmth, social
skills
• Positive Attitude – optimistic, enthusiastic, encouraging, happy, confident
• Professionalism – business like, well-dressed, appearance, poised
• Responsibility – accountable, reliable, gets the job done, resourceful, selfdisciplined, wants to do well, conscientious, common sense
• Teamwork – cooperative, gets along with others, agreeable, supportive,
helpful,
• Work Ethic – hard working, willing to work, loyal, initiative, selfmotivated, on time, good attendance
(Robles, M., 2012).





As important as cognitive skills
Ranked as number one criteria for potential job hires
A survey of 400 leading American corporate managers
in 2007 indicated that 70% of high school graduates
lack professionalism and work ethic skills (Bronson,
2007).
Technical skills help to get a job
Soft skills enable one to survive and succeed in the job
S- Strengths
 W- Weaknesses
 O- Opportunities
 T- Threats
 It gives you insights into the best ways to add
value to your work and life
 Maximize strengths and opportunities
 Overcome weakness
 Prepare for potential threats

Strengths




Communication skills
Strong network
Good public speaker
Good team player
Opportunities




Public speaking workshop
College societies/groups
Networking
Industry trends
Weaknesses
Poor interpersonal skills
Poor team player
Lack of discipline
Unable to handle stress
Threats
Past experiences & failure
Weaknesses turning into threats
Financial or time constraints
Skills you lack against others
Thank You!