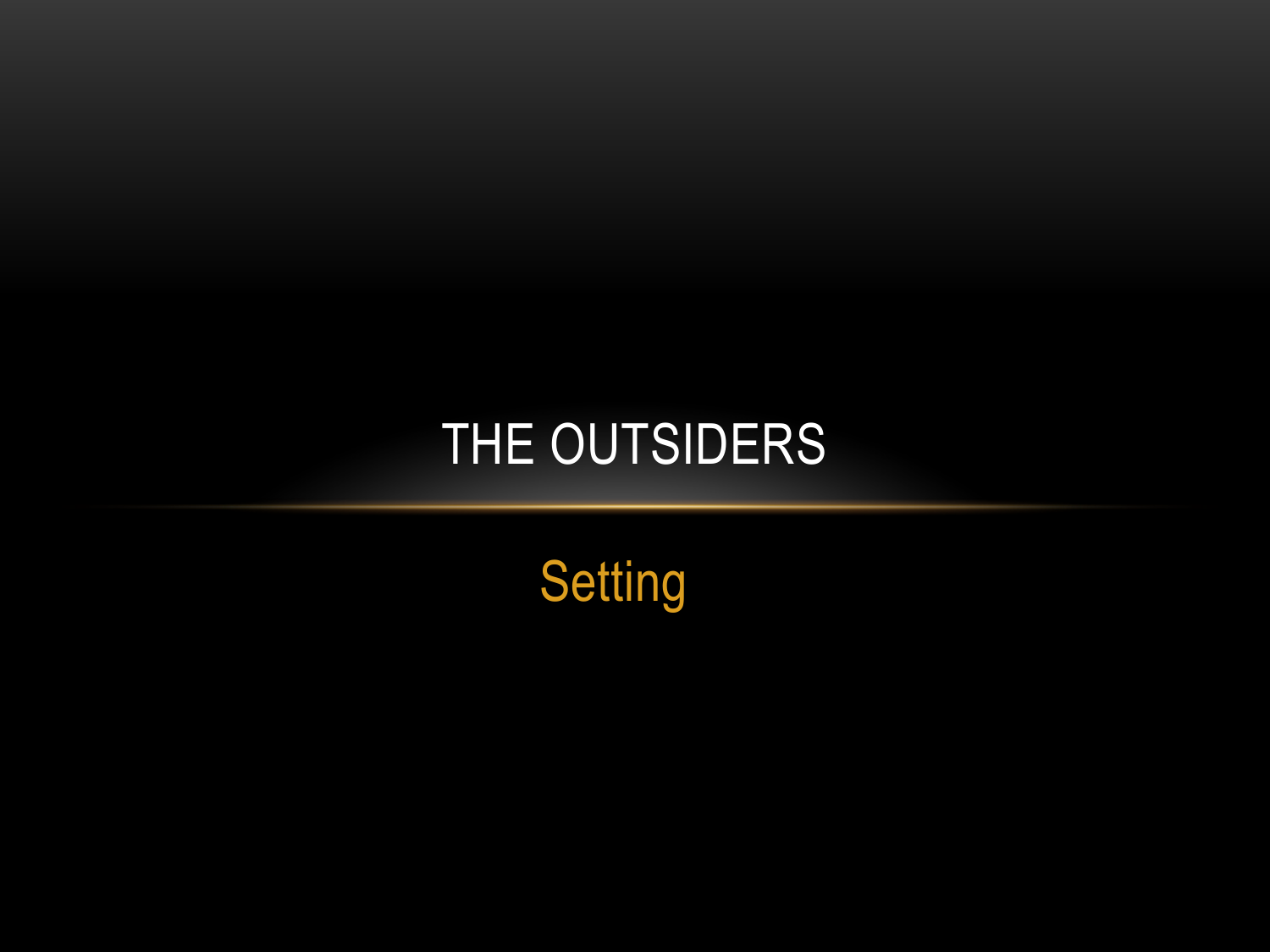 THE OUTSIDERS
Setting
WHAT ASPECTS OF THE OUTSIDERS NOVEL
GIVE US CLUES ABOUT THE SETTING?
THE OUTSIDERS- SETTING
• The setting is based on the author's hometown of Tulsa, Oklahoma, where
she was living when she wrote the story as a high school student.
• The text however, does not reveal when or where specifically the novel is
set, focusing more on the east side/west side divide and the issues faced by
teenagers
• The vague setting helps make the book relevant for people in other places
and times. It isn't just about Tulsa; it could be about any hometown
SET IN THE 1960S- COST OF LIVING
In the 1960s a new house cost $15,500
In the 1960s the average income per year was $8,540
In the 1960s a litre of petrol was 15 cents
In the 1960s the average cost of new car was $3,270
Ford Mustang 2 door hardtop $2368
1960 Men's Pocket Watch $9.44
Oranges 89 cents for 2 dozen (24 oranges)
SET IN THE 1960S- KEY EVENTS
Popular music: Elvis, Beatles and the Rolling Stones
Major events included the first moon landing, the Vietnam war
The first James Bond film was released
The first appearance of Spider-Man
The first viewing of the Boeing 727 jet
The first push-button telephone was made available
SET IN THE 1960S- TECHNOLOGY
1960S – DAILY LIFE OF A TEENAGER
•
https://www.youtube.com/watch?v=w4guuaABdp4
Looking at this poster, what
can you tell about what life
would have been like in the
1960s?
Is anything shown in the
poster mentioned in the
Outsiders novel?