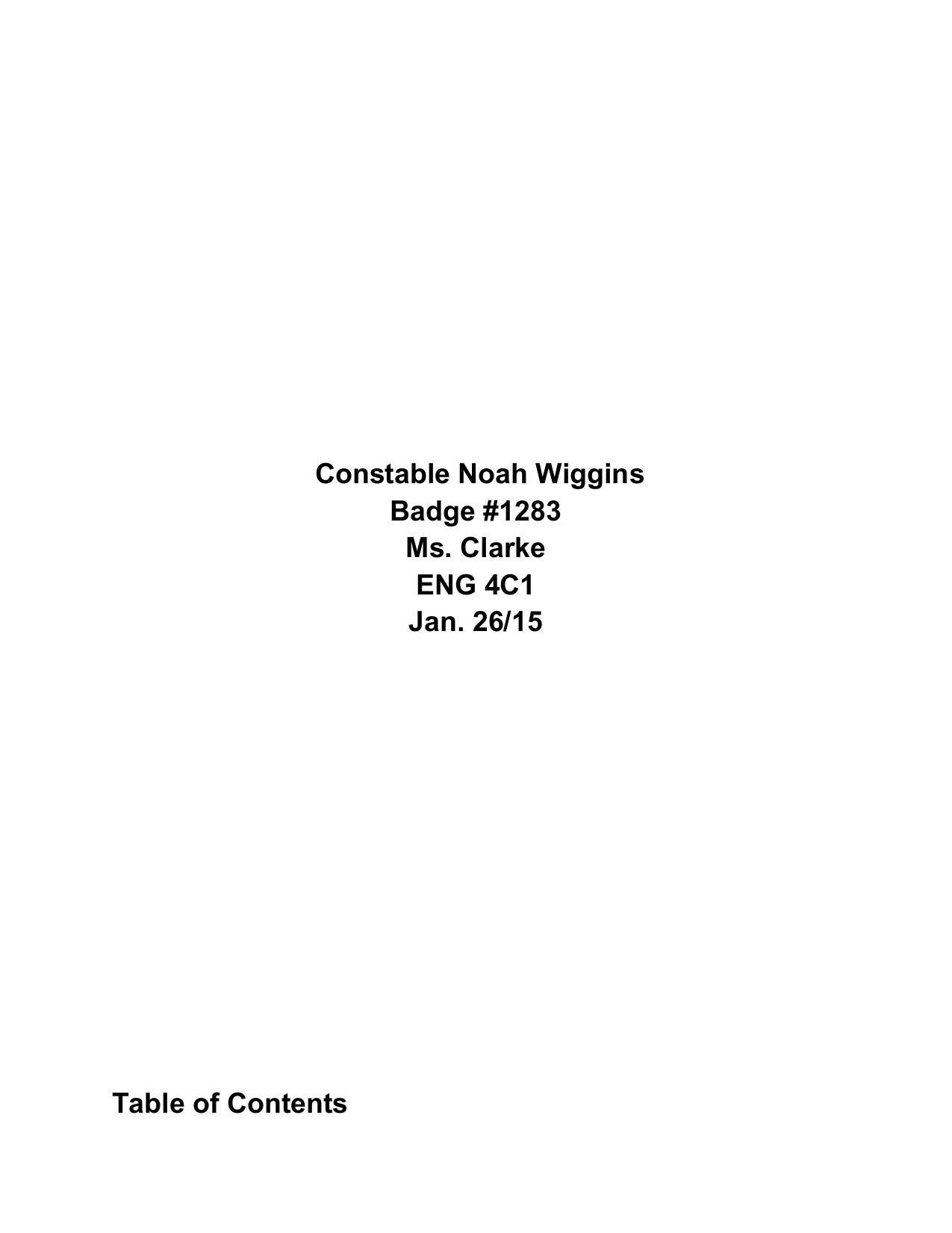 Constable Noah Wiggins
Badge #1283
Ms. Clarke
ENG 4C1
Jan. 26/15
Table of Contents
Overview
--------------------------------------------------- Pg. 1
Eye Witness Report -------------------------------------- Pg. 2
Crime Scene Description ------------------------------- Pg. 2
Chronological Narrative -------------------------------- Pg. 3
Wrap-Up ------------------------------------------------------ Pg. 4
Photo Log Sheet ------------------------------------------ Pg. 5
Crime Scene Entry Log Sheet ------------------------ Pg. 6
Evidence Item Recovery Log ------------------------- Pg. 7
Field Sketch ------------------------------------------------ Pg. 8
1
Overview
This report contains information pertaining to the Lauria/Valenti case #010147858
including eye-witness reports from victim Jody Valenti, victim Donna Lauria's father,
Mike Valenti, and neighbours James Derwin and Corrina Cole, a crime scene
description, chronological narrative, wrap-up, photo log sheet, crime scene entry log
sheet, evidence item recovery log and field sketch.
2
Eye-Witness Report
Victim Jody Valenti reports that her and her friend Donna Lauria, were sitting in her
oldsmobile near Lauria's apartment, talking about their time at the new Peachtree
discotheque they just returned from. Valenti says that Lauria's parents had then
returned from dinner and that after a quick check-in, they decided they would walk the
family dog together.
As Lauria was getting out of the car, a man was seen coming their way. Lauria said,
"Now what is this…" before that man took a gun from a paper sack and shot Lauria in
the chest and Valenti in the thigh. A third shot was fired but missed them both. The men
left by walking away quickly.
Neighbours that were interviewed reported that a small yellow car was seen travelling
the area for hours before the shootings.
Mike Lauria, the victim's father, reported that he saw a man sitting in a yellow car
parked behind Valenti's car and described that the man had dark hair in was in his 30s.
Crime Scene Description
The date of the murder was July 29 1976 at 1:10am. The location was in
Pelham Bay in The Bronx, New York. Evidence of the crime scene includes
three bullet casings, one found in each body of the victims and one that
missed. Reports were that a yellow car had been spotted cruising the
neighbourhood hours before the shooting. The victims were sitting in an
oldsmobile car that was parked outside an apartment building. As Lauria was
getting out of the car, the suspect approached the car, took a gun out of a
paper sack and crouched to shoot Lauria in the chest, killing her almost
instantly and shooting Valenti in the thigh, who was able to survive with the
injury. He then quickly walked away.
3
Chronological Narrative
Case Number: 010147858
Date: July 29 1976
Reporting Officer: Constable Noah Schweigert #1283
Incident Type: Attempted murder
Address of Occurrence: Pelham Bay, New York, NY 03104
Witnesses:
Jody Valenti: Student. Female, 19 White
Mike Lauria: Father of Donna Lauria, 49 White
James Derwin: Neighbour. Male, 43, African American
Corinna Cole: Neighbour Female, 27, White
Evidence:
3 Bullet casings for a .44 Caliber Bulldog revolver
White male between 20-35 yrs. medium build, dark hair seen shooting the victims
Yellow car seen in the area two hours prior and behind victim's car.
Weapon/Objects Used: .44 Caliber Bulldog revolver
Entering the scene, Lauria's vehicle was found with the passenger door open, blood
found on the inside of the door and on the ground below. The driver's seat also had
blood on the seat, console and floor area.
Witness Jody Valenti reports she was in her parked oldsmobile with Donna Lauria in
front of Donna Lauria's apartment. They were talking about their night at the Peachtree
discotheque as Lauria's parents were returning home. Lauria's parents and Lauria
decided they would walk the dog. Lauria's parents left to get the dog and Lauria began
to exit the vehicle when she saw a man approaching. She said "now what is this…" as
the man, described above, crouched down and used two hands (combat style) to shoot
Lauria. After shooting Lauria in the chest, the man shot Valenti in the right thigh and
fired a third shot, missing. The man then left by walking quickly away.
4
Mike Lauria reports that he heard shots and made his way outside to find his daughter,
Donna Lauria, on the pavement beside the passenger side door and Valenti leaning
against the steering wheel. The horn was sounding and she was screaming.
Neighbours that were interviewed reported that a yellow car was seen "cruising" the
neighbourhood a few hours before the incident.
Mike Lauria, the victim's father, reported to have seen a man in his 30s with dark hair,
parked behind Valenti's car when he had returned from dinner that evening.
Units have been sent out to the surrounding areas to stop and search cars to try and
locate the suspect(s).
Wrap-up
On Aug. 10 1977, 24 year old David Berkowitz was arrested and charged with killing six
people and wounding 7. After being charged, Berkowitz claimed his neighbour's dog
told him to 'do it', as it was possessed by a demon. Three psychiatrists tested Berkowitz
and deemed him unfit to stand trial, but one found him fit. Berkowitz confessed and pled
guilty during the trial. He did not wish to appeal the sentence is now serving his 365
year sentence without parole.