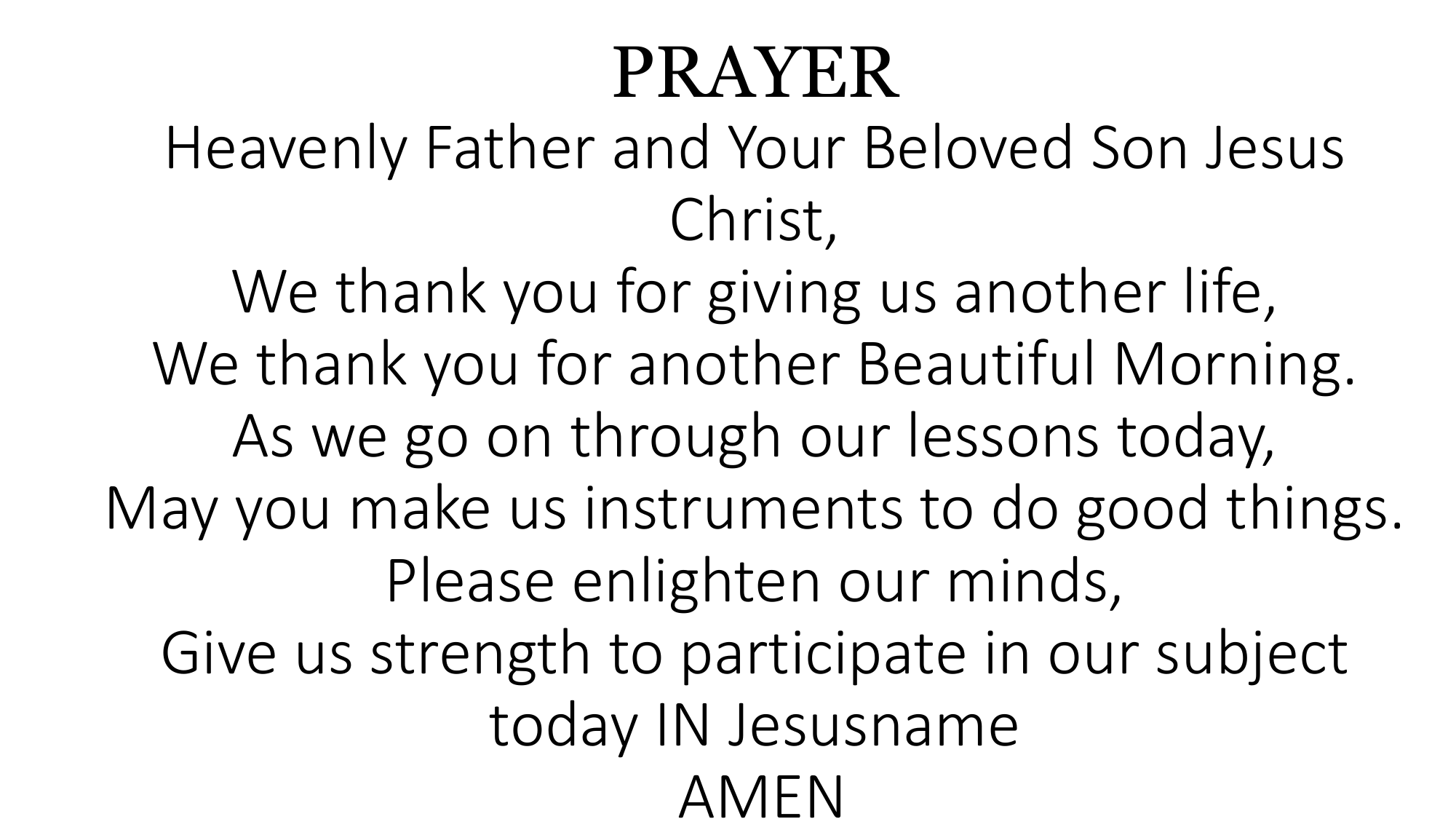 PRAYER
Heavenly Father and Your Beloved Son Jesus
Christ,
We thank you for giving us another life,
We thank you for another Beautiful Morning.
As we go on through our lessons today,
May you make us instruments to do good things.
Please enlighten our minds,
Give us strength to participate in our subject
today IN Jesusname
AMEN
REVIEW
•WHAT IS YOUR DREAM
COMMUNITY?
•Do you considered your
present community as an
ideal one ?
LOOK AT THE PICTURE
Questions :
1.What can you say about
this picture ?
2.What do you think is the
lifestyle of this people ?
3.Can you consider this
picture as a healthy
community ?
•What type of
community is this ?
•Who wants to live
in this kind of
community ?
• Where do you think this community located?
• Can you cite the advantages of living in this area ?
• https://www.youtube.com/watch?v=bIVVn6tFK7s
• Ask :
• What do you think makes a healthy/ good
community ?
• Why is it important to know the situation of the
community particularly the surroundings
• What do you think will happened if the
environment will be destroyed by the community
people ?
According to the world health organization
HEALTH "is a state of complete physical
mental and social well being and no just the
absence of disease or infirmity . It leads to a
socially and economically productive life "
• COMMUNITY is defined as a sociological as sociological
group in a large place sharing one environment , It
therefore includes the individual and the family
• COMMUNITY HEALTH – IS DEFINED AS THE ART AND SCIENCE OF
MAINTAINING PROTECTING AND IMPROVING THE HEALTH OF ALL THE
MEMBERS OF THE COMMUNITY THROUGH ORGANIZED AND SUSTAINED
COMMUNITY EFFORTS
• ENVIRONMENTAL HEALTH - comprises those aspect of
human health that are determined by physical ,
chemical , biological , social and psychosocial factors
in the surrounding environment
•According to WHO , the characteristics of a
healthy environment include:
•1. A clean and safe environment
•2. an environment that meets everyone s basic
needs
•3. An environment that promotes social
harmony and actively involves everyone .
•4. An understanding of local health and
environmental issues .
• 5. A community that participates in identifying local
solution to local problems
• 6. A community whose members have access to
varied experiences , means of interaction and
communication .
• 7. Accessible and appropriate health services and
facilities .
• 8. the promotion and celebration of historical and
cultural heritage
• 9. A diverse and innovative economy .
• 10. A sustainable use of available resources for all
•You have now encountered
concepts of community and
environmental health .
•Can you considered your present
community as a healthy
community ?
• Guided practice ( Activity 1) (5 mins)
• Special reminders :
• Be polite by listening attentively with each other during the pair
share activity
• Present your output
• * Differentiated Activity in four groups each group will have a leader
• House Rules/ standards / guidelines
( Follow the mnemonic / memory device )
• G- Give thoughtful feedback
• R- Respect others and their thoughts
• O- on task all the time
• U- use soft voices
• P- participate actively
• S – stay with your group
• Rubrics in participation / group activities will be given
• RUBRICS IN PARTICIPATION
• POINTS
INDICATORS
5
Shows eagerness and cooperation to do the task ,
participate actively , do great help to the group
4
Shows eagerness and cooperation to do the task ,d by
good followers only
3.
Participate but late , with the teacher's supervision
2.
Actively was done but does not show eagerness to
participate or cooperate
1.
no interest in participating the activities
Note : Group planning and sharing is 10 minutes only while group
presentation is 2 mins less
• Group 1 Decide among members what to draw about a healthy
community . Explain your drawing
• Group 2 Make a poem that best explain a healthy community . Show
your output
• Group 3. Make a rap that best explain a healthy community . Show to
the class your composition
• Essay : What makes a healthy community ( 5)
• Assignment :
What are the primary health care given by the barangay health center in
you community ? Asked from concerned person like BHW , BRGY Captain
and midwife in your barangay .