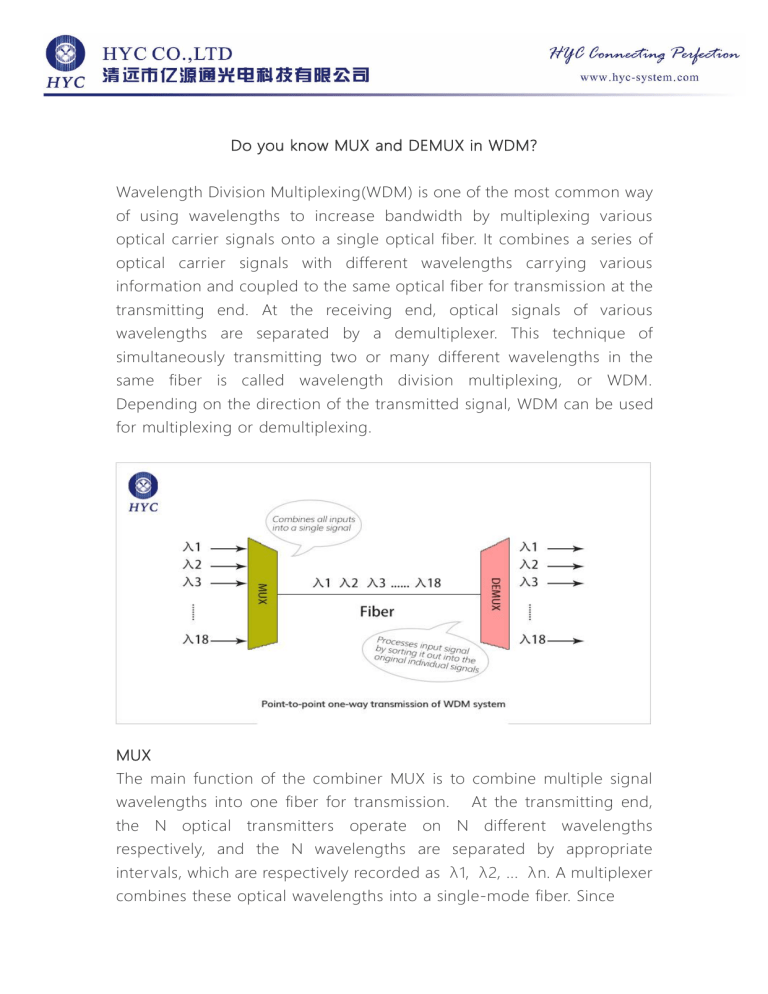 Do you know MUX and DEMUX in WDM?
Wavelength Division Multiplexing(WDM) is one of the most common way
of using wavelengths to increase bandwidth by multiplexing various
optical carrier signals onto a single optical fiber. It combines a series of
optical carrier signals with different wavelengths carr ying various
information and coupled to the same optical fiber for transmission at the
transmitting end. At the receiving end, optical signals of various
wavelengths are separated by a demultiplexer. This technique of
simultaneously transmitting two or many different wavelengths in the
same fiber is called wavelength division multiplexing, or WDM.
Depending on the direction of the transmitted signal, WDM can be used
for multiplexing or demultiplexing.
MUX
The main function of the combiner MUX is to combine multiple signal
wavelengths into one fiber for transmission.
the
N
optical
transmitters
operate
on
At the transmitting end,
N
different
wavelengths
respectively, and the N wavelengths are separated by appropriate
inter vals, which are respectively recorded as λ1, λ2, ... λn. A multiplexer
combines these optical wavelengths into a single-mode fiber. Since
optical carrier signals of different wavelengths can be regarded as
independent of each other (regardless of fiber nonlinearity), multiplexing
transmission of multiple optical signals can be realized in one optical
fiber.
Through
multiplexing,
communication
carriers
can
avoid
maintaining multiple lines and effectively save operating costs.
DEMUX
The main function of DEMUX is to separate the multiple wavelength
signals transmitted in one fiber. In the receiving part, the optical carrier
signals of different wavelengths are separated by a Demux and further
processed by the optical receiver to restore the original signal. A
multiplexer (Demux) is a device that reverses the processing of a
multiplexer.
Performance parameters
Multiplexed/demultiplexed devices (MUX/DEMUX) are key components
in WDM that affect the performance of the entire system. What are the
main performance parameters of the multiplexer/demultiplexer?
Working band
Working bands of the multiplexer/demultiplexer. For example, there is
three
bands
of
1550
wavelength:
S-band
(short-wavelength
1460~1528nm), C band (conventional band 1530~1565nm), L band
(long-wavelength band 1565~1625nm).
Number of channels & channel spacing
The number of channels is the number of channels the device has to
send information. This number can range from 4 to 160 with design
enhancements adding more channels. The normal channels are 4, 8, 16,
32, 40, 48, etc. Channel spacing is the center-to-center difference in
frequency between neighboring channels. It can be used to prevent
inter-channel interference.
Insertion loss
Insertion loss is the attenuation caused by the insertion of wavelength
division multiplexers (WDM) in an optical transmission system. The
attenuation effect of wavelength division multiplexer directly affects the
transmission distance of the system. In general, the lower the insertion
loss, the less the signal attenuation.
Isolation
Isolation refers to the degree of isolation between individual channel
signals. High isolation values can effectively prevent crosstalk between
signals and cause distortion of the transmission signal.
Polarization dependent loss(PDL)
Polarization-dependent loss is the maximum deviation in insertion loss
across all input polarization states.
In addition to the above, there are of course other performance
parameters that affect the multiplexing/demultiplexing devices, such as
operating temperature, bandwidth, etc. Generally, a multiplexer and a
demultiplexer are combined into a single device allowing the device to
process both incoming and outgoing signals. Or a single output of a
multiplexer can be connected through a single channel to a single input
of a demultiplexer. But mostly is the combined and complex devices for
both directions transmission.
HYC Co., Ltd, a leading WDM manufacturer over 19 years, offers a series
of WDM/CWDM/DWDM/FWDM/CCWDM modules. You can know more
details of WDM MUX/DEMUX at www.hyc-system.com
About HYC Co.,Ltd(HYC)
HYC Co.,Ltd ( HYC ) is a Hi-tech optoelectronics company from China,
who engaged in R&D, manufacture and marketing of fiber optical
products.
Providing
professional
product
and
service
for
fiber
connectivity,WDM, PLC splitter and high density datacom cabling. HYC
products and solutions widely applied in 4G/5G, Data Center and Cloud
Computing industry etc.