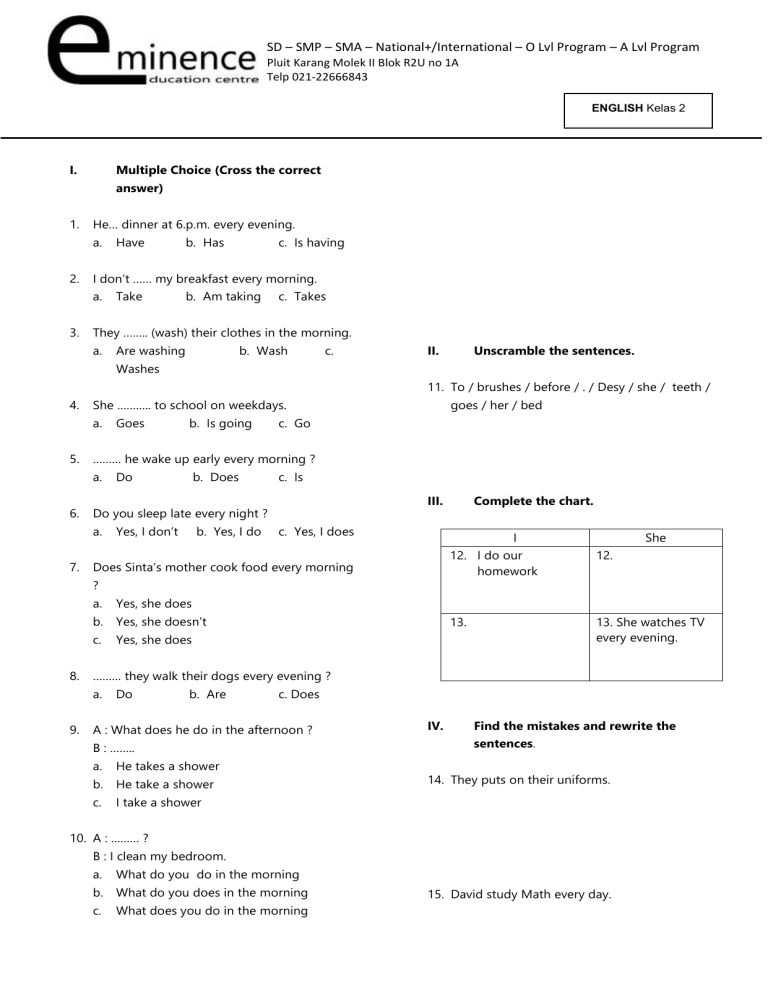 SD – SMP – SMA – National+/International – O Lvl Program – A Lvl Program
Pluit Karang Molek II Blok R2U no 1A
Telp 021-22666843
ENGLISH Kelas 2
I.
Multiple Choice (Cross the correct
answer)
1.
He… dinner at 6.p.m. every evening.
a.
2.
b. Has
c. Is having
I don't …… my breakfast every morning.
a.
3.
Have
Take
b. Am taking
c. Takes
They …….. (wash) their clothes in the morning.
a.
Are washing
b. Wash
c.
II.
Unscramble the sentences.
Washes
11. To / brushes / before / . / Desy / she / teeth /
4.
She ……….. to school on weekdays.
a.
5.
c. Go
Do
b. Does
c. Is
III.
Do you sleep late every night ?
a.
7.
b. Is going
……… he wake up early every morning ?
a.
6.
Goes
goes / her / bed
Yes, I don't
b. Yes, I do
c. Yes, I does
I
12. I do our
homework
Does Sinta's mother cook food every morning
?
a.
8.
12.
13.
13. She watches TV
every evening.
Yes, she does
……… they walk their dogs every evening ?
a.
9.
She
Yes, she does
b. Yes, she doesn't
c.
Complete the chart.
Do
b. Are
c. Does
A : What does he do in the afternoon ?
B : ……..
a.
He takes a shower
b. He take a shower
c.
IV.
Find the mistakes and rewrite the
sentences.
14. They puts on their uniforms.
I take a shower
10. A : ……… ?
B : I clean my bedroom.
a.
What do you do in the morning
b. What do you does in the morning
c.
What does you do in the morning
15. David study Math every day.