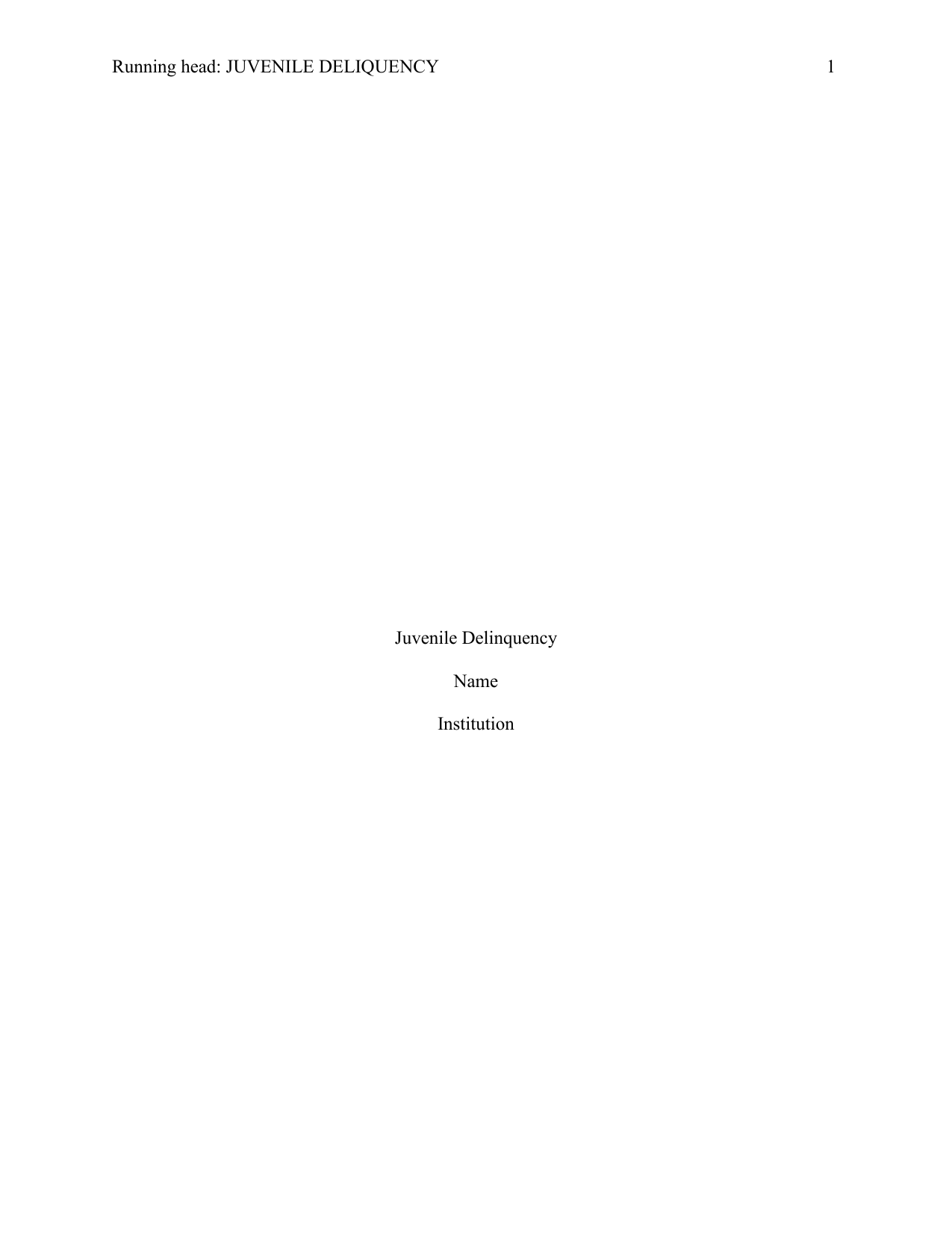 Running head: JUVENILE DELIQUENCY
1
Juvenile Delinquency
Name
Institution
JUVENILE DELIQUENCY
2
Juvenile Delinquency
Juvenile delinquency is when children commits crimes and they enter into the criminal
justice system. Juvenile delinquents refer to minors between the age of ten to eighteen years
who commits acts which violates the law. Unlike adults' acts, these acts are mainly not referred
to as crimes. They are termed as acts of delinquency or "delinquent acts." Juveniles are treated
differently from adults who are criminals in several ways for instance how they are tried in the
court as well as the sentence they receive when found guilty (Empey, Stafford & Hay,1982).
There is a different system of justice when it comes to juveniles. This system aims at
preventing the minors from receiving adverse punishments. They are rehabilitated according to
their needs and the kind of crime that they have committed. Kids are viewed by the judicial
system as people who are in need of help. The proceedings of the juvenile courts are very
different from those of other courts. The judges are obliged to sentence the children
(Champion,2001). Judges of the juvenile courts are expected to make decisions which respects
interests of the children. Additionally, their decision should ensure that children are safeguarded
from the procedures which the adults are subjected to, for example the need to have personal
lawyers and facing their accusers. These are not relevant in juvenile cases. The cases are not of
public interest. High confidentiality is maintained to protect the children from possible stigma
and to make it easy to rehabilitate them.
Juvenile delinquency in the United States of America is therefore a violation of the law,
although it is treated differently from the other crimes that are committed by other members of
the public. The rights of the children are to be protected at all times whether they are in wrong or
in the right. The children are not tried for criminal acts but for misconducts and they are not
JUVENILE DELIQUENCY
found guilty. However, they are judged ad delinquents and are never imprisoned but sent to
different schools where they reform.
3
JUVENILE DELIQUENCY
4
References
Champion, D. J. (2001). The juvenile justice system: Delinquency, processing, and the law.
Upper Saddle River, NJ: Prentice Hall. https://theessaypro.com/free-essay/
Empey, L. T., Stafford, M. C., & Hay, C. H. (1982). American delinquency: Its meaning and
construction. Homewood, IL: Dorsey Press.