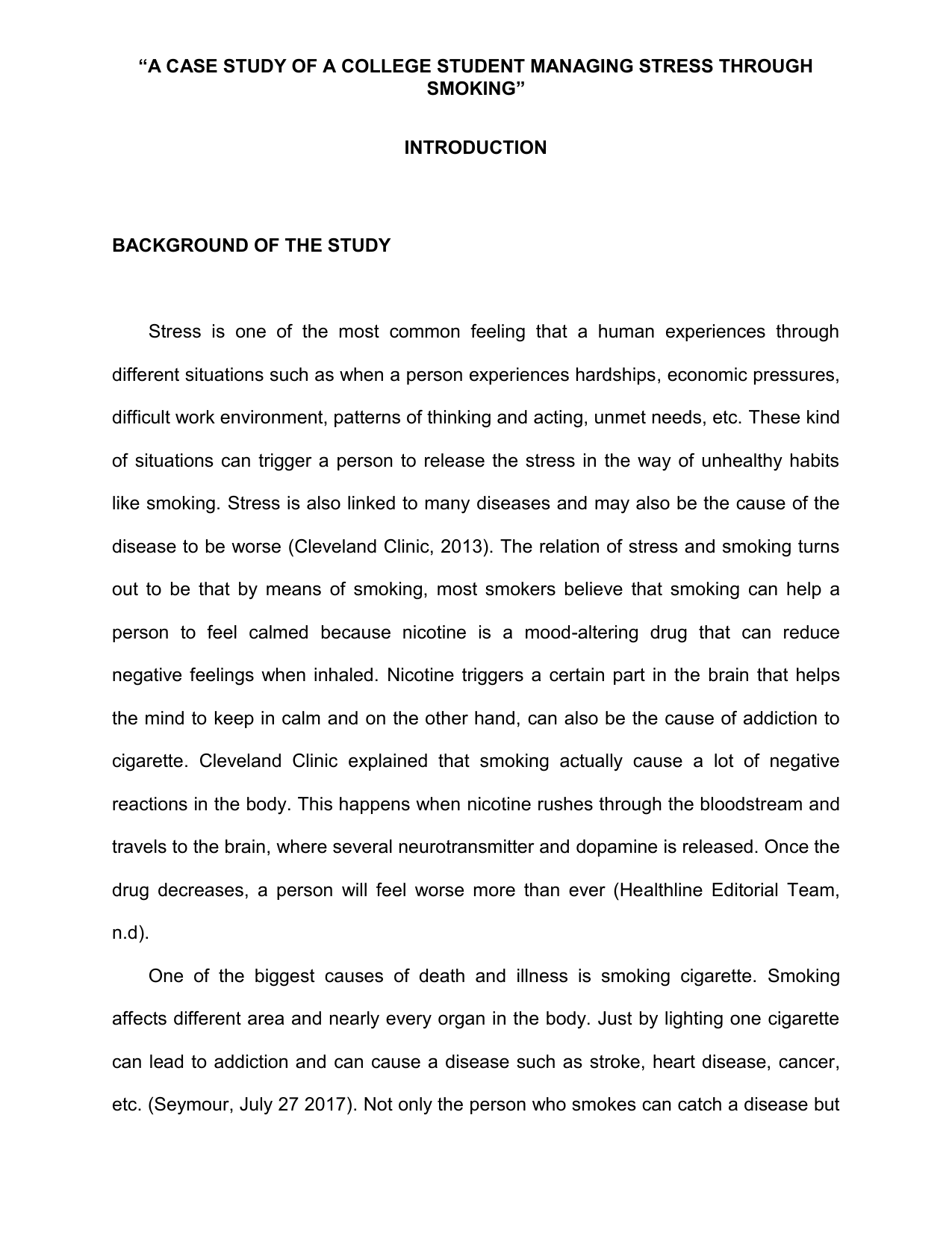 "A CASE STUDY OF A COLLEGE STUDENT MANAGING STRESS THROUGH
SMOKING"
INTRODUCTION
BACKGROUND OF THE STUDY
Stress is one of the most common feeling that a human experiences through
different situations such as when a person experiences hardships, economic pressures,
difficult work environment, patterns of thinking and acting, unmet needs, etc. These kind
of situations can trigger a person to release the stress in the way of unhealthy habits
like smoking. Stress is also linked to many diseases and may also be the cause of the
disease to be worse (Cleveland Clinic, 2013). The relation of stress and smoking turns
out to be that by means of smoking, most smokers believe that smoking can help a
person to feel calmed because nicotine is a mood-altering drug that can reduce
negative feelings when inhaled. Nicotine triggers a certain part in the brain that helps
the mind to keep in calm and on the other hand, can also be the cause of addiction to
cigarette. Cleveland Clinic explained that smoking actually cause a lot of negative
reactions in the body. This happens when nicotine rushes through the bloodstream and
travels to the brain, where several neurotransmitter and dopamine is released. Once the
drug decreases, a person will feel worse more than ever (Healthline Editorial Team,
n.d).
One of the biggest causes of death and illness is smoking cigarette. Smoking
affects different area and nearly every organ in the body. Just by lighting one cigarette
can lead to addiction and can cause a disease such as stroke, heart disease, cancer,
etc. (Seymour, July 27 2017). Not only the person who smokes can catch a disease but
"A CASE STUDY OF A COLLEGE STUDENT MANAGING STRESS THROUGH
SMOKING"
also those people in the environment by Second hand smoke. Currently, the Philippines
has one of the highest smoking rates in Asia and was the 15th largest consumer of
tobacco in the world. According to PSA, there are 17.3 Million Filipino Adults current
users of tobacco and it starts at an early age of 15 (National Statistics Office Manila,
Philippines). Pres. Rodrigo Duterte on May 16 2017 declared a nationwide ban on
smoking, issued an Executive Order No. 26 entitled Providing for the Establishment of
Smoke-Free Environments in Public and Enclosed Places due to Clean Air Act. Even
though the President already declared an order about smoking, Many Filipinos still
continue to use tobacco each day.
A study about college students smoking to cope up with stress, results showed that
smoking during times of stress serve multiple functions. The role of cigarette for college
students who smokes are the way to interact when a student feels isolated. Cigarette
also serves as an instrument to recognize that a student who smokes feels stressed, a
signal device to the people to be aware that a friend of them has a problem. The
response of students in the study about smoking include that cigarette serves as the
way to release the positive and negative feeling, helps to focus on studies, and helps to
clear one's mind due to stressful events (Mark Nichter, Mimi Nichter, Asli Carkoglu, and
the Tobacco Etiology Research Network, 2007).
Conducting a study about stress management and smoking is important because
smoking is one of the leading cause of death. Stress can already worsen the feeling of a
person and if the persons habit is to smoke, it can lead to a very serious illness. The
researchers aims to lessen the people who smokes at an early age. The purpose of this
study is to be an eye opener to those who continue to smoke when they're stress.
"A CASE STUDY OF A COLLEGE STUDENT MANAGING STRESS THROUGH
SMOKING"
STATEMENT OF THE PROBLEM
By the end of this study, the researchers are expected to answer the ff.
1. Why do college students resort to smoking as a stress reliever?
2. Why do they choose to smoke instead of releasing their stress in other
ways?
3. How does it affect their physical and mental health?
SCOPE AND DELIMITATION
This study focuses on the effects of stress and how it is associated with smoking. How
can it be stopped and help those who wants to quit it and release stress through other
ways.
"A CASE STUDY OF A COLLEGE STUDENT MANAGING STRESS THROUGH
SMOKING"
SIGNIFICANCE OF THE STUDY
This study will contribute to the society because smoking is widespread in the
Philippines.
Particularly, the following group of people who are expected to benefit from this study
are:
1. Students - especially those who smokes and those who wants to quit smoking.
Life in college is very stressful, and many students tend to smoke to release the
stress they feel. Students will benefit from this research by seeing that smoking
does not help to release the stress they feel because of workload.
2. Future Researchers – especially those who conduct a research related to the
topic of smoking. Future researchers can get information in this research and
expand it further.
3. Complete set of individuals – this research paper will serve as an eye opener to
the complete set of individuals.
This research aims to reach out those who smokes at a young age to reduce the risk of
having a disease such as lung cancer, COPD (chronic pulmonary disease), heart
disease, stroke, asthma, etc. People may already know that smoking is bad for the
health but the researchers can further widen the knowledge of the readers about the
effects of smoking in both mental and physical health.
"A CASE STUDY OF A COLLEGE STUDENT MANAGING STRESS THROUGH
SMOKING"
REFERENCES

Cleveland Clinic (2013). Stress Management and Smoking.
my.clevelandclinic.org/health/healthy_living/hic_Stress_Management_and_Emotiona
l_Health/hic_Stress_Stress_Management_and_Smoking

Healthline Editorial Team (February 24, 2016). Stress, Smoking, and Heart
Disease. Healthline.
https://www.healthline.com/health/heart-disease/stress-smoking#1

Seymour,T. (July 27 2017). The reasons why smoking is bad for you. Medical
News Today.
https://www.medicalnewstoday.com/articles/10566.php

Ericta, C.N., Philippine Statistics Authority (N.d). 17.3 Million Filipino Adults Are
Current Tobacco Smokers. Manila, Philippines: National Statistics Office.
https://psa.gov.ph/article/173-million-filipino-adults-are-current-tobacco-smokers

Nichter, M. et al. (2007). Reconsidering stress and smoking: a qualitative study
among college students. National Center for Biotechnology Information.
https://www.ncbi.nlm.nih.gov/pmc/articles/PMC2598509/

American Lung Association (2018). 10 of the Worst Diseases Smoking Causes
https://www.lung.org/our-initiatives/tobacco/reports-resources/sotc/by-thenumbers/10-worst-diseases-smoking-causes.html
"A CASE STUDY OF A COLLEGE STUDENT MANAGING STRESS THROUGH
SMOKING"
METHODOLOGY
RESEARCH DESIGN
A qualitative kind of research will be used and the research design would be a case
study. A case study is usually used in fields of health, economics, business, social
science, etc. (PR1 book). Since the researchers topic is all about the mental and
physical health of a person, the researchers would like to observe and analyse the
behaviour of one person who is smoking to release its stress. This research is a
phenomenological study that seeks to understand how people experience a particular
situation or phenomenon. It is conducted through the use of in-depth interviews.
The researchers chose the form of semi-structured interview since it was a more
appropriate type of interview. The semi-structured interview allows the interviewees to
present their own personal views and opinions after they answer the questions
presented by the interviewers.
SETTINGS AND RESPONDENTS
The researcher task is to find a student who engage through smoking as a respondent
of the research around University Belt in Manila, Philippines. U Belt was chosen as a
settings for the research because we observed that there are a lot of college students
that smokes outside the campus.
"A CASE STUDY OF A COLLEGE STUDENT MANAGING STRESS THROUGH
SMOKING"
RESEARCH INSTRUMENT
In this research, the data is collected through semi-structured interview with the
participants. This consists of questions that allows the participants to openly share their
own perspectives and lived experiences as smoker. The questions are in open-ended
form and it is also emphasize in their situation.
RESEARCH PROCESS
In this study, the researchers will gather the data through an in-depth interview with
the participants. Semi-structured interview will be use to gather information's.
The researchers will first observe the people smoking outside the campus to see
the people who are smoking and then they will approach him/her to ask them if they can
be interviewed. The researchers will ask some questions related to their case study.
After the researchers gather the information that is needed they will analyse the data
they have gathered and come up with conclusion.